This easy vegan granola is the one breakfast recipe you need to keep you going. Golden, crunchy and satisfying, topped off with some superfood goji berries and enriched with chia seeds. It contains healthy vegan fats too. Do I hear your belly growl?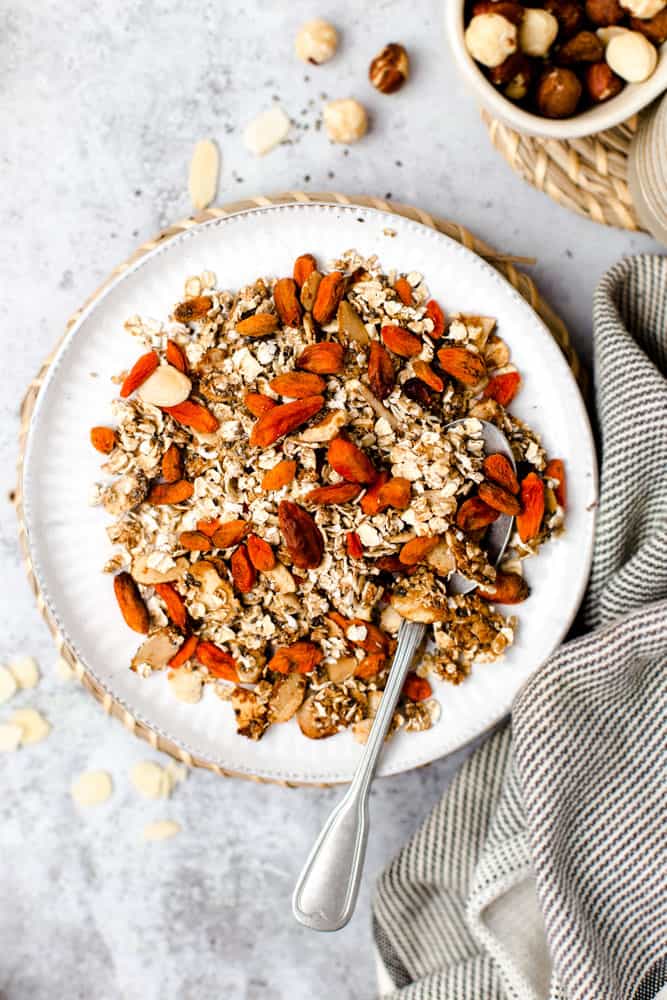 You can serve this oil free granola with your favourite plant-based milk or yoghurt. It's completely free from oils or refined sugar AND it keeps you full for literally hours.
Making your own vegan granola will save you money, lower your waste and let out your creative energy.
What makes this vegan granola SO good!
Why pick this one among the sea of vegan hot cocoa recipes? Well, let me tell you, it is: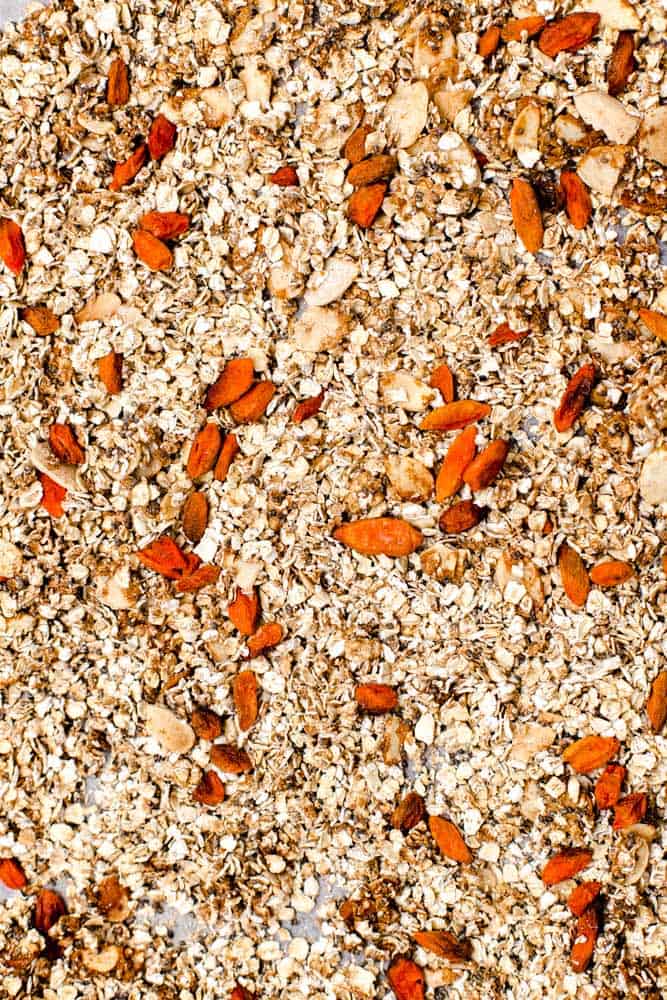 FINISHED WITHIN 20 MINUTES. This is a HUGE perk of my granola recipe. I know that many people are put off home baking or batch making their food because of all the time it involves. This recipe requires just 20 minutes and no annoying cutting, washing or prepping any ingredients. Simply just chuck them into the oven and job's a good'un.
VERSATILE! It's the perfect breakfast recipe to serve with any plant based milk of your choice. Almond, oat, soy, hazelnut, coconut, hemp or any other nut & seed milk will work. Alternatively, you can chuck it into your favourite yoghurt, my prefered way of serving this breakfast dish.
IT'S COST-EFFECTIVE. I can't be the only one unwilling to spend several dollars/pounds for the TINIEST carton of granola? This recipe is SO much better than anything you can buy in store. You'll know exactly what you're putting in, plus, buying the ingredients in bulk means you'll be saving tons of money (and extra packaging!)
IT'S SO EASY ANYONE CAN MAKE IT! Yep, it's super simple. All you need is a pair of hands and a working oven. Voila, you've made yourself the most delicious brekkie in absolutely no time.
NEW TO VEGANISM? If you're transitioning to veganism, this is the most versatile little snack.
ADJUST IT TO YOUR TASTE. Last but not least, it's completely adjustable to your taste. Not a fan of a certain ingredient? Swap it for a different one! Want to adjust the sweetness? Easy! Want to add some extra ingredients of your choice? No problemo.
And to top it all off, you'll be getting step-by-step photos below.
The ingredients you need for vegan granola
Let's start at the beginning - our delicious ingredients that serve as a base for this recipe.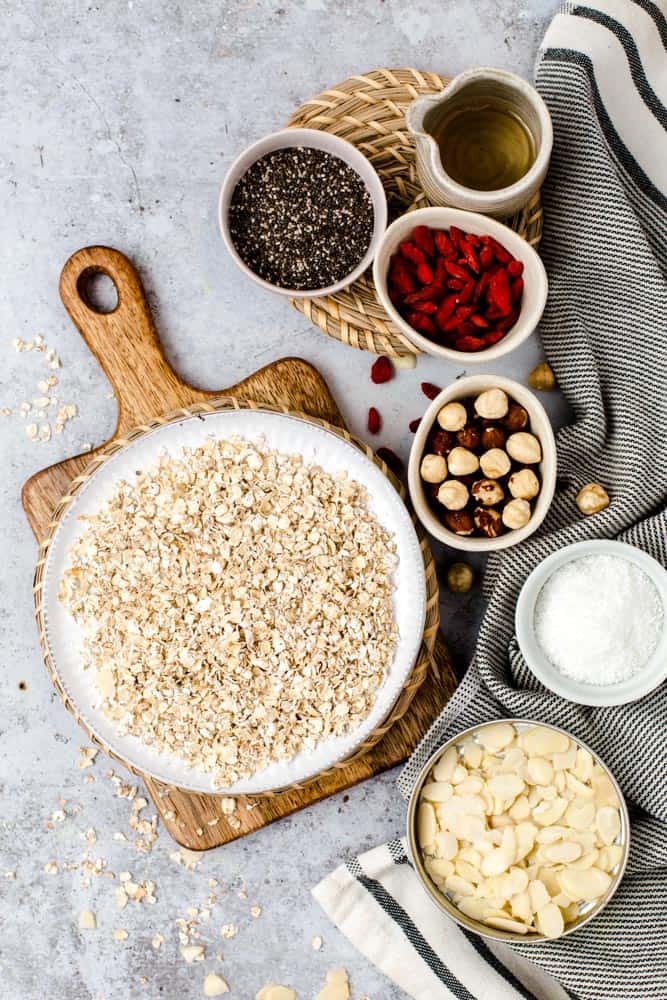 Oats
Hazelnuts
Shredded coconut
Agave syrup
Ceylon cinnamon
Chia seeds
Goji berries
That's it! These 7 ingredients are all you need to make the granola of your dreams!
Before we jump straight in with this golden granola recipe - if you're enjoying this recipe, subscribe to my newsletter below and instantly receive printable 90 Vegan Meal Ideas straight to your inbox!
STEP-BY-STEP INSTRUCTIONS
This should serve as a quick visual guide through your latte making process. All measurements can be found in the recipe card below. Ready?

1. PRE-HEAT YOUR OVEN
Pre-heat your oven to 180°C / 356°F (fan oven). Line your baking tray with parchment paper.

2. COMBINE ALL YOUR INGREDIENTS.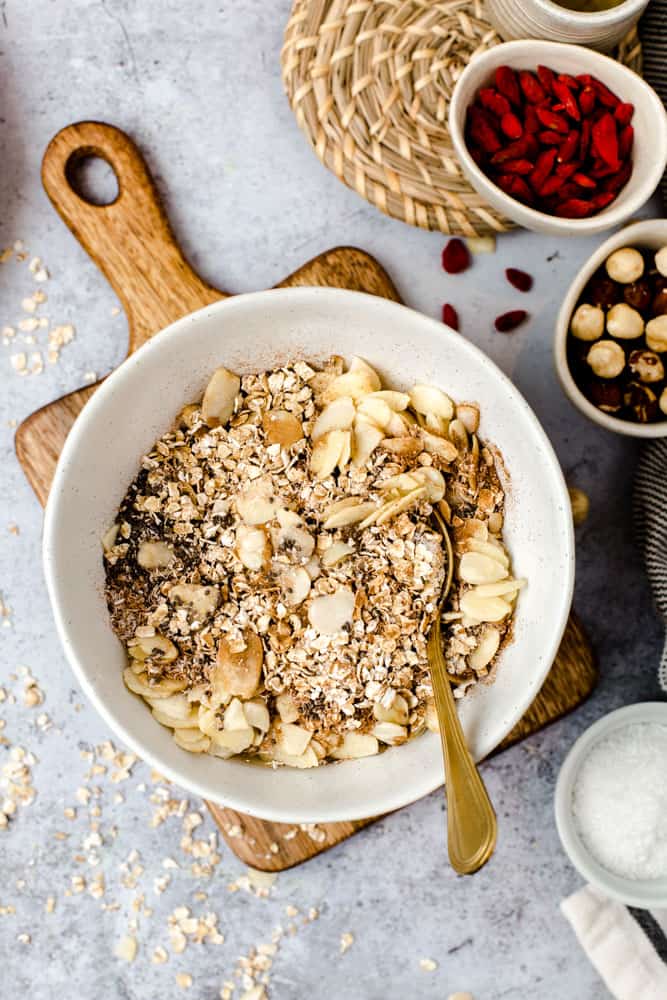 Grab all your delicious ingredients (except goji berries) and combine well. Make sure to pour the sweetener very slowly, while stirring your mixture. This will ensure that the sweetner is spread equally. Don't forget to reserve goji berries for later.

3. BAKE AT 180°C for 12 minutes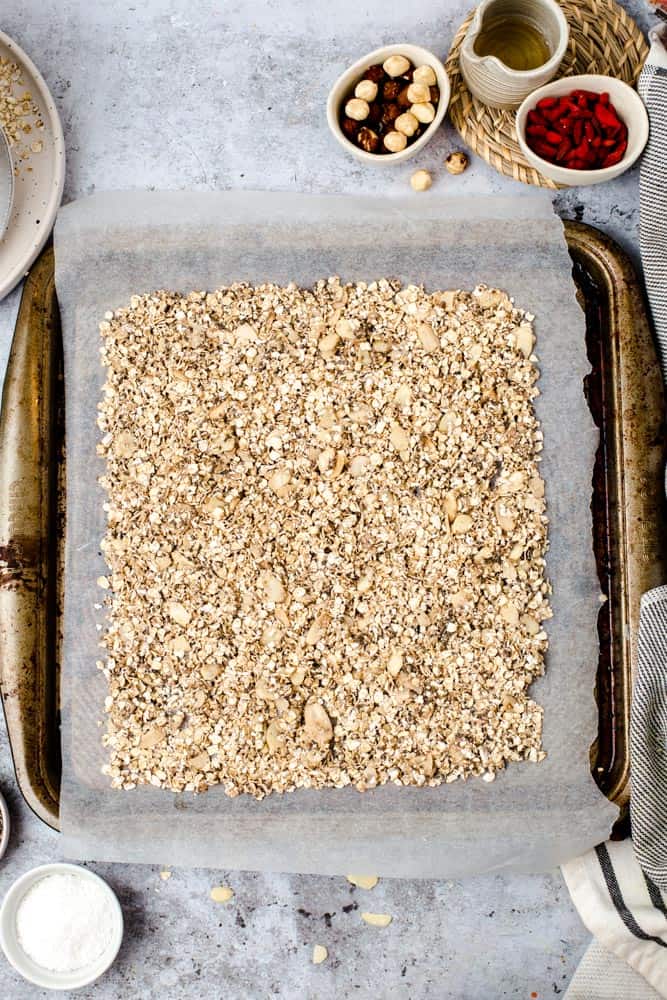 Then stir and add goji berries. Bake for an additional 2 minutes. Goji berries burn VERY quickly, so make sure you don't leave them in the oven for any longer than 2 minutes!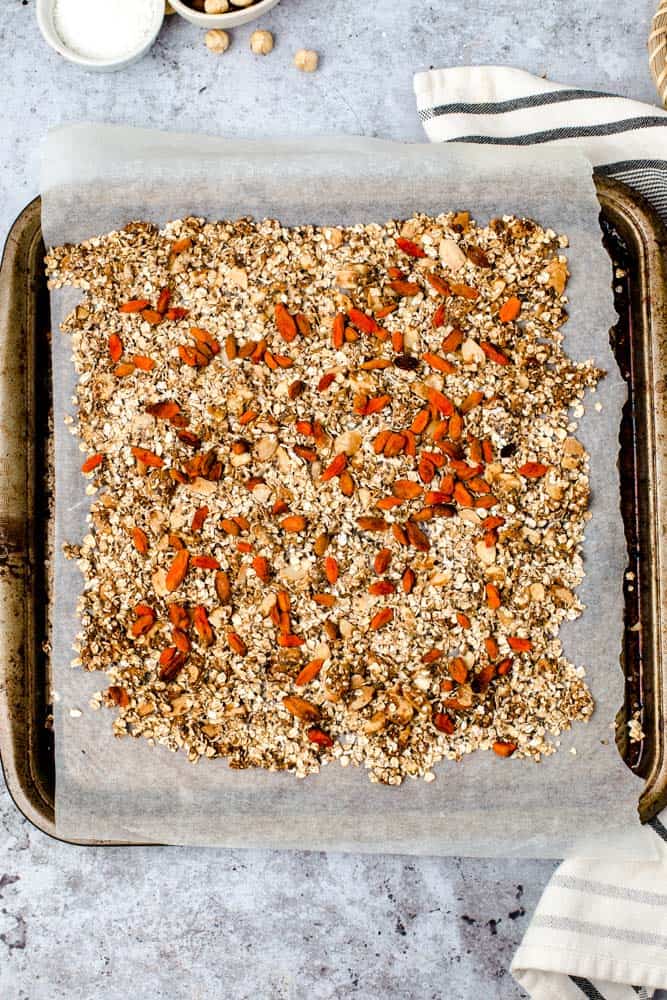 Yay! Now all you need to do is enjoy the incredible smell that spreads throughout your kitchen!

See! Told you this was going to be quick and easy!

Lover of healthy but EASY vegan meals? I've got the perfect additions to your recipe. Serve the granola with:
Oat Milk Latte - this barista-style vegan latte is the one recipe you need to kick-off your day in style without spending a ton of money.
Easy Plant-Based Smoothies: my 6 easy vegan smoothies will get you energised bright and early, plus you can make them in batches!
THREE WAYS TO SERVE YOUR GRANOLA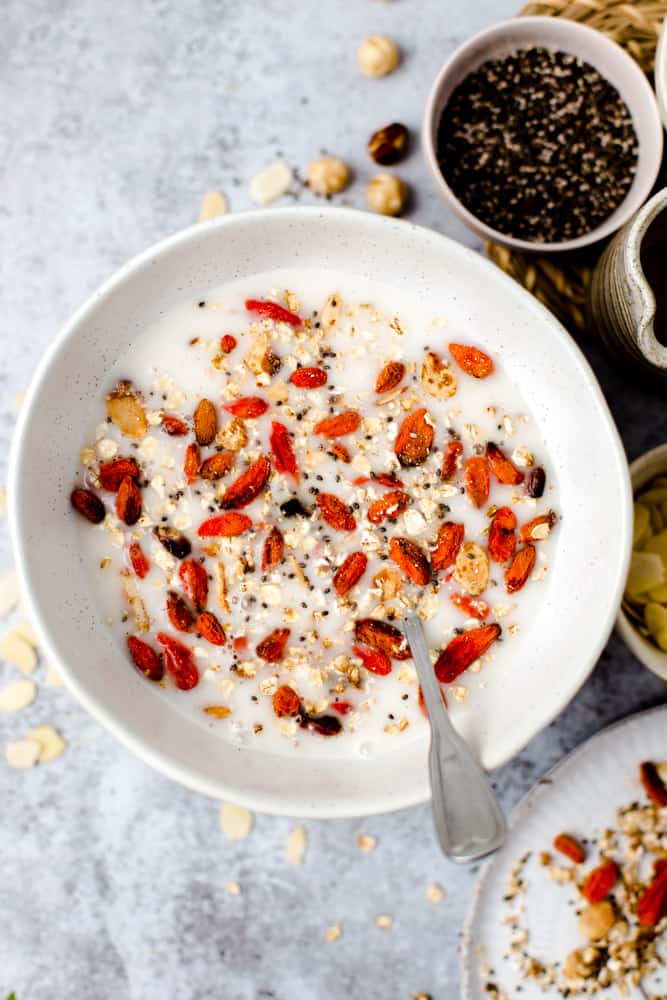 Here they come:
ON-THE-GO: Pop it into a small airtight container or jar and you've got a great snack. This is perfect for snacking in the office, train journeys or just whenever you need a little healthy snak.

IN YOUR FAVOURITE PLANT-MILK: I love this in my morning almond milk. Just make sure you add your granola first and then add the milk.

IN PLANT BASED YOGHURT: My absolute favourite way of serving this. I LOVE the contrast between slightly sour & smooth plant yoghurt and the sweet & crunchy granola. Just don't let it sit for too long as this will make it go soggy.
NUTRITION: HEALTHY & OIL FREE GRANOLA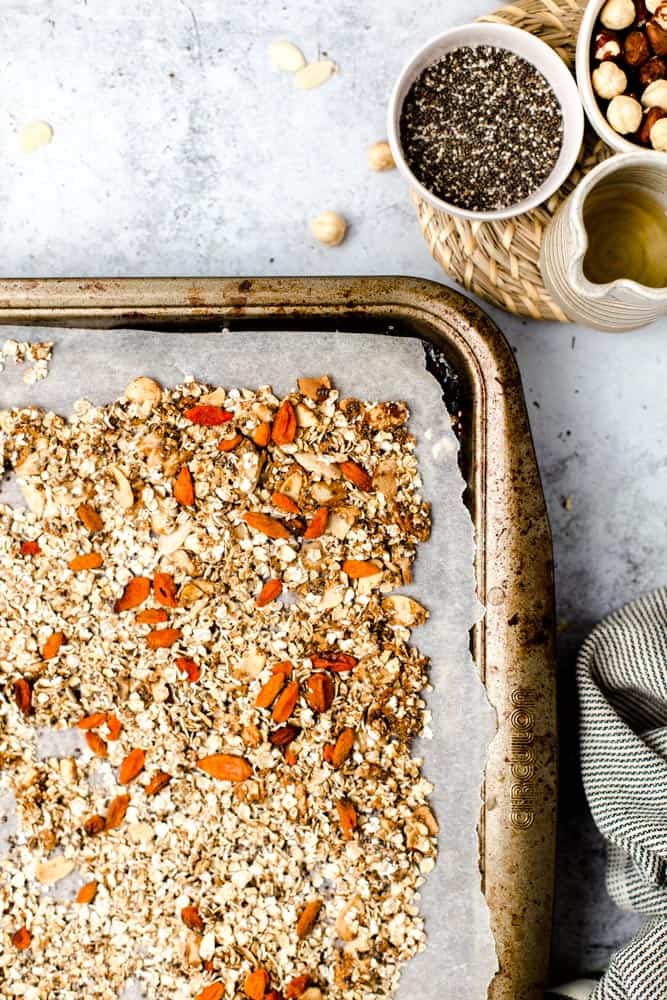 If you're making vegan granola, chances are that you're someone looking for a healthy and nourishing breakfast option. Whilst all our nutritional info can be found in the recipe card below, I also wanted to take a closer look at each of our star ingredients.
OATS - incredibly nutritious oats serve as our base. They're a great source of fibre, rich in manganese and magnesium.
ALMOND FLAKES - super low in saturated fat, great source of fibre and may help lower your cholesterol levels.
CHIA SEEDS - this edible seed dates all the way back to Mayan and Aztec cultures. It's rich in omega-3 fatty acids, calcium, antioxidants and fibre.
GOJI BERRIES - just like all red berries, goji berries are high in antioxidants, as well as rich in copper, selenium, vitamin B2, iron and vitamin C.
For more delicious and healthy vegan meals, make sure to check out my:

This is it, folks! Your favourite new breakfast is now here. As always, if you have any trouble making my this recipe, simply comment down below or message me directly on Instagram. I'll be sure to help you out in case you get stuck!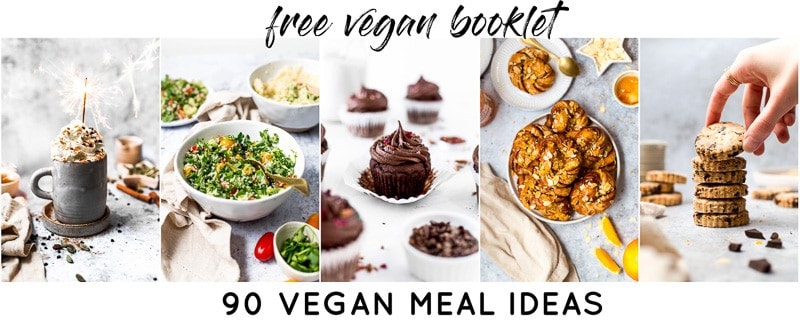 Don't forget you can grab a free vegan booklet containing 90 VEGAN MEAL IDEAS below.
🍴Recipe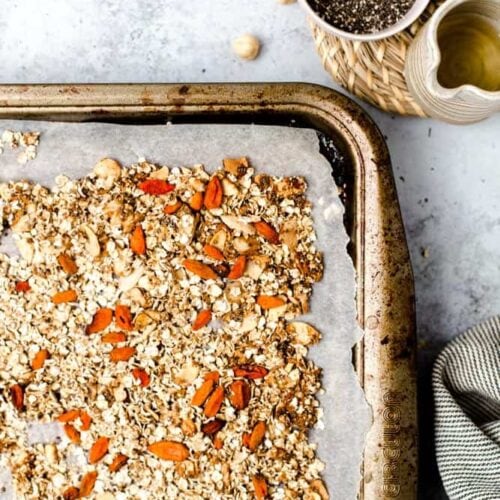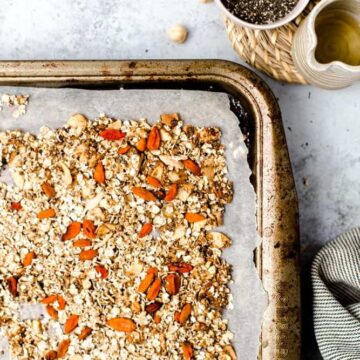 Golden Vegan Granola
This crunchy, satisfying, nourishing vegan granola will be your new go-to snack or breakfast.
Print
Pin
Rate
Ingredients
150

g

oats

40

g

hazelnuts

15

g

almond flakes

3

teaspoon

agave syrup

1

teaspoon

ceylon cinnamon

20

g

Goji berries

1

tablespoon

chia seeds
Instructions
Heat up the oven to 180°C / 356°F (fan oven setting).

Line your baking tray with parchment paper.

Combine all the ingredients very well, but leave out the Goji berries for now.

Bake at 180°C for 12 mins, then stir very well and add Goji berries.

Bake for additional 2 minutes and voila, your granola is all made.

Optional step: Before adding goji berries, bake for additional 3-4 mins if you prefer an extra crunchy, golden, darker granola.
Nutrition
Calories:
177
kcal
|
Carbohydrates:
24
g
|
Protein:
5
g
|
Fat:
8
g
|
Saturated Fat:
1
g
|
Sodium:
2
mg
|
Potassium:
162
mg
|
Fiber:
4
g
|
Sugar:
4
g
|
Vitamin C:
1
mg
|
Calcium:
43
mg
|
Iron:
2
mg
Disclaimer: The nutritional information above is calculated automatically. The author of this post cannot guarantee 100% accuracy of this data.