Jump to Recipe
The best vegan peanut butter chocolate cupcakes! Super easy and absolutely fail-proof. Toped off with an extra layer of peanut butter for overwhelming indulgence. It's official – you need to grab your utensils and get baking because these vegan cupcakes won't disappoint! 
I'm afraid I might have to make a new monthly recipes series dedicated solely to vegan cupcakes! What do you think? Last month I shared my easy double chocolate cupcakes and I'm so happy to be back with my lovely peanut butter version! If you've been around my blog for a while, you will know peanut butter is my eternal love. If that's the case for you, I urge you to check out my peanut butter & chocolate brownie which is the best thing since sliced bread.
Next to my absolute favourite dessert, coconut & chocolate mousse, cupcakes are my go-to sweet comfort food. That moment you bite into the perfectly swirled icing is one of life's little miracles. And, unlike some other desserts, which can take quite a bit of practice, cupcakes are actually super easy to make. Not only can you make them quickly & easily, they also look fab without a crazy amount of practise.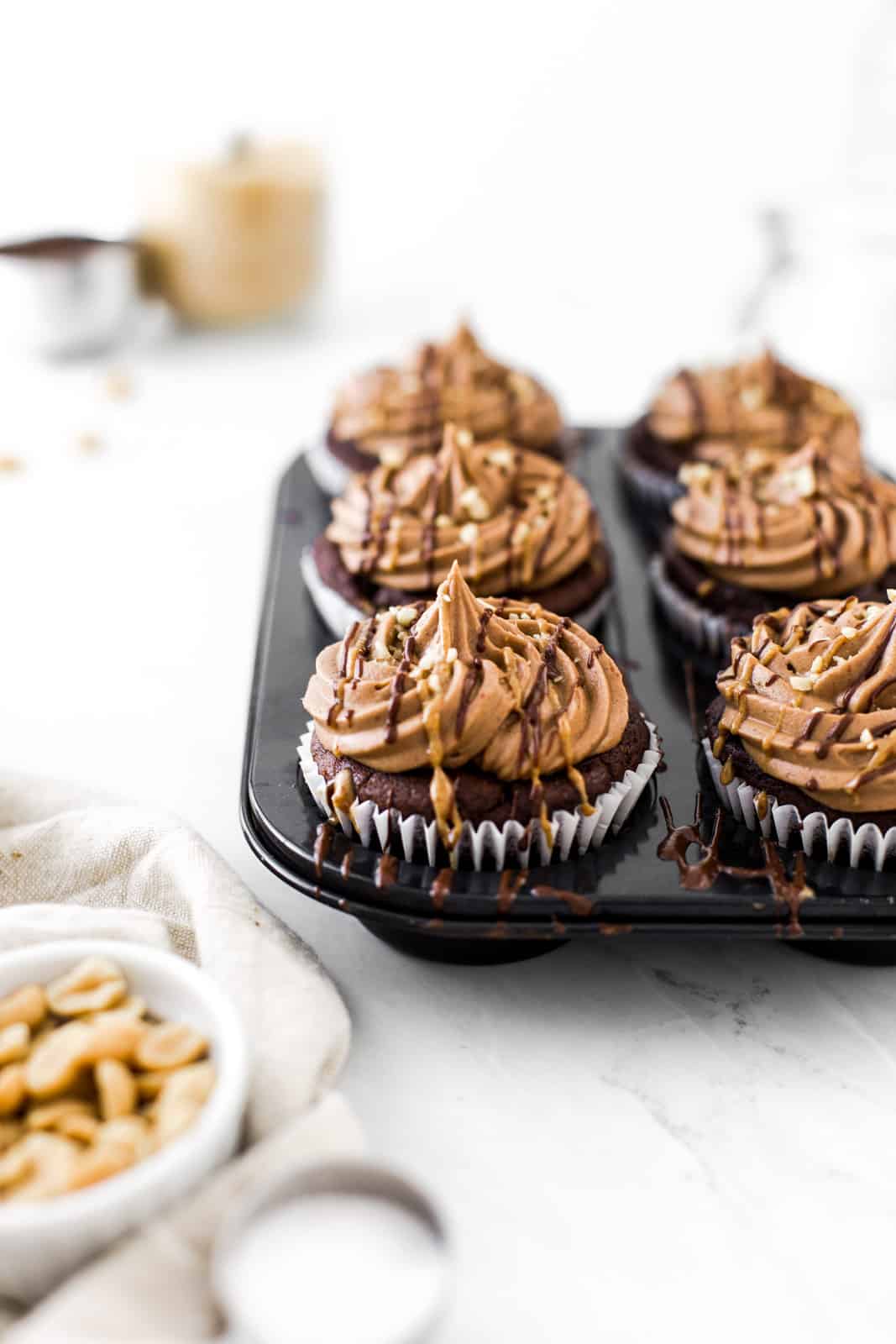 These Vegan Peanut Butter Chocolate Cupcakes Are
rich and moist
perfectly sweet
topped off with crunchy peanut chunks
finished off with an extra layer of peanut butter
All in all, they are the very definition of indulgence!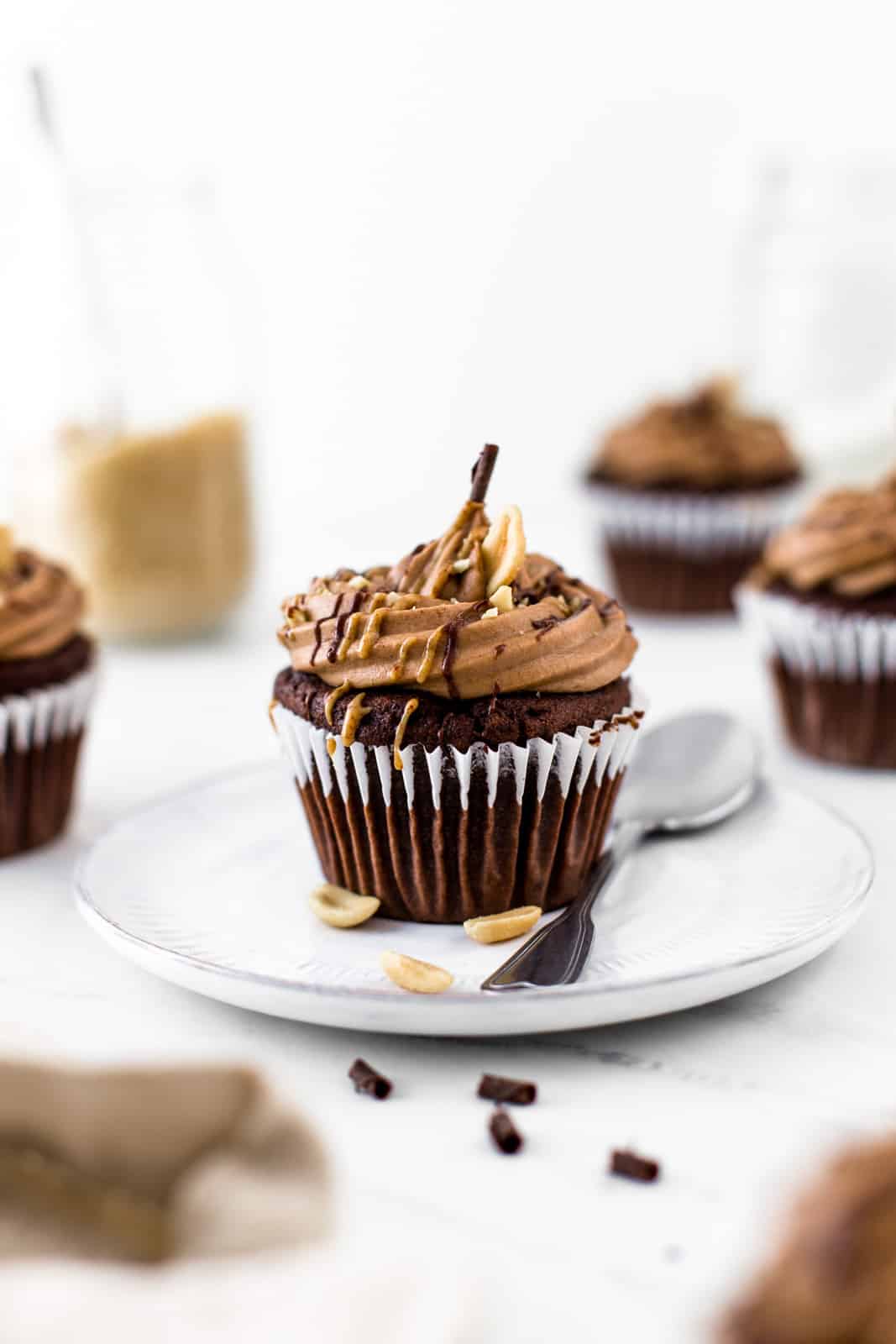 EASY Vegan Peanut Butter Chocolate Cupcakes
If you're new to vegan baking, I would be willing to bet cupcakes are the best place to start. They're widely adored, look great and once you've got a great recipe, you can't really go wrong. I'm very minimal when it comes to my baking equipment, but I wholeheartedly recommend investing into a good icing bag. For the best effect, use a larger nozzle with a ruffled finish.This way it's easier to create a beautiful finish even if you're not the most experienced baker.
Tips For Baking Your Cupcakes
Let's make sure we cover all the basics! If you find these too obvious, you're definitely not a beginner baker. But for those just starting out, sticking to these baking hacks will be super beneficial!
Always sift your dry ingredients. I can't stress the importance of sifting enough. Make sure to sift your flour, cocoa and baking powder into one big bowl and stirring well. This will ensure baking powder is spread evenly throughout every cupcake. In turn, cupcakes will rise evenly and won't be leaning to one side.
Fill your cupcake moulds ¾ full. Anything less than that will make them look sunk and too small. Anything more than that and they will literally overflow your moulds.
Be generous with toppings. Small toppings will cover any icing mistakes and generally take your cupcake to the next level. Sprinkles, cocoa nibs, tiny nut chunks, rose petals.-
Storage is tricky:The good news is that cupcakes stay good for days. The best news is that they're very awkward to store. The high icing makes them too tall for standard food containers, so you might want to look into cake storage tins or cake carriers. Alternatively, you could leave off the icing, store them in a standard food container and only add your icing just before serving.
Ready to crack on with your work? Let's get our aprons on and make these gorgeous vegan cupcakes today!
---
If you're starting out as a vegan or just want to discover simple vegan recipes make sure to follow me on Pinterest, Instagram and Facebook.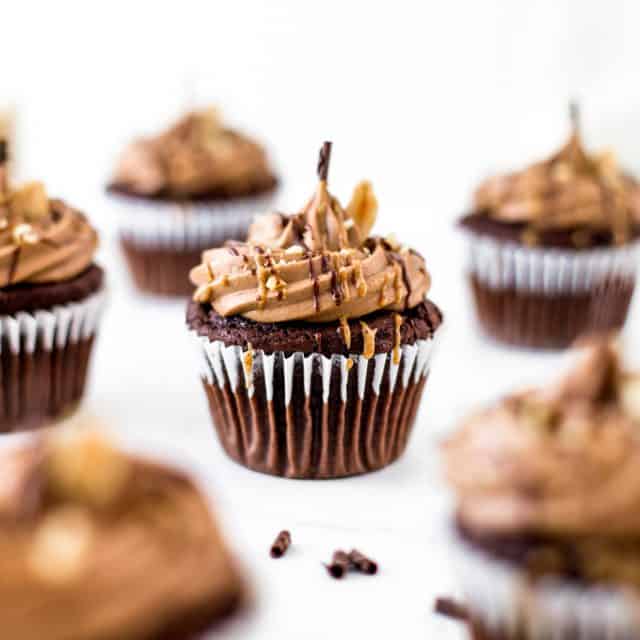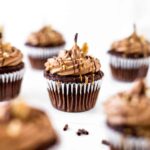 Vegan Peanut Butter Chocolate Cupcakes
Delicious vegan cupcakes for every ocassion.
Ingredients
FOR THE CUPCAKE
225 

ml

almond milk

unsweetened

1

cup

plain white flour

3

tsp

apple cider vinegar

130g

g

vegan butter

(melted)

½

cup

white sugar

3

tsp

baking powder

5-6

tbsp

cocoa powder

(unsweetened)
FOR THE ICING
90

g

vegan butter

150

g

icing sugar

¼

tsp

vanilla extract
FOR THE PEANUT DRIZZLE
A drizzle

olive oil

2

tbsp

peanut butter

Toppings: chopped peanuts, dark chocolate sprinkles
Instructions
FOR THE CUPCAKES
Create sour milk by whisking together almond milk and vinegar.

In a separate bowl, add melted butter and sugar, and mix well.

Then add your sour milk mixture.

Finally, sift in all your dry ingredients (flour, baking powder and cocoa).

Whisk until combined, but be careful not to overwork.

Spoon your cupcake mixture into a lined cupcake tray, about 3/4 full.

Bake at 180°C / 356°F (fan oven) for 20-25 minutes.
FOR THE ICING AND PEANUT DRIZZLE
Whisk together all your ingredients until smooth.

Pipe onto cupcakes and enjoy!

For the peanut drizzle, whisk together peanut butter and a drizzle of olive oil. 

Keep adding olive oil until the mixture is perfectly smooth and runny. 

Pipe onto cupcakes, sprinkle with chopped peanuts and chocolate sprinkles! Enjoy!
Nutrition Facts
Vegan Peanut Butter Chocolate Cupcakes
Amount Per Serving
Calories 375
Calories from Fat 189
% Daily Value*
Fat 21g32%
Sodium 235mg10%
Potassium 246mg7%
Carbohydrates 47g16%
Protein 3g6%
Vitamin A 1050IU21%
Calcium 107mg11%
Iron 1mg6%
* Percent Daily Values are based on a 2000 calorie diet.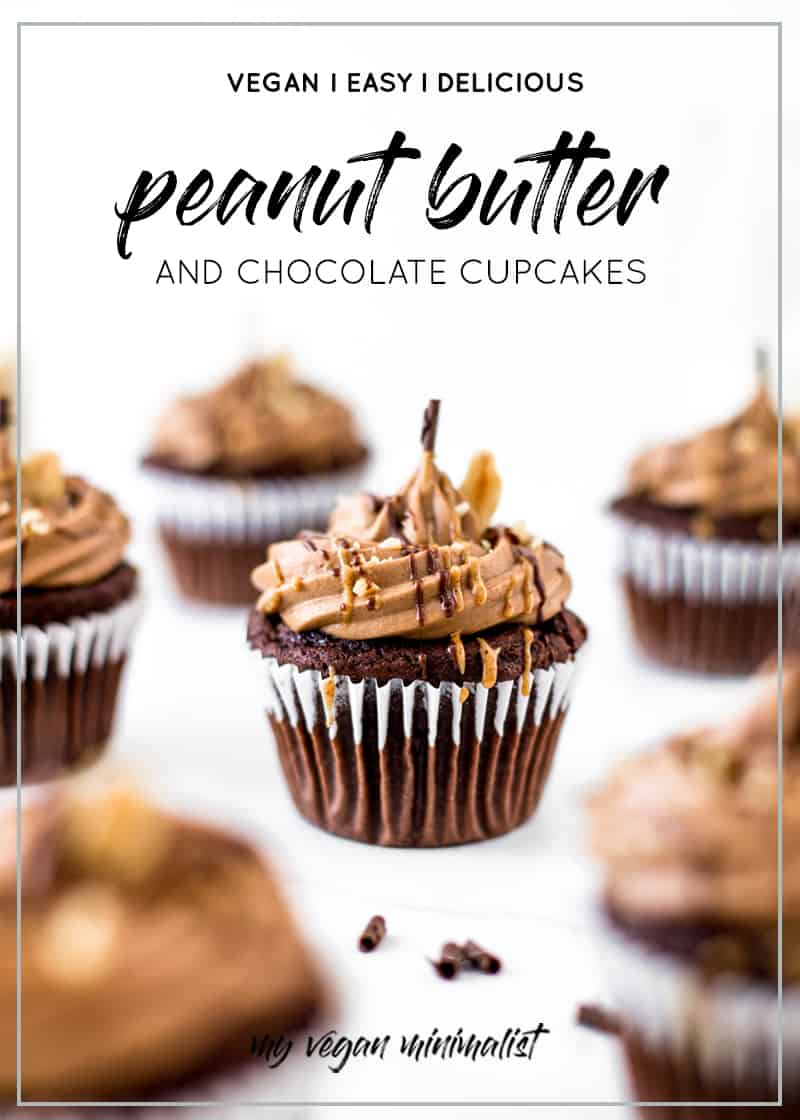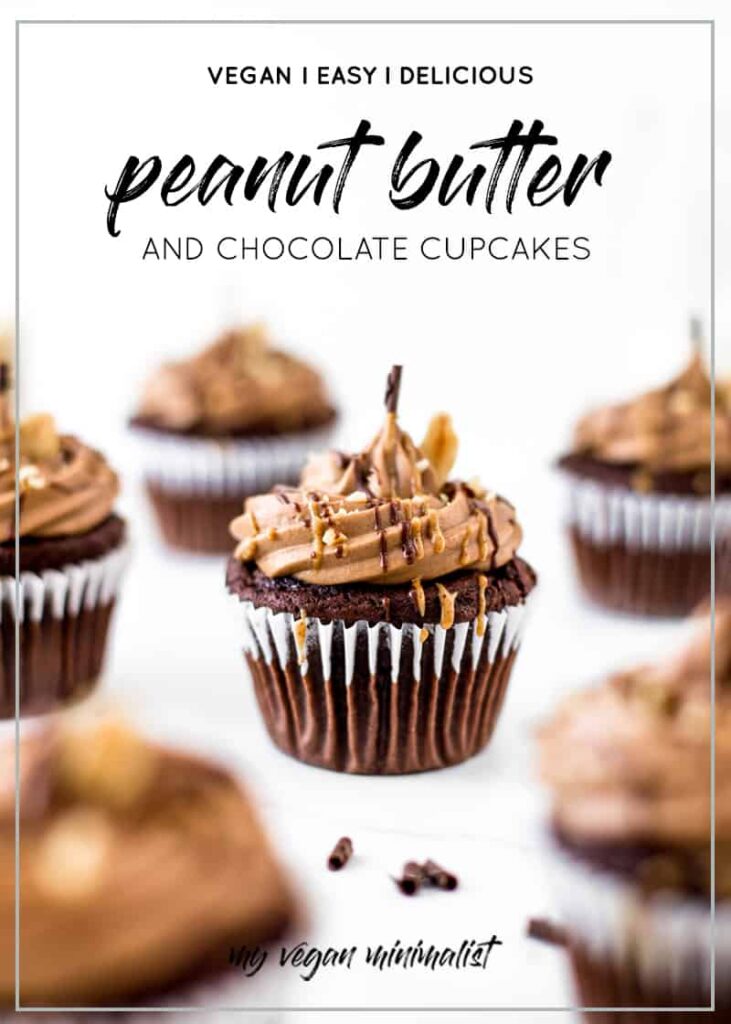 Don't forget you can grab a free vegan booklet containing 90 vegan meal ideas below.