My go-to collection of amuse bouche recipes you need to try out. From easy to lavish and sophisticated. Plus, everything you could possibly want to know about amuse-bouche - including meaning, origin, pronunciation, top tips & serving ideas. Let's dive in!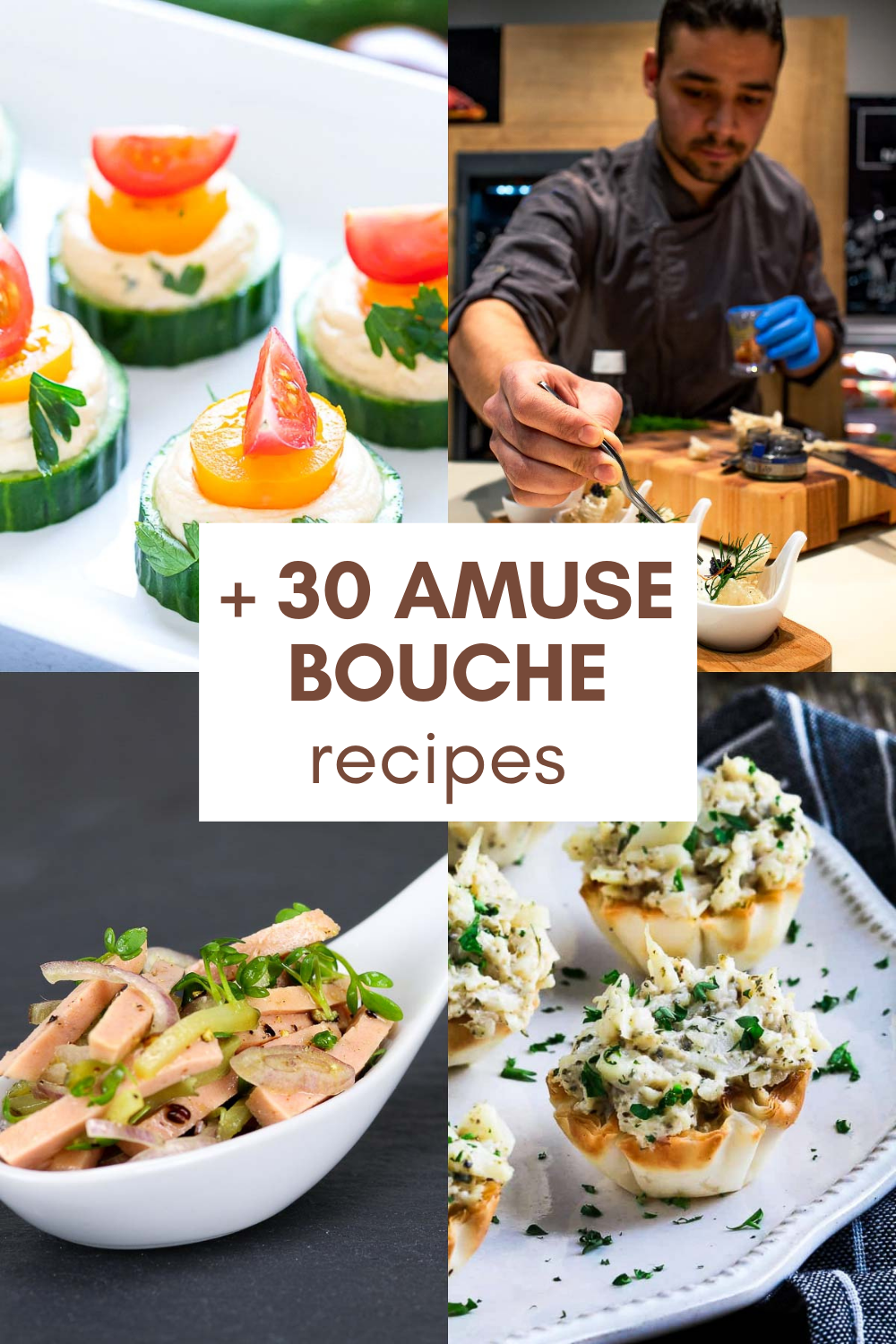 Jump to:
📖 Definition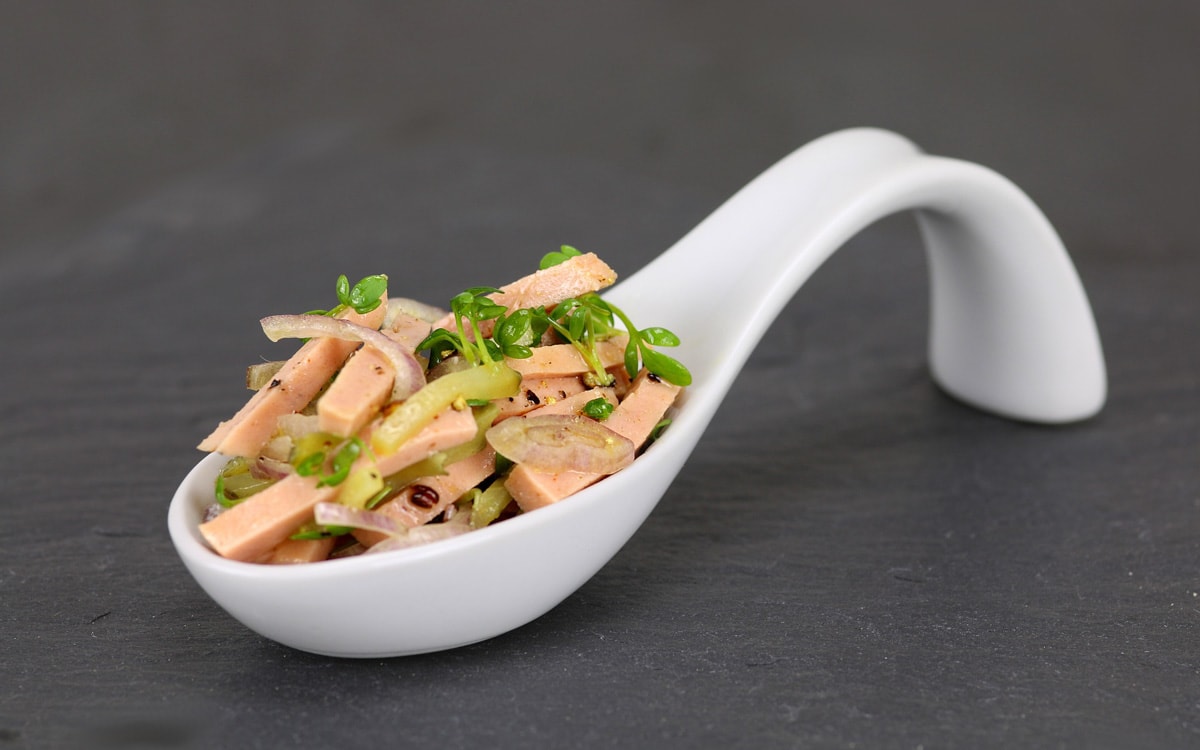 Amuse-bouche is a small, single-serving dish that you can't find on the menu. 
It's served in fine dining restaurants at the very beginning of a multi-course meal.
Amuse bouche is served gratis (completely free). This complimentary small bite is not ordered by the customer but rather decided by the chef. It's often a way for the chef to show off their skills or try out an exciting new concept. 
The point of this tiny appetizer is to awaken your taste buds. It's designed to be not only tasty but also visually appealing. Sometimes it's kept very simple, other times made into a bit of a whimsical spectacle. 
My recipe ideas at the bottom include both super easy ones and the more sophisticated ones.
Because the dish is SO tiny, chefs often use it as an experiment - for example by combining unusual flavour pairings. 
Did you know? When we think of amuse bouche recipes we usually picture small bites served on little spoons. But they can be SO much more than that. The variety is endless. They can be almost anything. Think healthy soup, salad, shots, crackers, tempura & more (recipe ideas below!).
💭 Meaning
The meaning of amuse bouche comes from the French words 'amuser' (to amuse) and 'bouche' (mouth).
When translated into English, amuse-bouche means 'mouth amuser' or 'something to amuse your mouth'. 
🗣 Pronunciation
Pronounced ah-myuz boosh. Similar to the English word 'amuse'. 
Listen and learn how to pronounce it here.
🍲 Flavour
Amuse bouche can take the form of a huge variety of flavours - practically anything.
Chef Raymond Tham describes these as the most important elements of amuse bouche:
Freshness
Acidity
Texture
Temperature
🇫🇷 Origin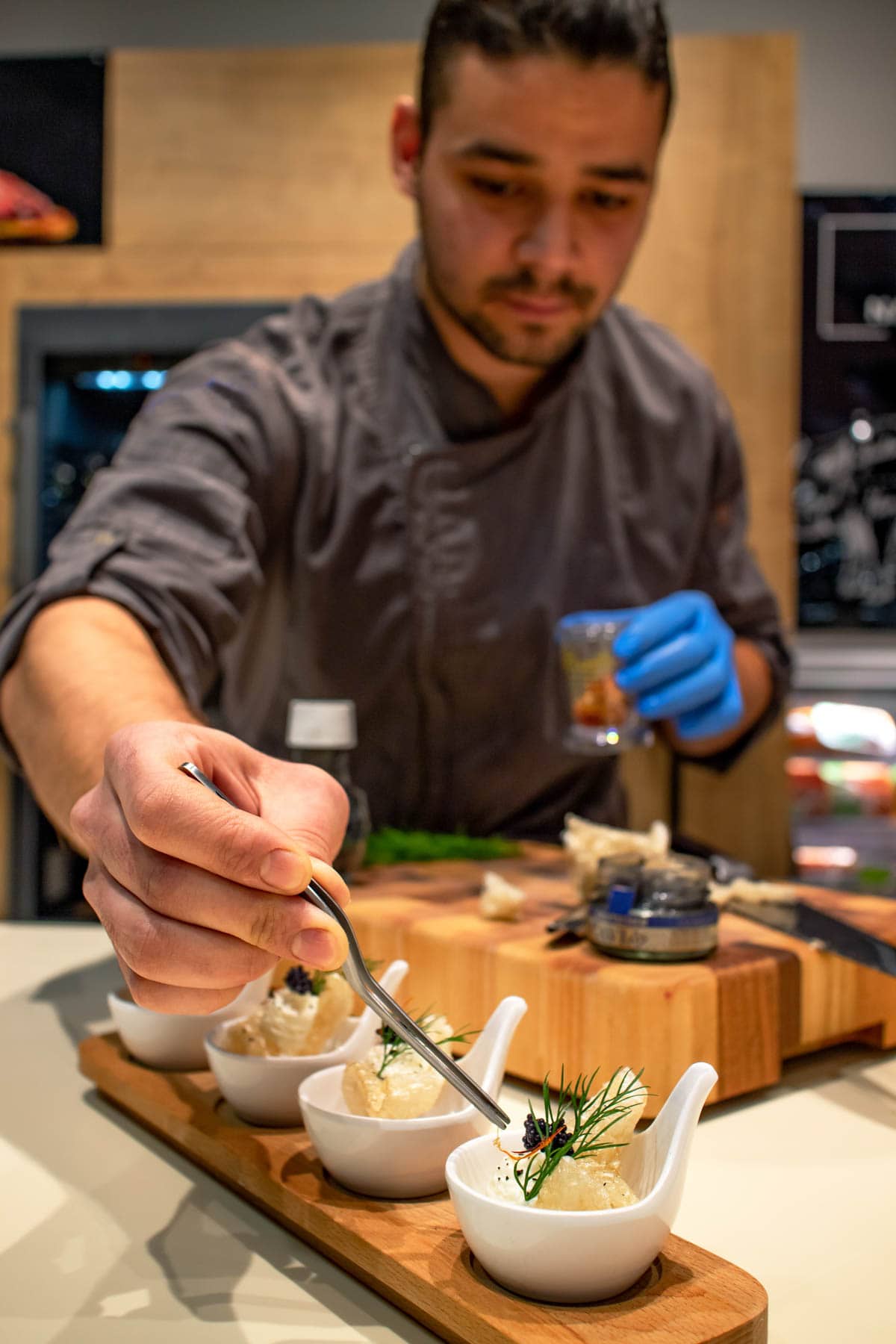 Unsurprisingly, this tiny appetizer originates from France. It was born somewhere in the early 1970s.
It's associated with 'nouvelle cuisine'. This was a time when top chefs moved away from heavier, stodgier dishes based on sauces and marinades towards daintier food.
It was also a way to express their creativity and competitiveness (Source: Michelin).
Amuse bouche declined in popularity in the 1980s, but made a stellar comeback in the 21st century.
❓ FAQ
What is an example of amuse-bouche?
Everything from cucumber & cheese rolls to tempura, scallops & tiny servings of soups, tortellini, compote, panna cotta & more.
What does amuse-bouche mean in English?
Amuse bouche means 'mouth amuser' or 'something to amuse your mouth'. 
Are there any vegan amuse bouche recipes?
Yes, you can find all sorts of amuse bouche recipes. Traditionally, a lot of them involved meat and seafood, but chefs are moving away from that nowadays and experimenting with more vegan, vegetarian, gluten-free & plant-based options. 
👩‍🍳 Preparation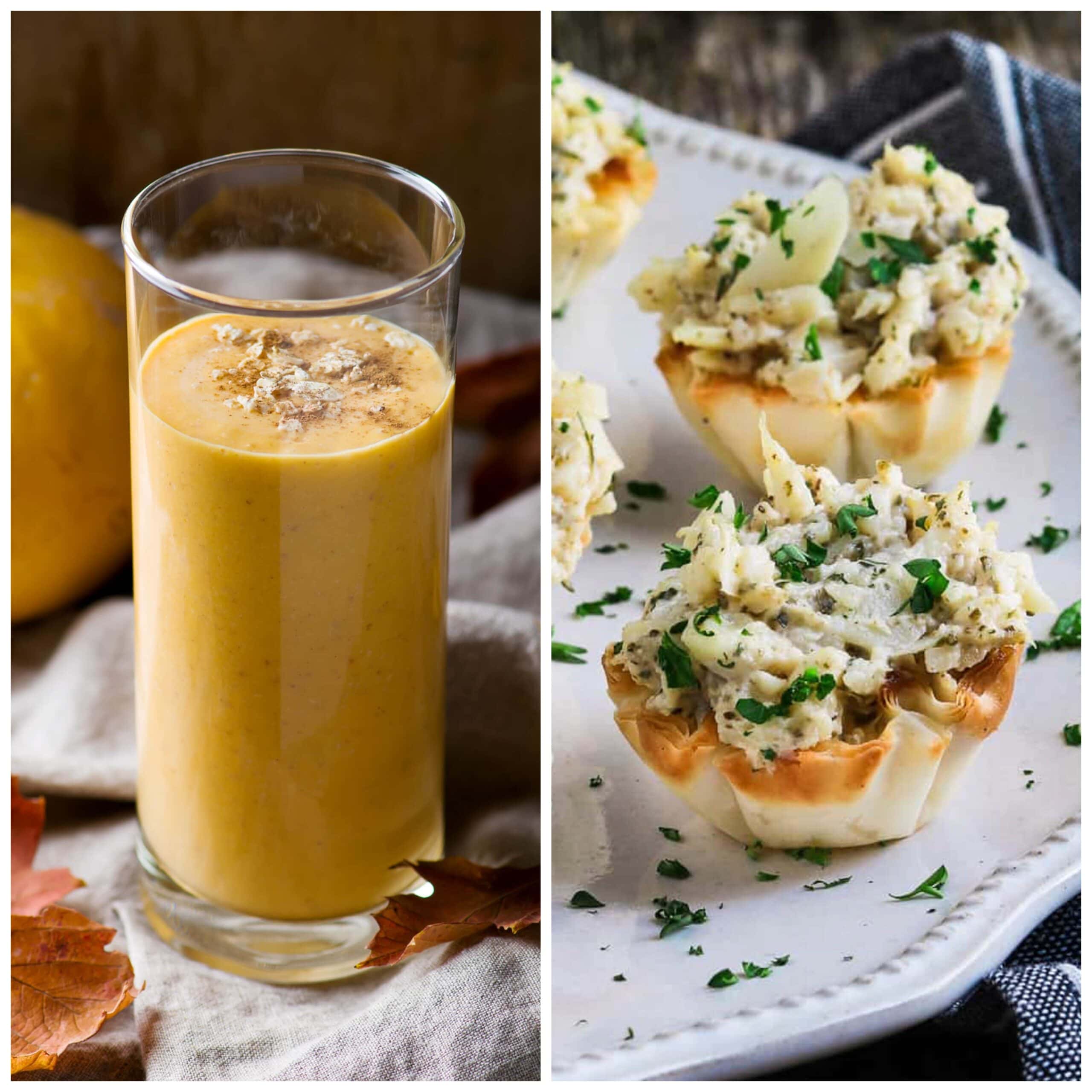 Throwing a dinner party? You'll want to stick to these three GOLDEN rules.
Rule 1: Keep it small.
This is crucial. Remember this is a dish that comes on before the appetizer.
It should be much smaller than the appetizer, eaten in just one or (maximum) two bites.
Rule 2: Prepare it ahead.
Always prepare it before the guests arrive.
Even though it's small, amuse bouche can be quite fiddly and time-consuming to prepare (depending on the recipe of course).
Avoid last-minute stress by making the pre-starter in advance and storing it in the fridge.
Rule 3: Experiment!
Don't pressure yourself to whip up a Michelin-star worthy dish, but think of this as the perfect opportunity to get creative (or maybe even take some risks).
Play with unusual flavour pairings or present the dish in a new & quirky way.
💡 Top Tips
Amuse bouche is all about making food into a magical experience - go all out & don't be afraid to take risks.
Despite often being served on spoons, you don't need to stick to that. You can serve amuse bouche on anything - from plates & bowls to boards, vegetable leaves, etc.
Think seasonally! Go for cold & refreshing options in the summer months, but warm & comforting ones in the winter. 
Colours are so important! Remember to make it a visual experience. Avoid bland, unappetizing colours. 
They're often served based on current food trends. Head over to Pinterest or TikTok & get inspired. 
🍸 Serving
To make sure your dinner party is a success, serve the pre-starter with the right drink.
You can serve it with:
Aperitif: A small (usually alcoholic) drink served before the meal to prepare your taste buds & stomach for the dish ahead.
Wine: opt for non-alcoholic if preferred.
🥒 Simple Recipes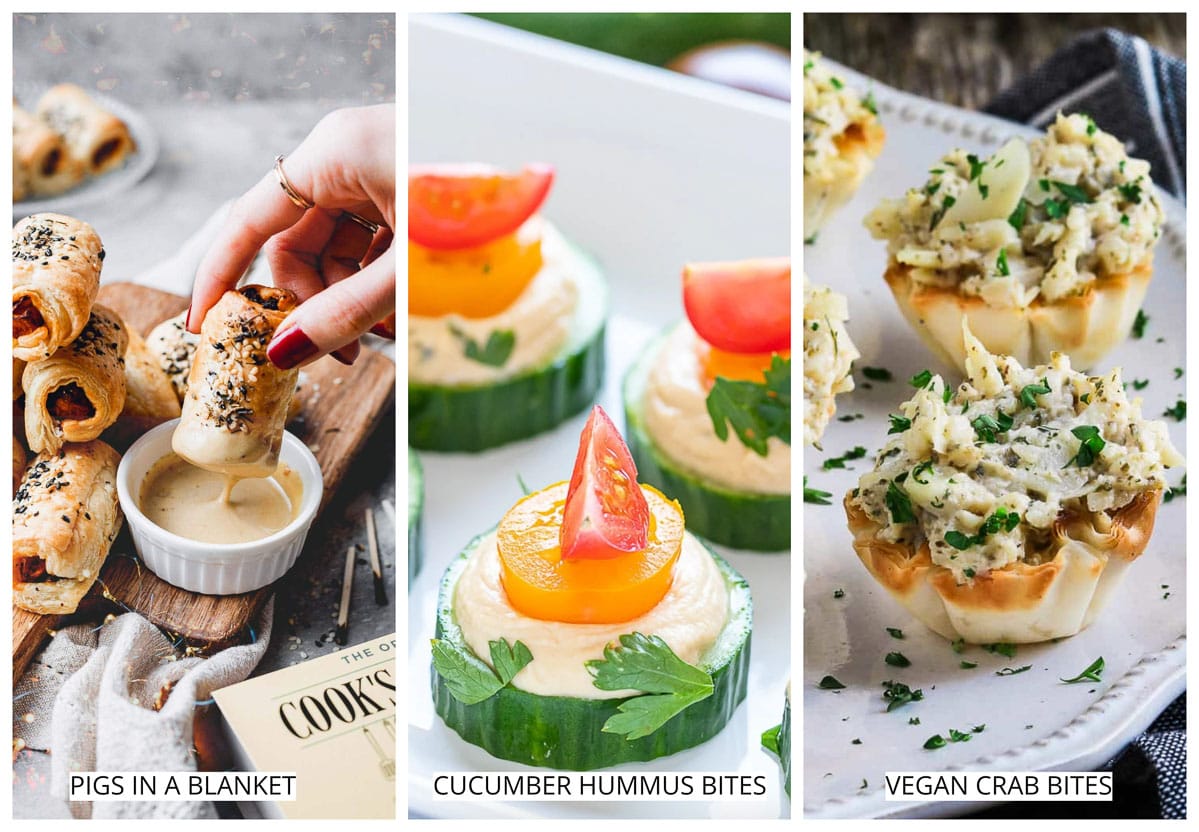 Want to make a simple amuse-bouche that you simply can't mess up? 
🥑 Intermediate Recipes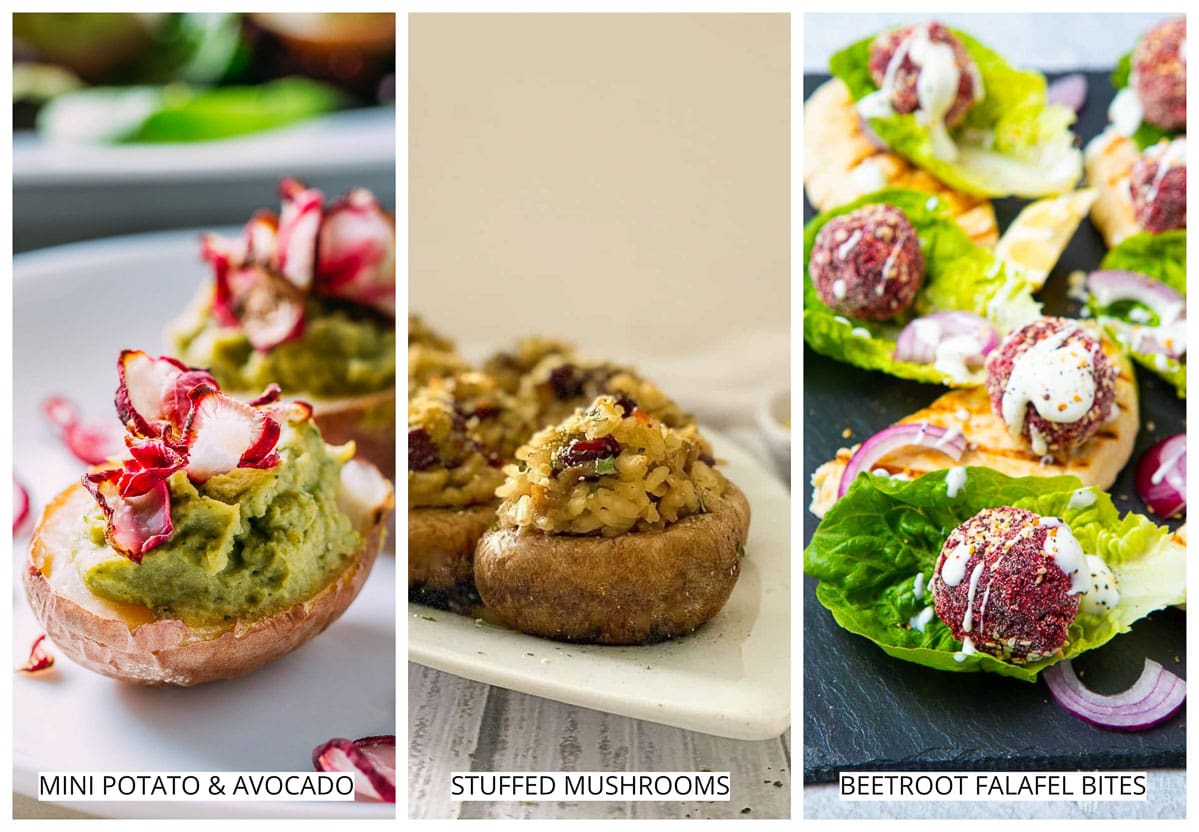 And if you're trying out something more adventurous (but still manageable at home!), here's your go-to list:
👋 Conclusion
TL,DR (too long; didn't read)
Amuse bouche is a small bite-sized appetizer served complimentary (for free) in fine dining restaurants. 
Literally translated, it means 'mouth amuser'.
It's often served on spoons, but can take the form of many dishes and be served in countless ways (soups, shots, crackers, crostini, etc).