Discover everything you ever wanted to know about Black Russian tomatoes including their taste, seeds, growing tips, uses & recipes.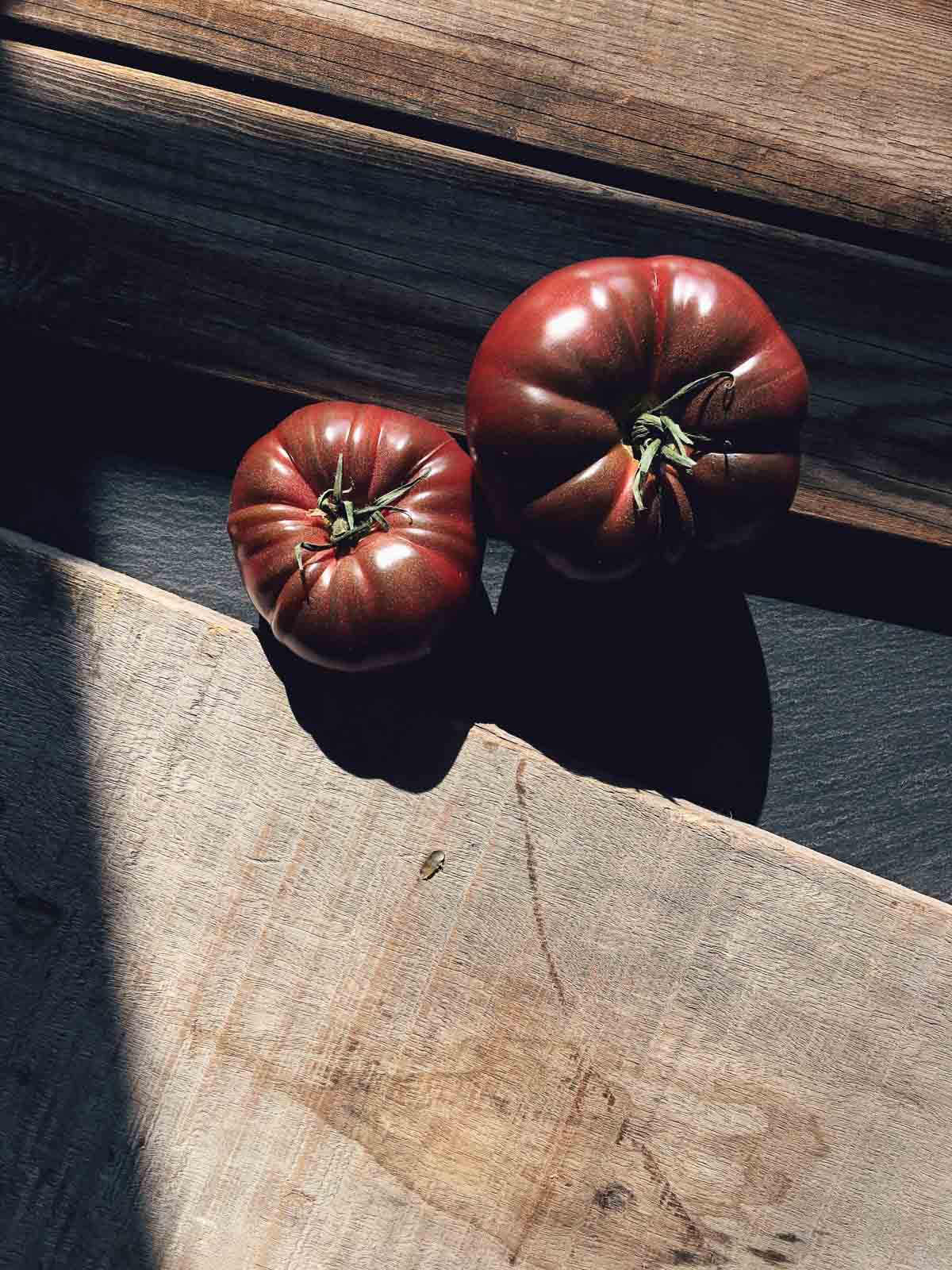 Jump to:
🖤 Intro
These striking tomatoes are an heirloom variety, known for their unusual appearance and dark color.
We've all heard of heirloom variety tomatoes, but what does the term actually mean?
It simply describes a very old variety that 'predates modern agriculture' (Source: Hobby Farms).
Let's see what makes Black Russian tomatoes so unique & find out how to grow them yourself with a few tips & tricks.
🍅 Appearance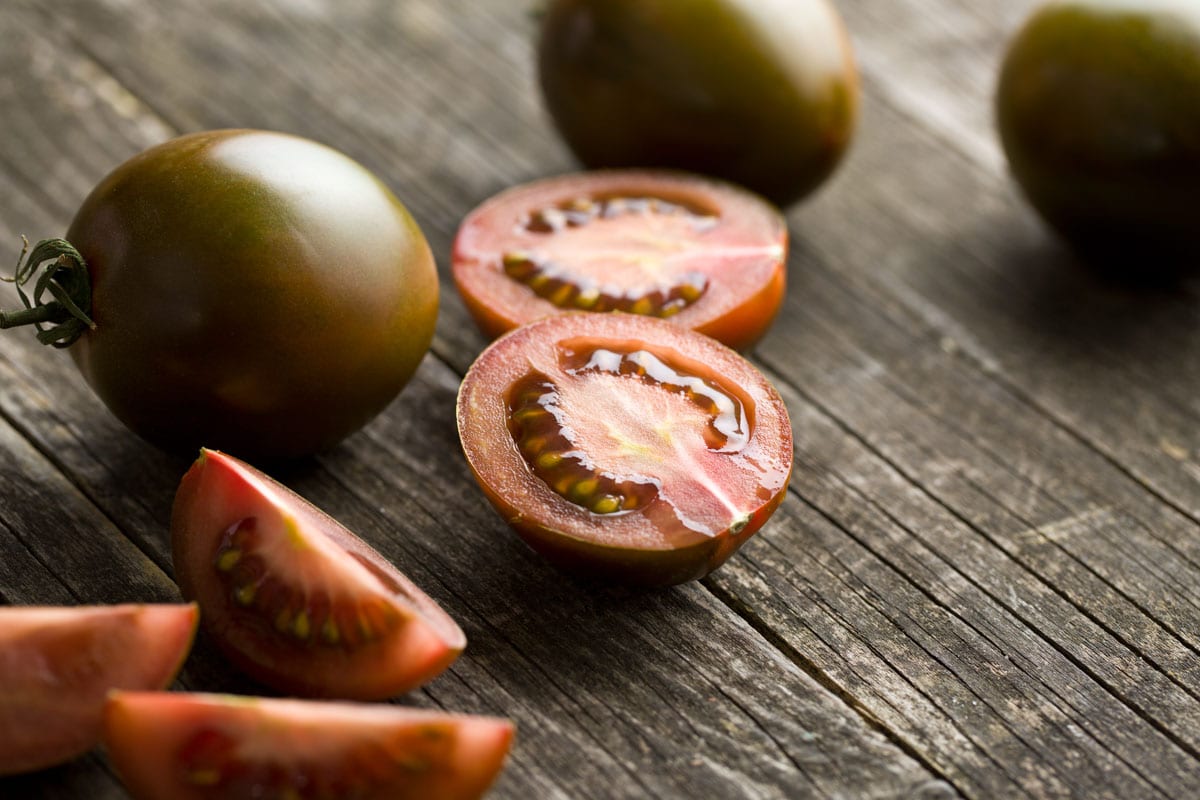 Despite what the name would suggest, Black Russian tomatoes aren't actually black.
They're simply a very deep red color with darker, highly defined shoulders. The term tomato shoulder refers to the rounded area near the stem.
Their color becomes darker as they ripen.
Some describe their skin as mahogany purple, chocolate brown, or burgundy.
I find that their skin resembles the color of red onions.
Due to their shape, they sometimes also resemble conkers. However, their appearance can vary greatly. They often have a slightly flattened shape and a very compact, dense texture.
🌱 Seeds
Black Russian tomato seeds can be tricky to find in gardening stores - whether or not you can source the packets of seeds will depend on your location.
If you're very lucky you might be able to find them locally, but the easiest way to purchase the seeds is probably online. They're widely available online in the UK, Australia, USA, and many other countries.
👩‍🌾 Growing Tips
Just like most other tomato plants, black tomatoes are not difficult to grow!
In fact, they're considered to be one of the easiest vegetables, suitable for any beginner home gardener.
What's more, they are vigorous growers and can tolerate a relatively wide variety of climates.
That being said, it's important to keep in mind the following growing tips.
This tomato is best grown as a cordon - along the length of one leading stem.
However, it can also be left unpruned and grown as a bush. The latter method requires plenty of space and might produce smaller fruits.
The best time to sow the seeds is in early spring (between March and April).
The plant needs roughly 60 to 90 days to reach maturity.
Don't skimp on the compost - good quality compost makes all the difference.
Keep the soil constantly moist - water it about once or twice a day in very warm climates.
Best grown in a sunny spot in conservatories or glasshouses.
While they can be grown in glasshouses, they still require full sun.
Ideally grown in climates between 12°C and 30°C.
To avoid the risk of frost don't move them from a greenhouse to their final position until there is no more frost outside (typically at the end of May).
Unfortunately, this tomato variety doesn't cope well with heat and becomes vulnerable to diseases.
To avoid disease problems, ensure good air circulation.
👅 Taste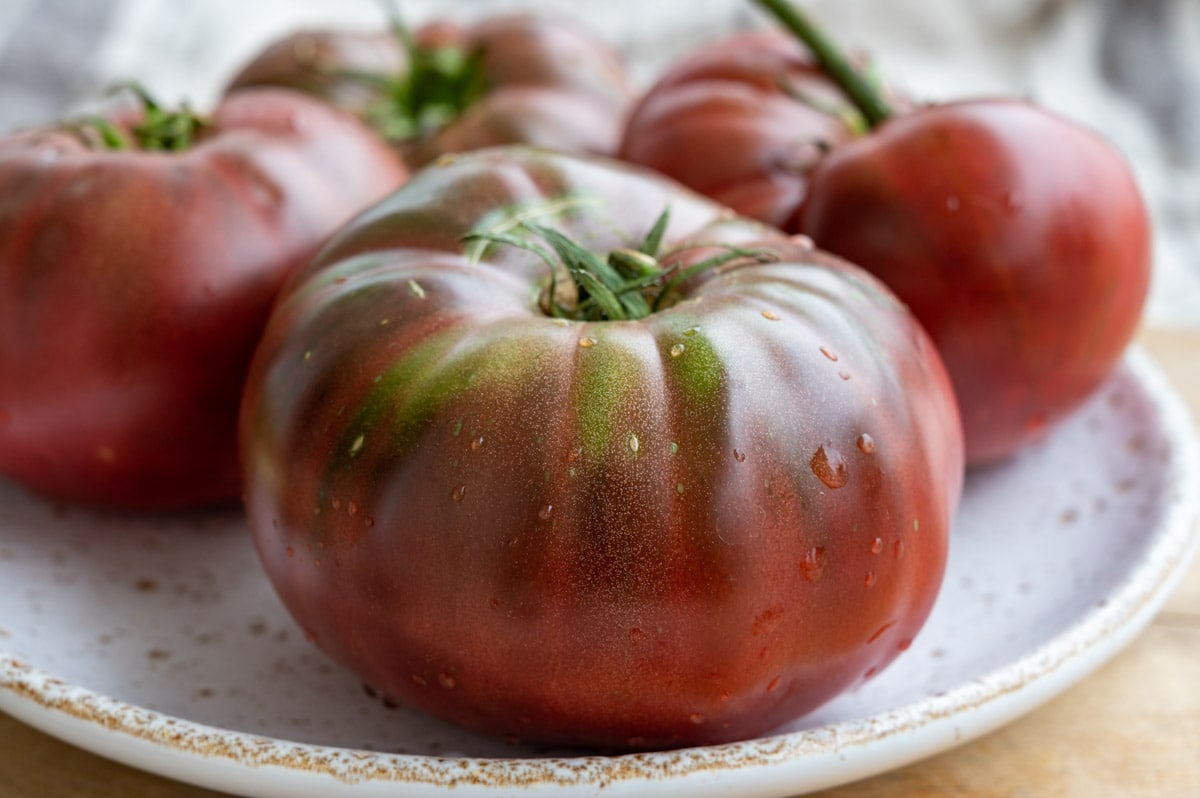 You might see this tomato and think it's bound to have a super strong, overpowering flavor.
In fact, due to its striking appearance, some are entirely put off by it. But worry not!
Black Russian tomatoes actually have a rather mild flavor & aroma. They don't have a strong, complex flavor. Similarly to red tomatoes, they're a balanced mixture of sweet and acidic.
Compared to other varieties, they're a little bit more earthy and subtle, as well as less acidic.
Some notice their smoky undertones, but I personally think the smokiness isn't too noticeable.
I've often heard people compare them to fine wine - their flavor can be surprising, versatile & unexpected.
Remember that just like other tomato varieties, the taste of this one is variable. This means it depends on several other factors, most noticeably the soil that it grows in.
🍲 Uses
Thanks to its relatively mild flavor and sturdy flesh, this tomato variety can be used in numerous ways.
It can be eaten as is or added to soups, salads, or sandwiches.
Furthermore, it can be diced, sliced, pureed, or used in practically any way you would use other tomatoes.
Anyone who's ever grown this variety will probably tell you that the skin of these tomatoes is quite delicate and thin. Keep this in mind when you're thinking of ways to use them.
Pro Tip: Grab some olive oil & other colorful tomatoes (like yellow & red tomatoes), slice them up and make a gorgeous salad. It's guaranteed to be a hit at every dinner party!
This tabule couscous salad is SUCH a crowd-pleaser and especially so when you mix different-colored tomatoes.
🥗 Nutrition
Apart from their unique color, Black Russian tomatoes are renowned for their health benefits.
High in magnesium and potassium
Contains no saturated fats
Very rich in Vitamins A and C
It may help strengthen the immune system
Rich in antioxidants
❓ FAQ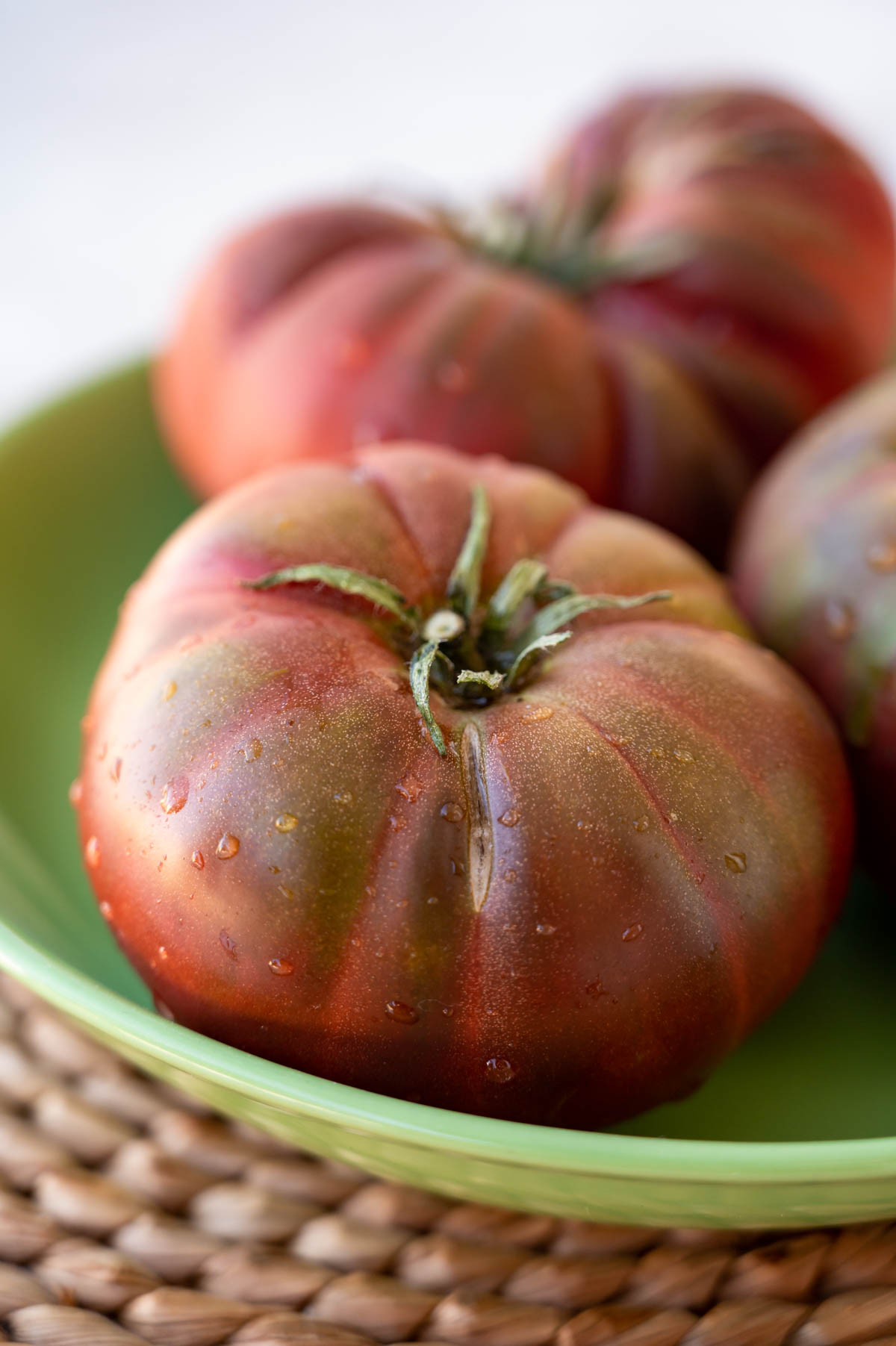 Where to buy black Russian tomatoes?
Finding them in your local garden center might be tricky. I recommend buying them online. Simple google Black Russian tomatoes and your location (e.g. Black Russian Tomatoes Canada).
How to tell when black Russian tomatoes are ripe?
For best results, look for a deep red color with a very deep red (almost purple) shade near the ridges. The redder it is, the sweeter it will taste.
What do black Russian tomatoes taste like?
They have a rich tomato flavor - sweet, slightly acidic, and a little bit smoky.
📚 History
Not surprisingly, this tomato variety originates from Russia where it was first cultivated by Russian monks.
Not much is known about their early origins.
These heirloom tomatoes are now available in many parts of the world and the plant has adapted well to different weather conditions.
🍝 Recipes
As mentioned above, you can use this tomato variety in any way you would other varieties of tomato. Some of my favorite recipes include:
Looking for more black fruits? Check out my full list!