The ultimate guide to using aluminium foil in an air fryer. How to use alu (silver) foil in every air fryer, including expert tips, benefits & downsides. Plus, a handy list of some favorite air fryer recipes.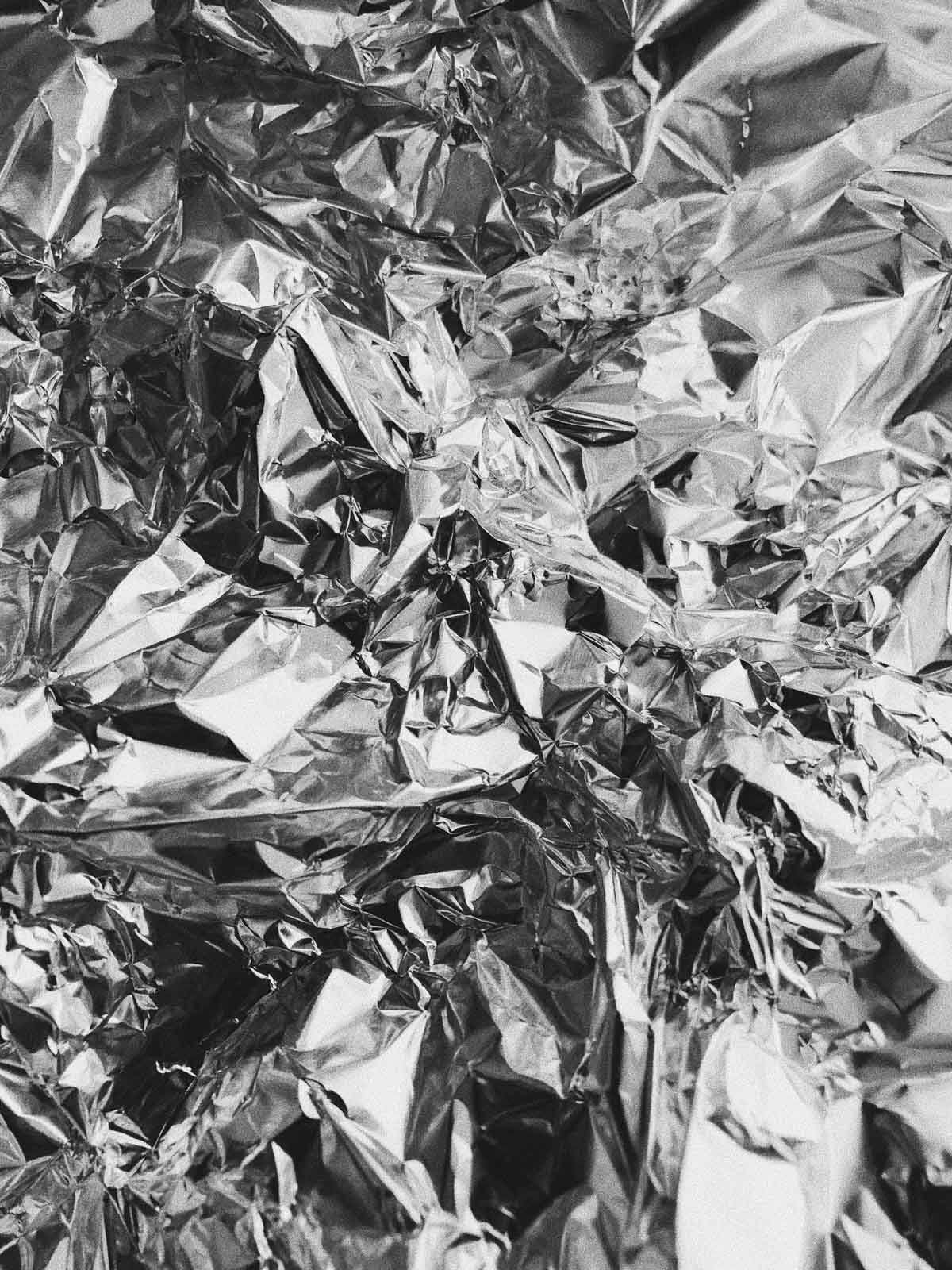 Jump to:
If you're new to air fryers, you might be slightly intimidated by them and afraid of causing any kitchen drama.
Don't worry, you've come to the right place. In this in-depth guide you will learn everything you could possibly want to know about alu foil in air fryers.
The quick answer is yes, you can put aluminum foil in the air fryer. However, there is a but! For foil to be used in an air fryer, you'll need to follow a couple of very simple basic rules first. Safety is extremely important here. Not following the right precautions might lead to damage or even fire. 
Do: Put alu foil in the basket of your air-fryer.
Don't: Place the alu foil in the base.
Quick Tip: Aluminum foil is sometimes referred to as aluminium foil, alu foil, silver foil, tin foil, or kitchen foil, especially in the UK. I will use the word aluminum or alu foil throughout this article. 
➕ The Benefits
You might be asking yourself, is there really any point in using alu foil in an air fryer? Well, here are the tried & tested benefits.
Easy cleaning: less food will get in direct contact with the fryer, making the cleaning process quicker and easier.
It's cheap & accessible
You probably already have it in your kitchen cupboard
Lets the food cook in its own natural juices
Prevents the food from sticking to the basket or edges
➖The Downsides
The benefits sound good, but are there any downsides?
Can lead to safety concerns if not used properly
Can't be used in combination with certain foods (especially highly acidic food)
If the foil is placed loosely above the food, it might come off and lead to air fryer damage
Might change the texture and crunchiness of your food. Placing foil at the bottom of your basket means less air will circulate around the bottom of the food. 
💡 How To Use it
Rule 1 - Use it In the Basket Only
This is a crucial step. Never use foil in the base of your fryer.
Rule 2 - Don't place foil above the basket
No parchment paper or foil can be placed above the height of the basket.
Rule 3 - Cover it With Food
Always place food on top of the alu foil. If alu foil is left uncovered, it could fly around the basket, causing issues or potential damage.
Rule 4 - Don't Cover the Fan
Last but not least, make sure the foil is NOT covering the fan of your fryer.
This will make your air fryer practically useless. The foil will block the fan, making it impossible for the air to circulate.
🤦 Common Mistakes
Using acidic foods that shouldn't come in contact with alu foil (full list below).
Not placing any food on top of the foil. Alu foil is ultra light, which means it will fly away if nothing is placed on top. This could cause damage to your fryer.
Poking holes in the air fryer, resulting in oil and other juices dripping down into your air fryer.
Covering the entire basket with foil. This defeats the purpose of air frying, as the air can't circulate anymore. Your food won't cook evenly or might not even cook completely.
Quick tip: It doesn't matter at all which side of the alu foil you use.
🍋 Foods To Avoid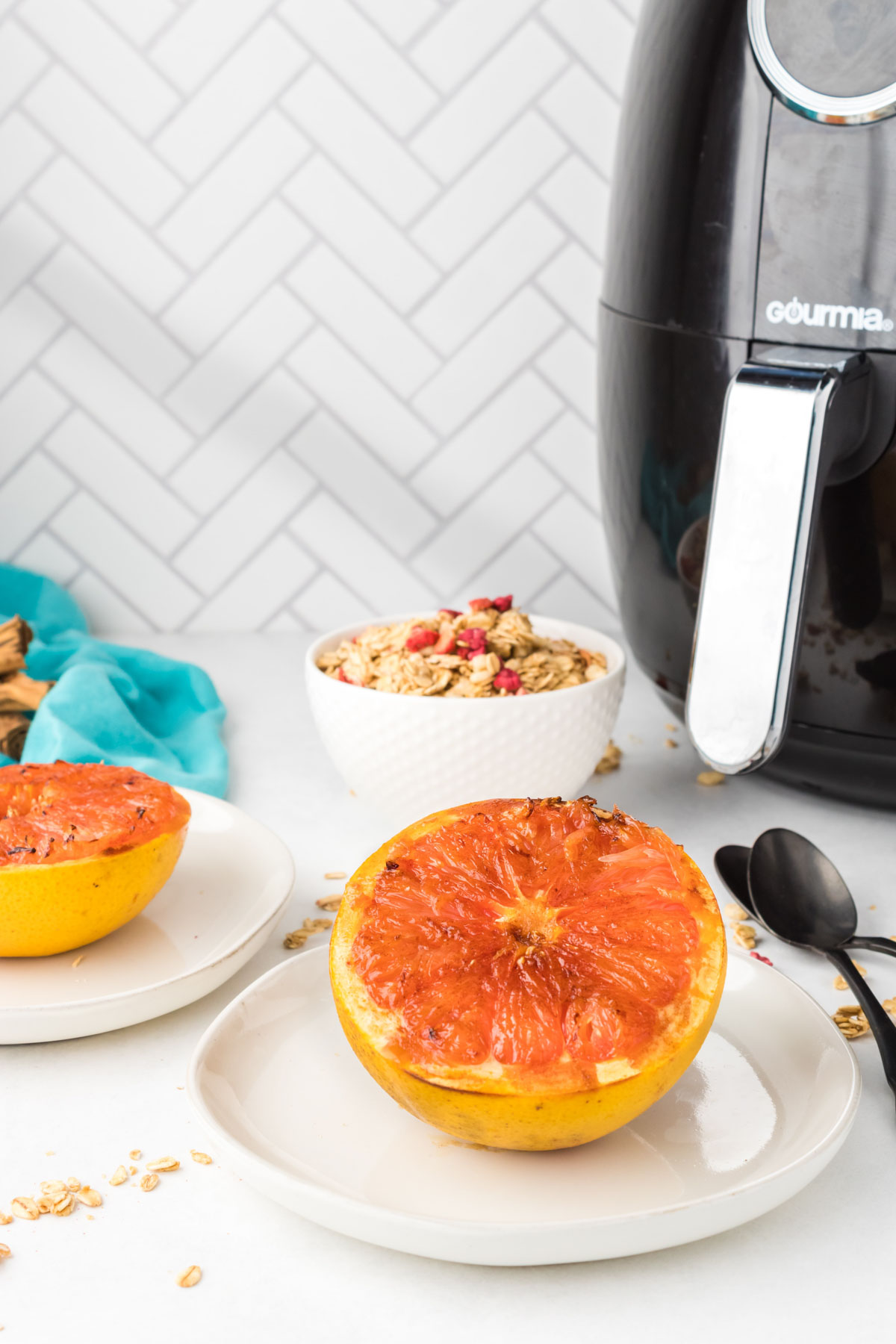 We've established that aluminium foil can be a great addition to your kitchen cupboard.
However, certain products or foods aren't a great match. The two types of food you shouldn't use in combination with alu foil are strongly acidic foods and products that contain high levels of salt.
Acidic food coming in contact with alu foil causes a chemical reaction where the aluminium leeches into your food. Not only is this unappetising, it might also potentially cause health issues.
There is some debate on how harmful this could be. Healthline claims that while there are some concerns related to regular use of alu foil in cooking, there is no strong evidence that this would cause increased risk of disease.
When it comes to health, a lot of us would rather be safe than sorry. To make things easier, I've collected a list of some main acidic foods below:
Lemons, oranges, or other citruses
Tomatoes or tomato sauce
Rhubarb
Gherkins and other pickled food
Feta cheese
Vinegar
Apples
Peppers
Source: European Aluminium Food Association
🎛 Alternatives
If you don't have alu foil on hand or you're wondering about other options, here's some:
Baking paper (parchment paper). Use it in the same way as you would alu foil.
Ovenproof dish: You can use practically any type of ovenproof dish that you would also use in the oven. Examples include ceramic, glass, metal, and silicone dishes.
❓FAQ
Can you put aluminium foil in an air fryer?
Yes, you can use aluminium foil in an air fryer. However, you need to always place it in the basket (not the base) and follow some safety precautions explained in this article.
Can you put parchment paper in an air fryer?
Yes, you can use parchment paper in the air fyer. Simply use it in the same way as your would the alu foil - in the base, covered with food, making sure it won't fly away.
What can you NOT put in an air fryer?
I wouldn't recommend air frying fried food, leafy greens, cake, dehydrated foods, anything with a wet batter, and cheese.
Can I wrap potatoes in foil in an air fryer?
You can technically do that without causing any damage. However, it's not the optimum way to cook potatoes in the fryer.

The point of an air fryer is for the air to circulate freely around your food. If you've tightly covered the food with foil, the air won't be able to circulate.
📝 Other Basic Air Fryer Rules
Allow time to preheat. Just like a conventional oven, air fryers need time to heat up. Luckily, this should only take a few minutes!
Don't overcrowd the basket. Think of it as a washing machine - you would never stuff it completely full. Let the air circulate.
Just like rice cookers & breadmakers, air fryers release steam and moisture. If you can't open windows in your kitchen or air circulation isn't great, place the air fryer under the extraction hood above your stove.
For optimal results, move the food around a little. Simply shake the basket about halfway through cooking time.
Clean it after every use! It may sound like a lot of work, but it will save you time in the long run! It takes so much less time and effort than cleaning it every once in a while when all the food has already stuck to the surfaces.
Always refer to the user manual and keep it handy. Before using your air fryer for the first time, carefully read through the manual to avoid potential mistakes or damage.
👩‍🍳 Air Fryer Recipes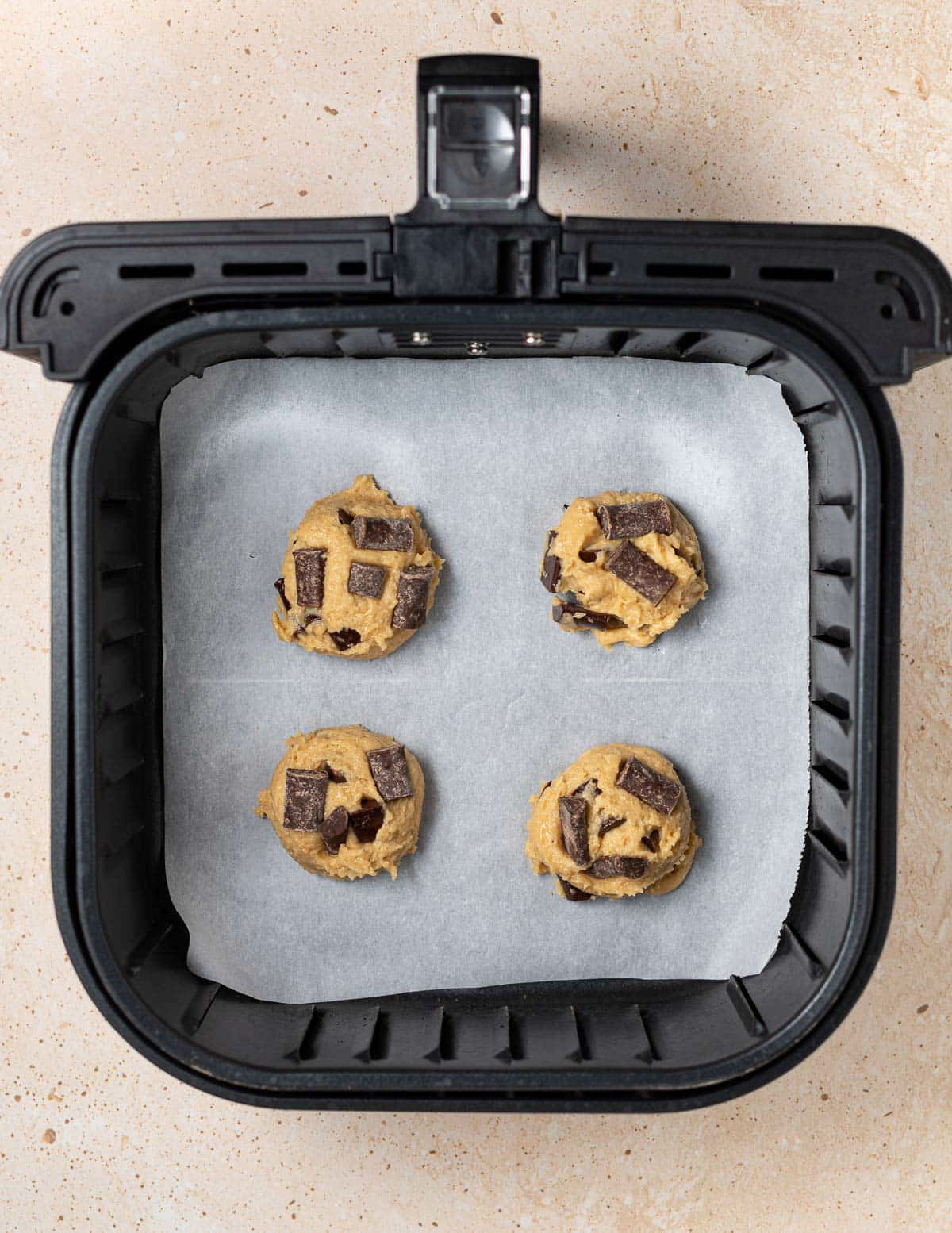 Here's a selection of some of my favourite air fryer recipes:
📍Conclusion
I hope my thorough post has answered the popular question on 'can you put aluminium foil in an air fryer'.
You certainly can use alu foil in the air fryer, however, there are some important safety precautions to keep in mind. Always use it in the basket only (not in the base) and never place loose foil in the fryer.
Instead of alu foil, you can also use parchment paper or ovenproof dish. 
I'm a professional recipe developer, food blogger & food photographer, so learning the ins and outs of cooking is my priority. If you have any other questions, please don't hesitate to leave a comment below. I check the comments section regularly and would love to help you out in any way I can!
Disclaimer: Please always refer to and carefully read your manufacturer's safety instructions. The author of this blog is not responsible for any issues or damage resulting from using alu foil in an air fryer.