This Thermomix mojito cocktail is the refreshment you've been CRAVING! Made with only 5 ingredients - rum, lime, mint, sugar & soda water. Plus, it's SO easy & quick to prepare.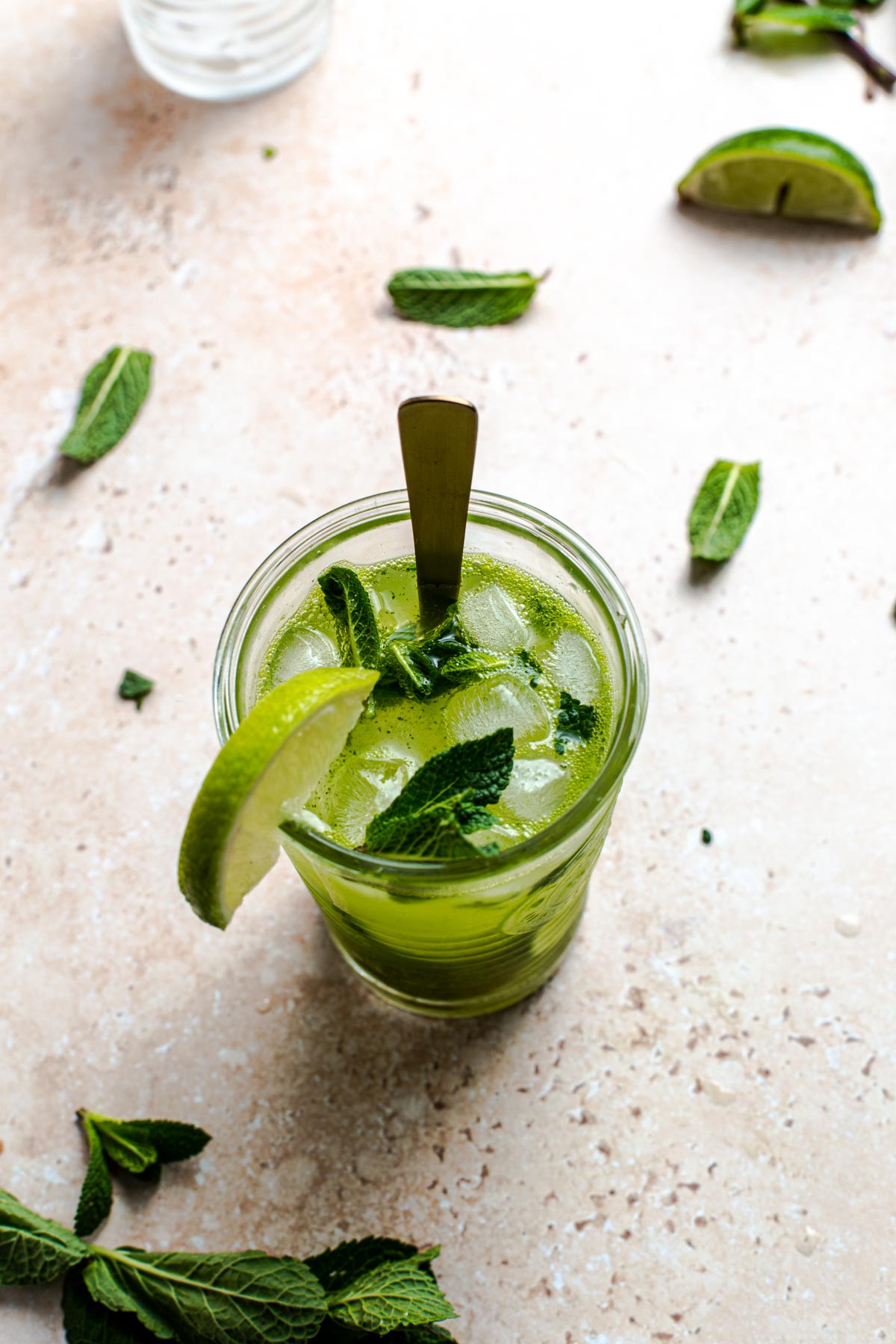 Mojito is known as a labor-intensive cocktail, but with a little help from your Thermomix, it can be whipped up in no time.
Jump to:
Why You'll Love This Recipe
Easy to find ingredients
The perfect amount of mint 
Just sweet enough but not too sweet
Refreshing & invigorating 
The perfect BALANCE of flavours
You'll need just 5 simple ingredients (plus ice cubes)
A super forgiving recipe
Plus, you'll find my step-by-step tips on how to STYLE & DECORATE this drink to make it look stunning. 
Ingredients
Here's all you will need to make a tasty Thermomix mojito. Apart from rum, all of these are super cheap & easy to find.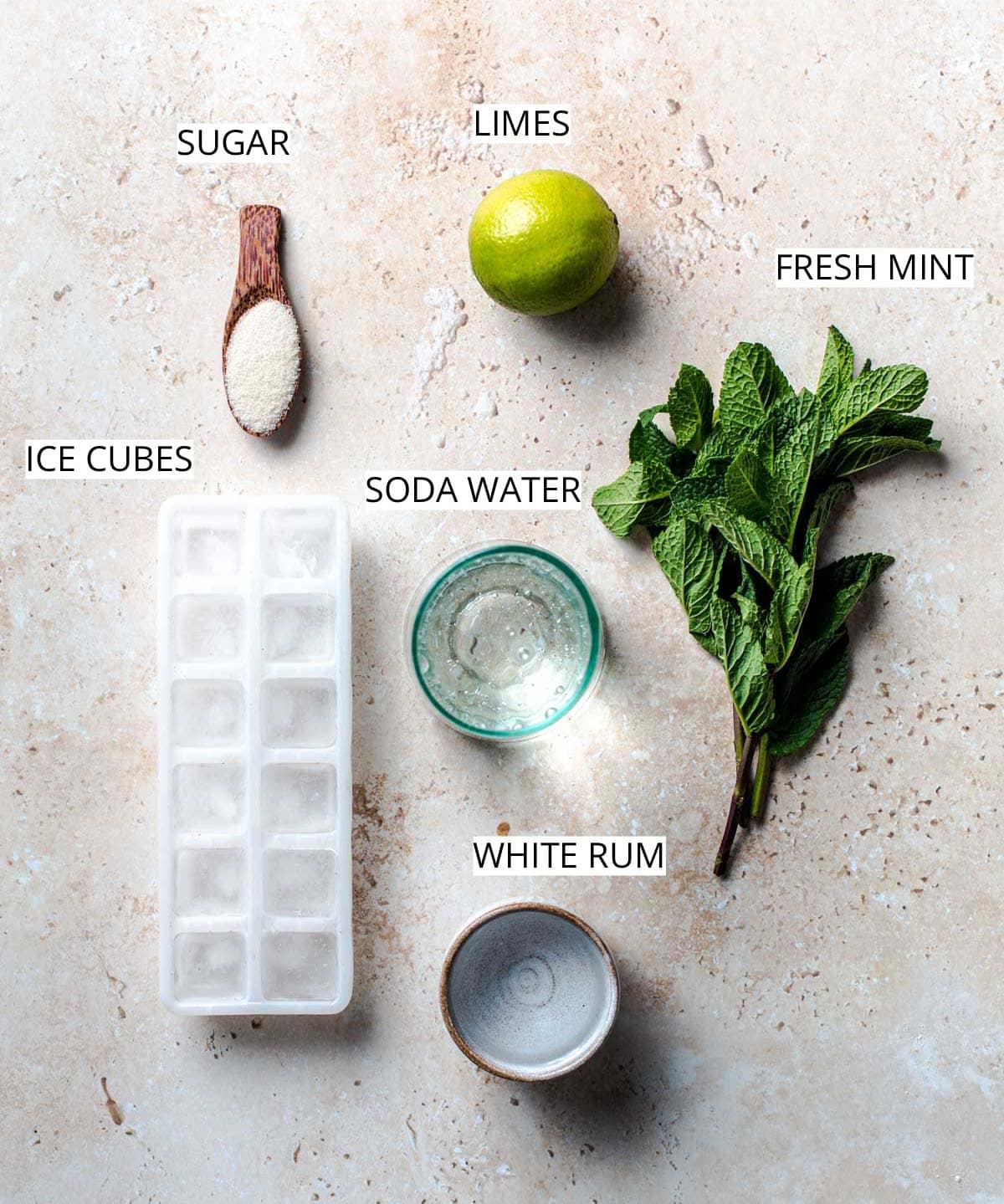 Ingredient Details
Sugar - You can use practically any sugar. I recommend using LIGHT sugars to keep the drink looking clear & see-through.
Lime - You'll need whole limes for maximum flavour. Save some extra limes to use as decoration.
Mint - Fresh mint leaves will be used to infuse it with flavour. 
Ice - there's no refreshing cocktail without some ice!
Soda water / fizzy water - Unsweetened fizzy water is a crucial ingredient for this mojito. It provides the perfect balance.
Rum - White rum will bring the best results. Omit rum if you're making a mocktail.
TIP - If you are missing any ingredients I've prepared a list of alternatives below.
Equipment
Thermomix
Glasses for serving
Sharp knife
Long spoons or straws
Decorating Steps
TIP - This is a super quick overview of how to STYLE your mojito. Read the exact measurements & instructions at the bottom of this page.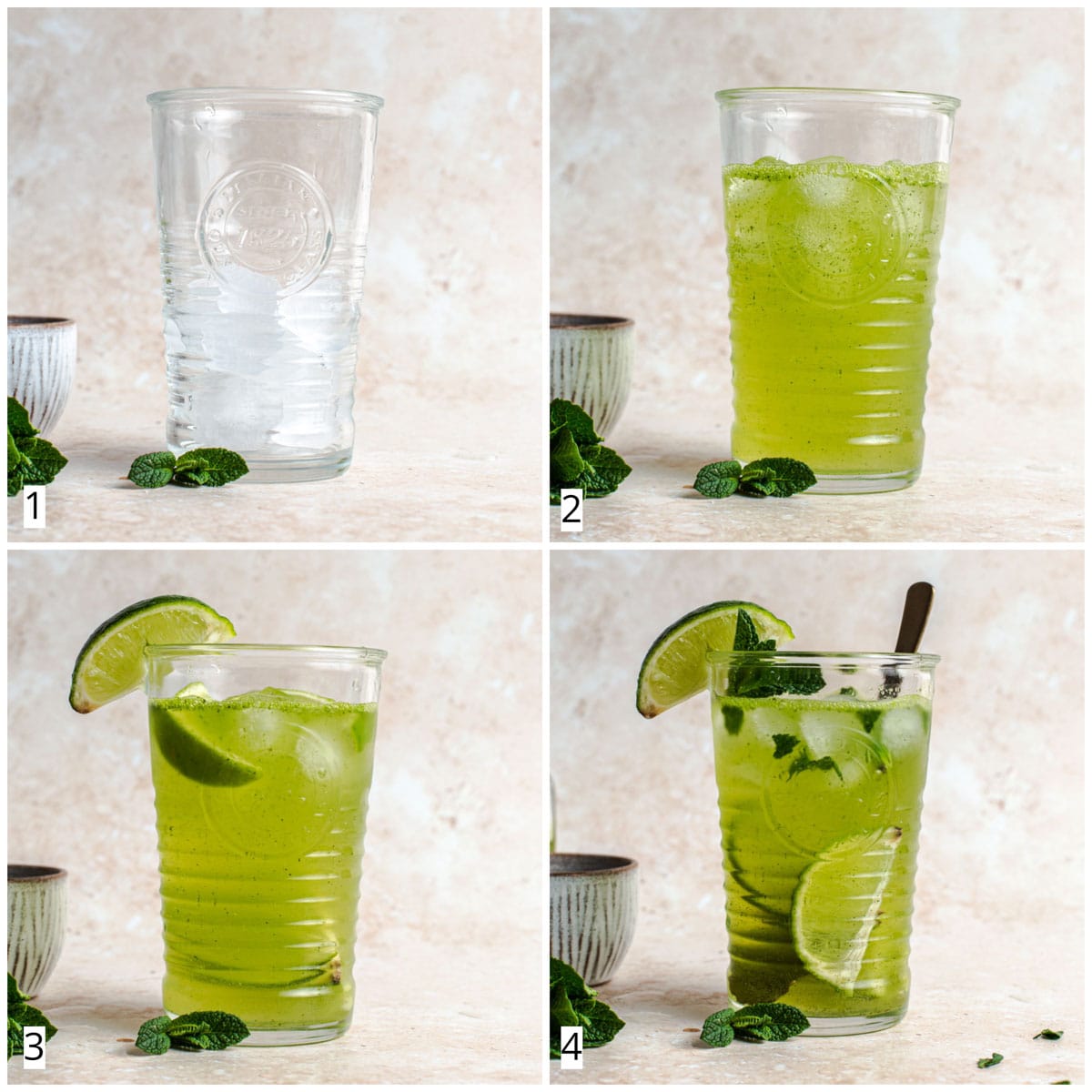 Add ice cubes to a tall glass.
Pour in your mojito directly from the Thermomix.
Use some thin lime wedges to decorate the rim of the glass. Throw some lime into the drink too.
Rub a few mint leaves between your fingers. Cut them up small and add them to the drink as a final touch.
PS - I always love picking a very small bunch of tiny mint leaves and gently placing it on top of the drink. 
Top Tips
Use a LARGE, tall glass for serving
Taste and adjust - Just like many cocktails, mojitos are all about personal preference. If you're not fully satisfied with the base recipes, make sure to tune it to your own taste.
If you do customise it, remember the key is balance - you should be able to taste each element
Crushed ice is best, but you can serve it with any ice - no need to overthink it
Choose a good rum - it will make all the difference
Avoid flavoured rums
Avoid dark sugars at all costs - this will turn your drink murky.
If you prefer your cocktail completely clear, use the Thermomix strainer to strain it before pouring into the glasses. 
Fun fact - Mojito is one of the oldest mixed drinks in the world. It's thought to be over 500 years old.
FAQ
Some experts say mojitos should be made without fizzy water. Is that true?
There are a lot of 'rules' when it comes to cocktail making. Sometimes they are meant to be broken and other times they're just personal preferences. I recommend finding out what works best for YOU and sticking to that. 
When should I serve mojito?
This is the perfect drink for summer parties, brunch gatherings, bridal showers, or really any other social gathering (especially in the summer). 
What is the best rum to use for a mojito?
The rum that you would drink straight. I recommend going for rums in the middle price bracket. Cheap ones might leave you disappointed, but really expensive ones won't necessarily justify the price. 
Substitutions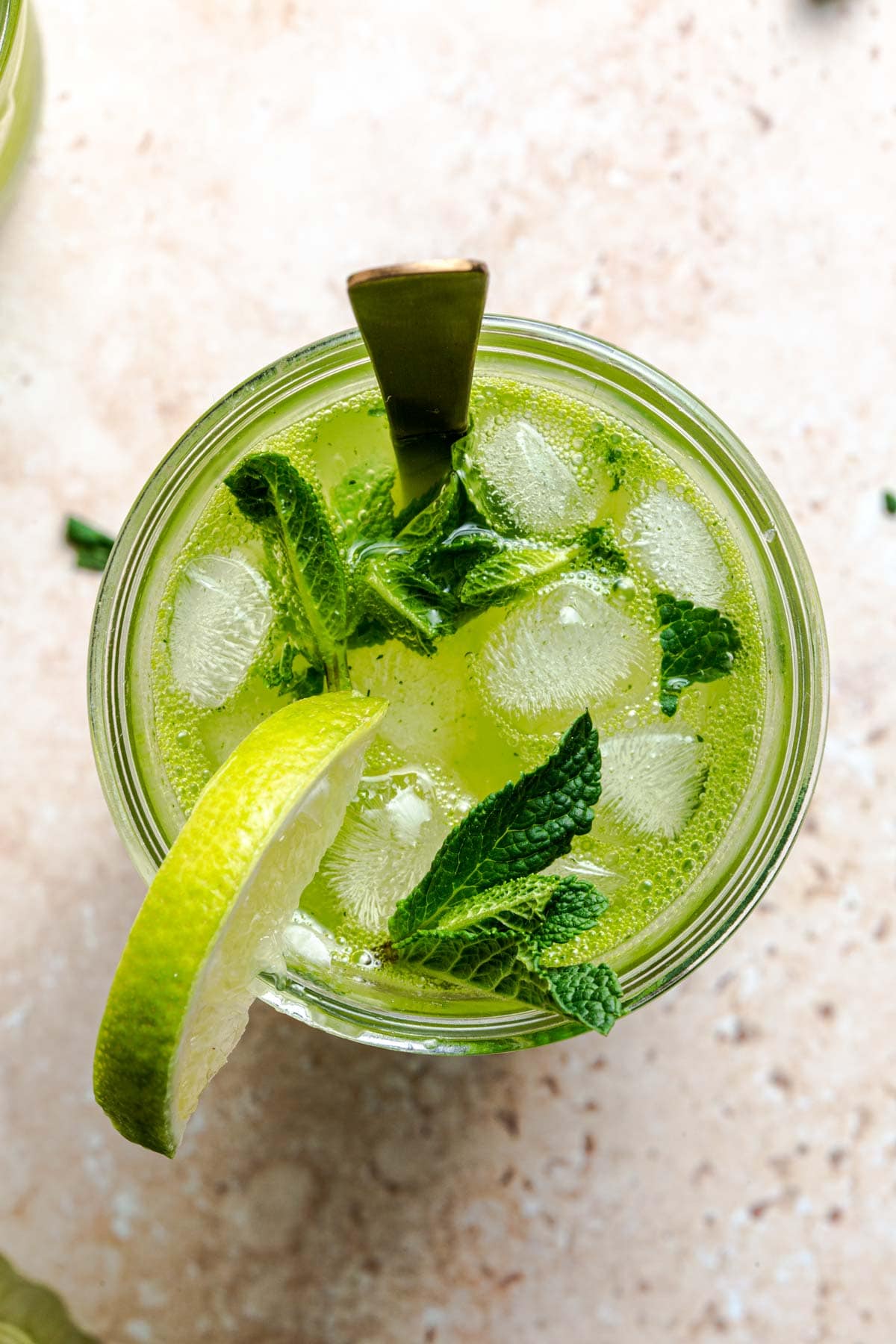 Don't have a certain ingredient?
You can use vodka, tequila or gin to substitute rum.
It's not ideal, but you can use lemon instead of lime.
Make it non-alcoholic by skipping rum altogether.
If you don't have sugar, you can use liquid sweeteners (like agave syrup) - but this will colour your drink a little.
Variations
We call love a classic mojito, but what's the hurt in switching things up a little?
Don't miss some of my favourite variations:
Add berries for a fun & colourful twist (I love adding raspberries!).
Add tropical fruits like mango, pineapple & coconut.
You can use ginger ale instead of soda water for a bolder twist of flavours.
Cranberry mojito is IDEAL for Christmas.
Spicy jalapeño mojito is an exciting alternative too.
Similar Recipes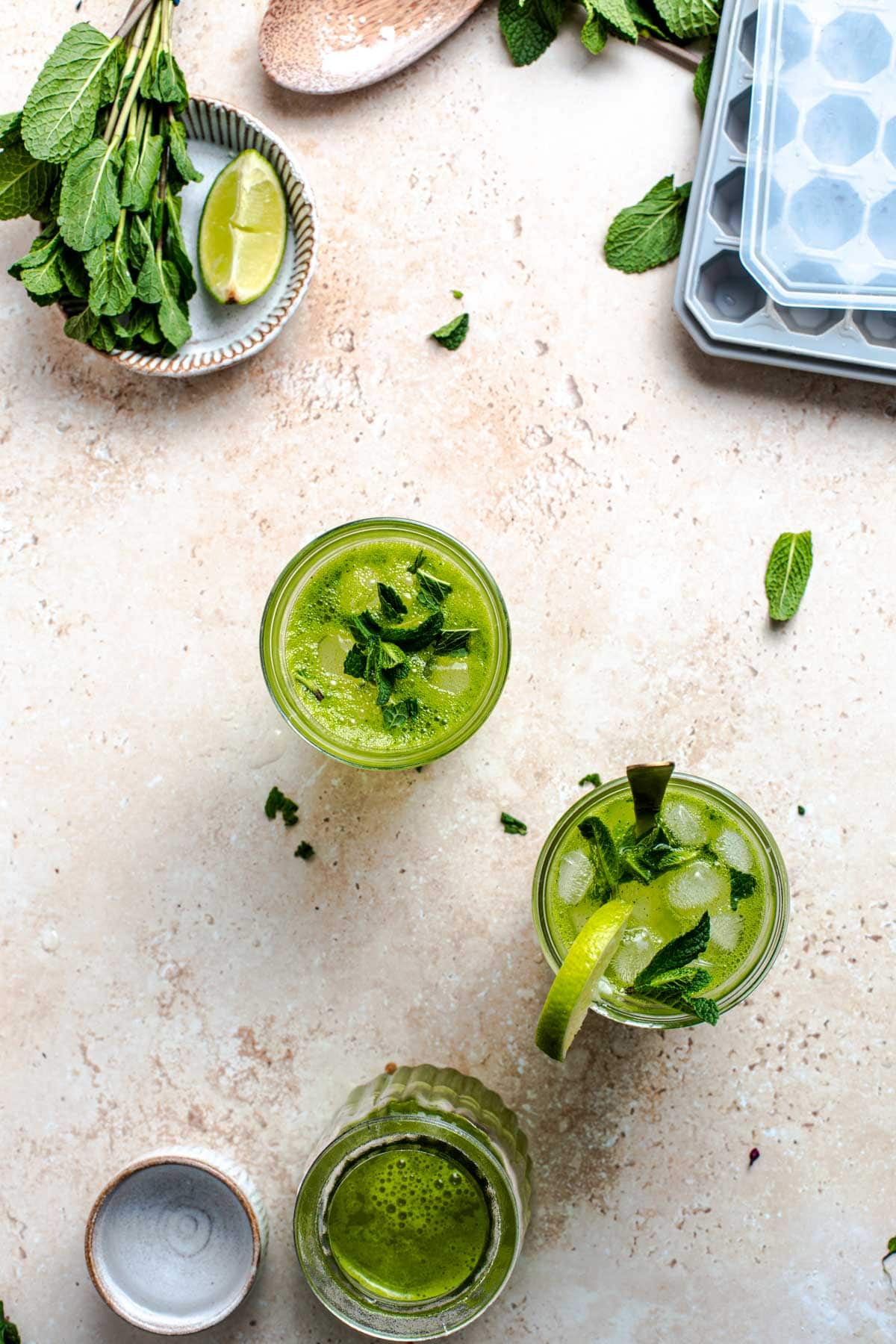 Want to try out more refreshing drinks to quench your thirst?
Did you try out this Thermomix mojito yourself? I'd love to hear from you!
Your comments, ratings & reviews never fail to make my day, plus they help this blog reach more new readers. If you can, leave a review or get in touch via the comments section below!
🍴Recipe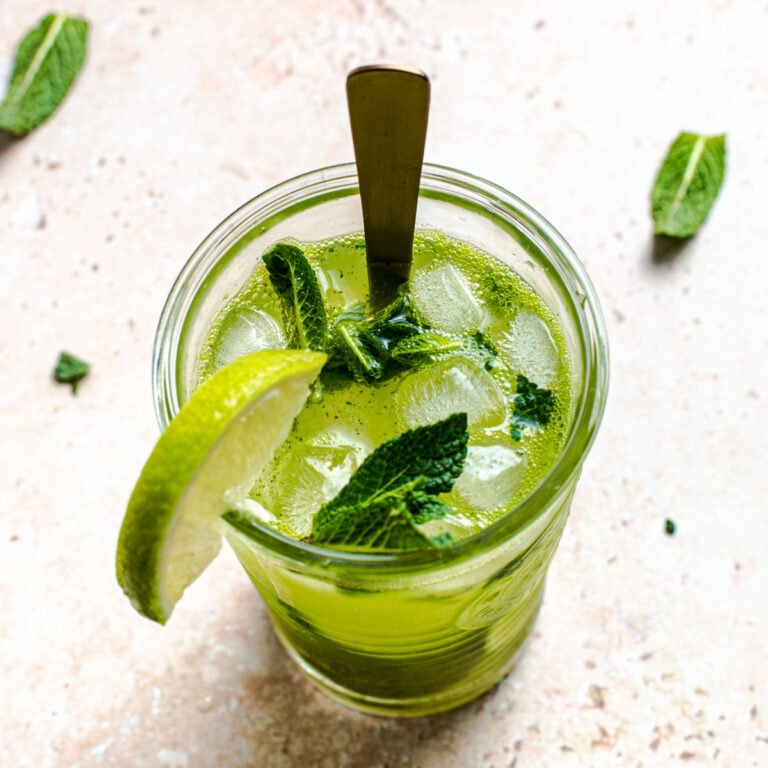 Thermomix Mojito Cocktail
A refreshing Thermomix mojito cocktail to quench your thirst.
Print
Pin
Rate
Equipment
Thermomix

Sharp knife

Tall glass

Straw or long spoon
Ingredients
4

teaspoon

white sugar

2

limes

quartered

10-15

mint leaves

120

g

white rum

½ cup

120

g

soda water

½ cup

250

g

ice cubes

and extra for serving
Instructions
Add sugar to the Thermomix basket. Mix on Speed 8, 8 seconds.

Then add lime (with skin) and mint leaves. Mix on Reverse Speed 3, 20 seconds.

Lastly, weight in rum, soda water, and ice cubes. Mix on Reverse Speed 4, 10 seconds.

Remove the lime. Add more ice cubes to a large, tall glass.

Pour the mojito into the glass. Serve with extra lime & mint leaves.
Notes
Tip 1 - Always taste and adjust according to your preference. Tip 2 - Choose a good rum - it will make all the difference. Tip 3 - Avoid flavoured rums. Tip 4  - Avoid dark sugars at all costs - this will turn your drink murky. Tip 5 - If you prefer your cocktail completely clear, use the Thermomix strainer to strain it before pouring into the glasses. 
Nutrition
Calories:
193
kcal
|
Carbohydrates:
16
g
|
Protein:
1
g
|
Fat:
1
g
|
Saturated Fat:
1
g
|
Polyunsaturated Fat:
1
g
|
Monounsaturated Fat:
1
g
|
Sodium:
22
mg
|
Potassium:
99
mg
|
Fiber:
2
g
|
Sugar:
9
g
|
Vitamin A:
246
IU
|
Vitamin C:
21
mg
|
Calcium:
41
mg
|
Iron:
1
mg
Disclaimer: The nutritional information above is calculated automatically. The author of this post cannot guarantee 100% accuracy of this data.