A refreshing & easy oat milk smoothie packed with banana, mango, strawberry & raspberry. Bursting with flavour, this is a healthy breakfast that's also vegan, gluten-free, and nut-free.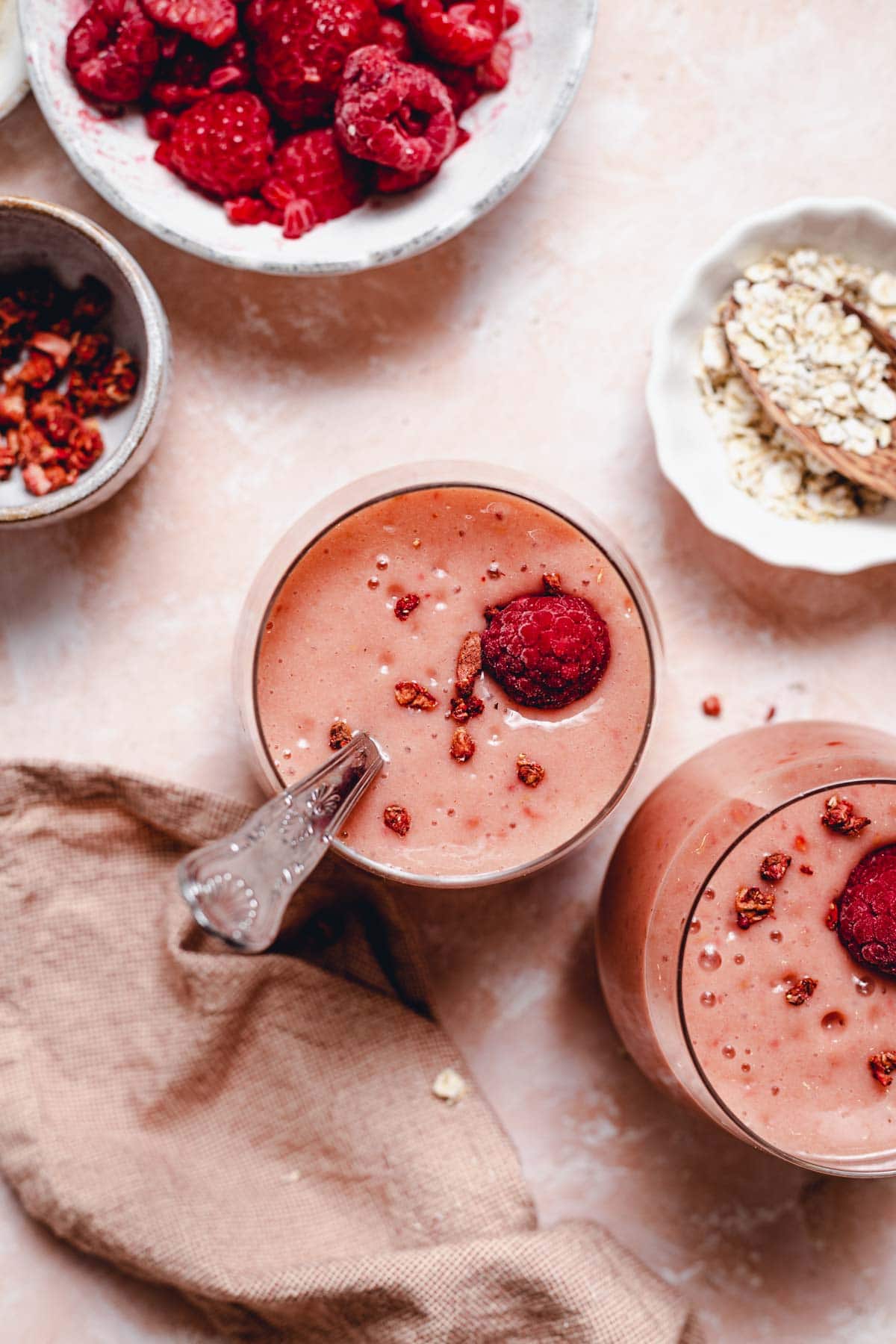 Jump to:
Why try my oat milk smoothie
Can be made with homemade or store-bought oat milk
Packed with banana, berries and mango
Super refreshing & invigorating
Enriched with a hint of vanilla to balance the acidity of raspberries
So easy to make and customise
A great way to use up oat milk that's about to go bad (along with my oat milk pancakes & oat milk hot cocoa).
If you're a fan of smoothies, don't forget to also check out my plant-based smoothies super-post with 6 of my favourite smoothies.
The Ingredients
Here are the beautiful ingredients you'll need to make this vegan berry smoothie.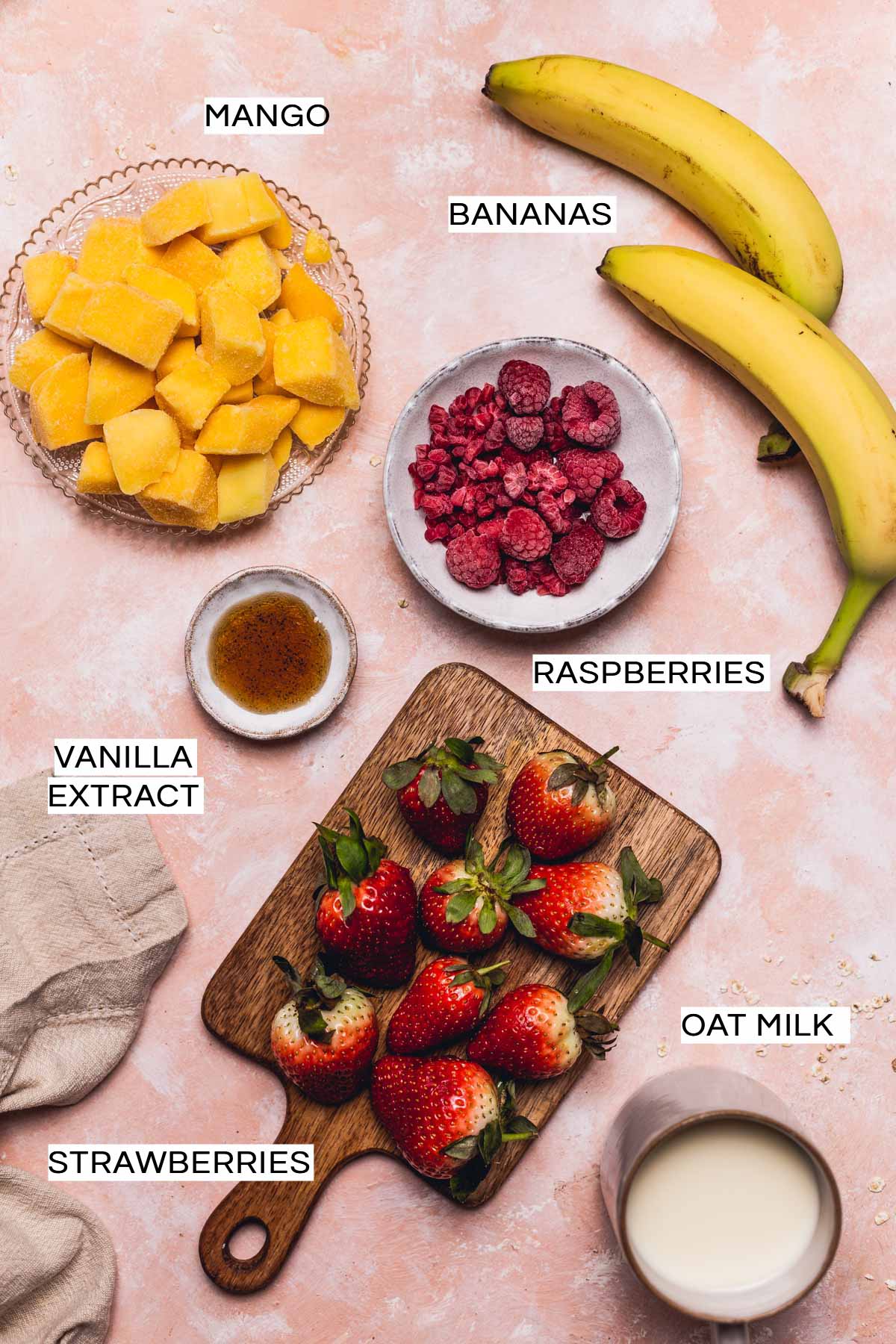 Oat milk: Store-bought or homemade will do. I chose unsweetened oat milk.
Strawberries: I used fresh, but you can substitute for frozen if preferred.
Raspberries: For best results, use frozen raspberries.
Bananas: The recipe will work best with ripe, fully yellow bananas with some brown spots on the edges (see photo for reference).
Vanilla extract: I used liquid vanilla extract. This is the most affordable version, but can be substituted for vanilla paste or vanilla pod.
Step by step
Let's break down the quick smoothie-making process.
If you're wondering where the exact measurements and detailed instructions are, make sure to scroll down to the full recipe card at the bottom.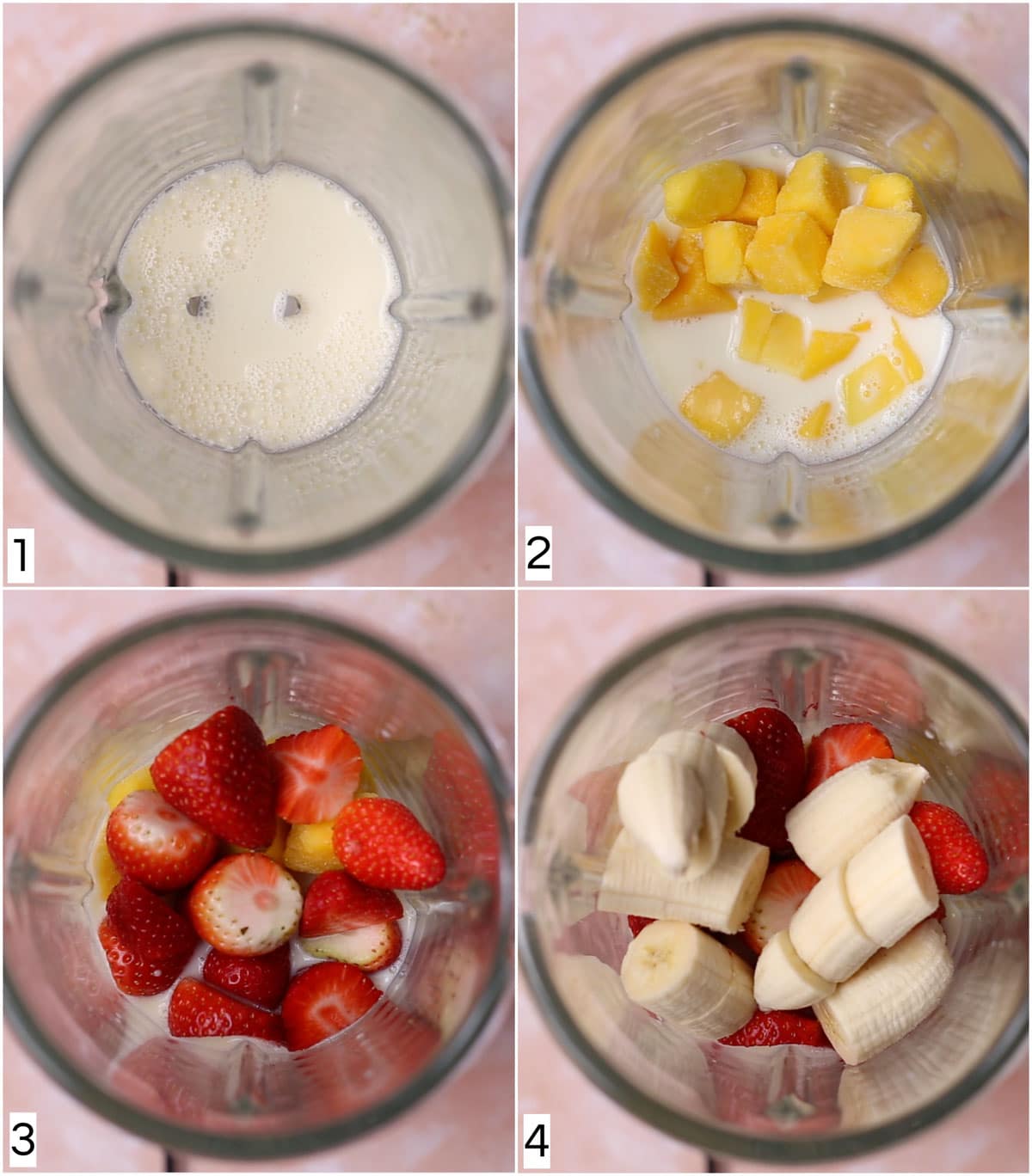 1. Add oat milk and vanilla extract to your blender.
2, 3 & 4. Then add any all your fruit (mango, strawberries, banana, raspberries).
Blend until completely smooth.
The order of adding fruit isn't super important as long as you add liquids first. As a general rule, always add heavier fruit first.
Expert Tips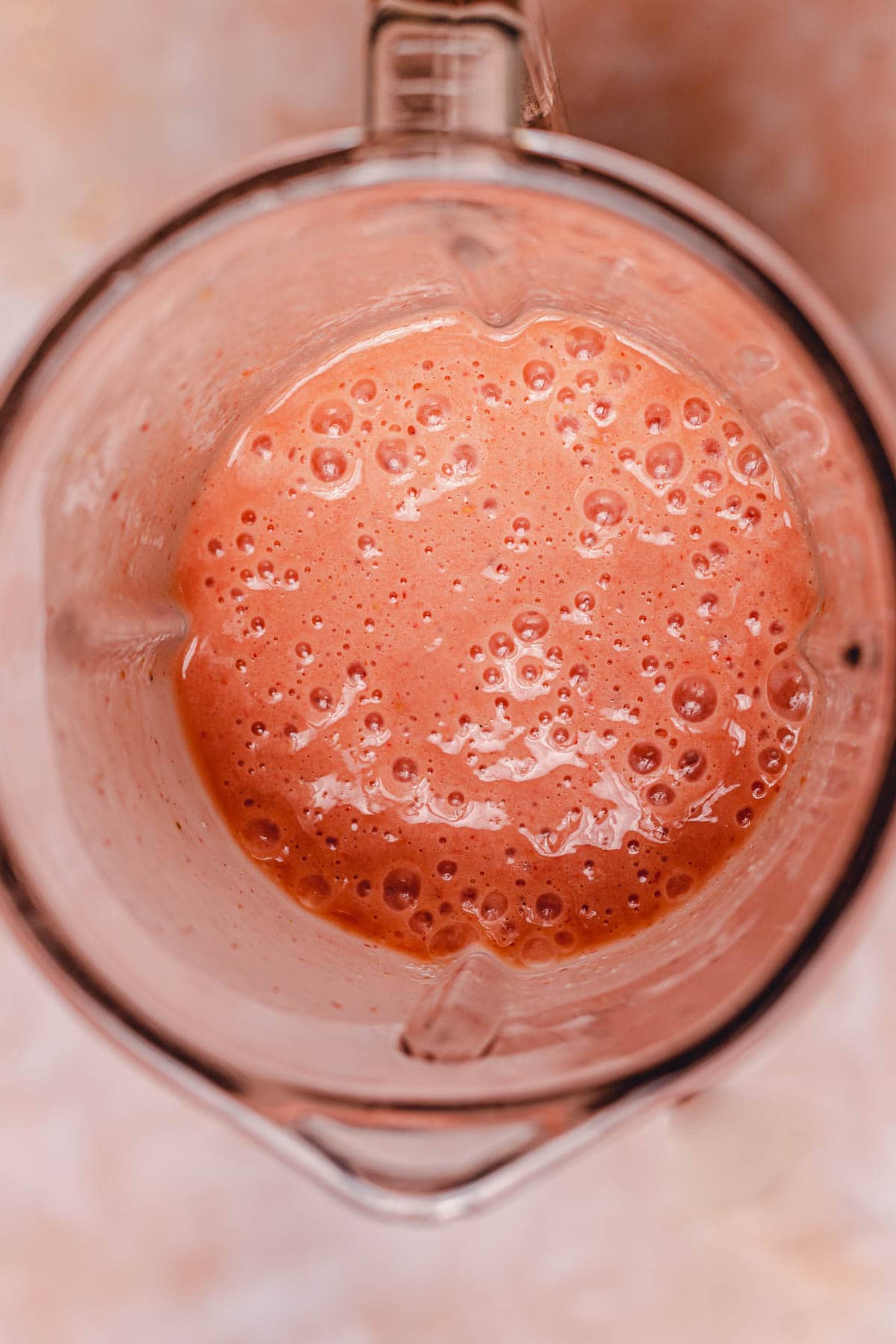 Add Liquids First
This tip doesn't just go for my oat milk smoothie. Whenever you make a smoothie, make sure to add liquids first. This will help the blade turn more easily and cut through those ice-cold raspberries.
Blend until 100% smooth
The clue is in the name. For best results, smoothies should be completely smooth with no bits floating about. When you pour the smoothie into your cup, it should have no clumps of fruit hiding between the liquid.
To ensure it's as smooth as possible, all you need to do is blend it for long enough. Some newer blenders will even have a smoothie setting.
I find that 2 or 3 minutes of blending is usually enough to get rid of any bits. This might depend on how powerful your blender is.

After blending, always run a spoon or a small spatula through the smoothie and see if you run into any bits. If yes, make sure to blend for longer until no bits remain.
Drink fresh
I'm all for batch food prepping, but there's no denying that a fresh smoothie is the best kind of smoothie.
I like to enjoy it when it's just been poured from the blender and has little bubbles dancing around the surface.
If you do, however, want to keep it for later, I have some storing suggestions in the FAQ section below.
Serve with ice
This tip will depend on your personal preference and time of the year. If you want an extra refreshing kick, add a handful of ice cubes to the bottom of your glass. Then pour over your smoothie.
This way, it will stay cool for longer and have an additional crisp cold element to it. The perfect refreshment after a workout!
FAQ + Troubleshooting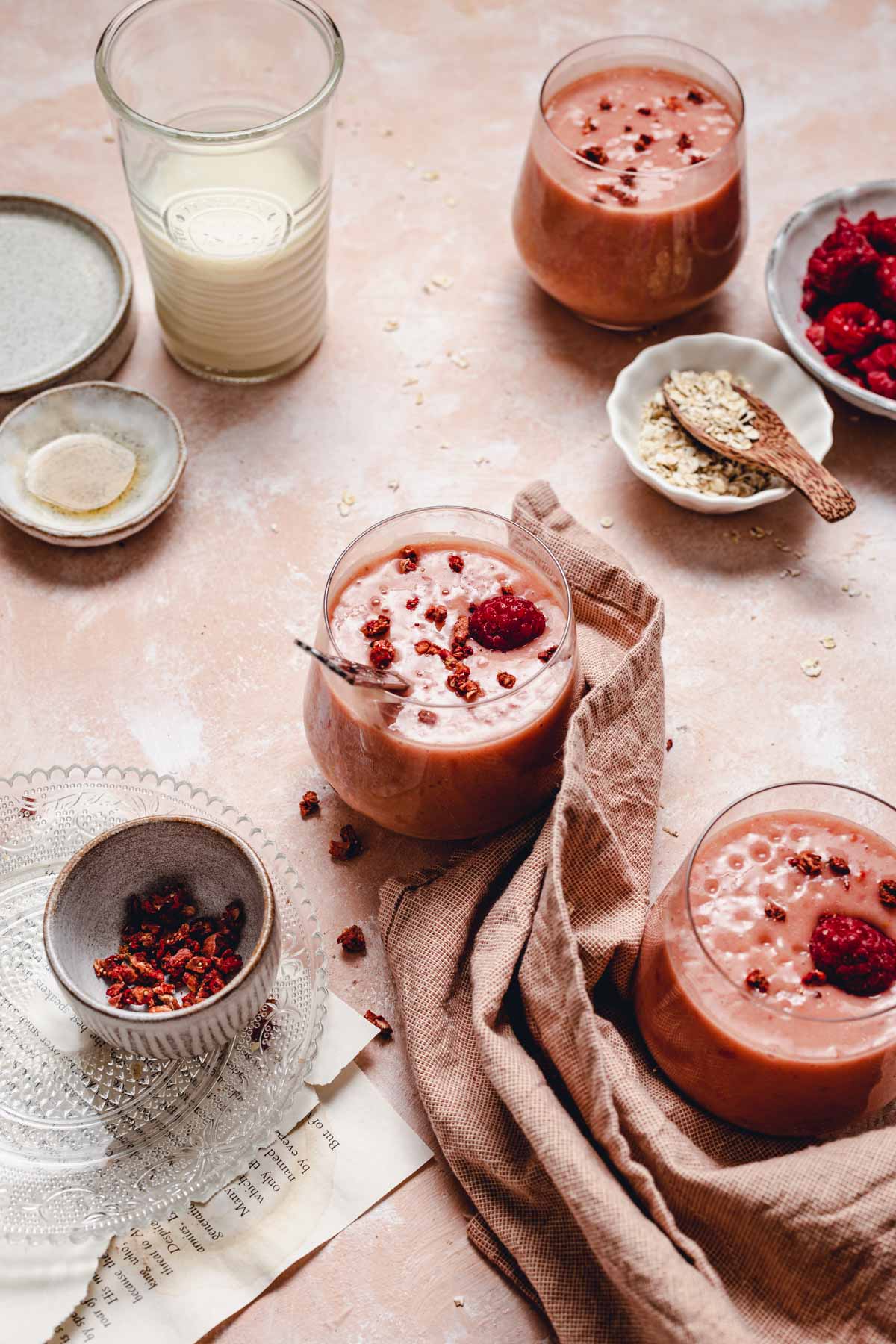 How to make a smoothie thicker?
Simply add more banana or frozen fruit. Do not add any additional liquids. Check out this article for more suggestions.
How to make a smoothie thinner?
Simply pour in some more oat milk or water.
What is a good sweetener for smoothies?
Liquid sweeteners such as maple syrup and agave syrup work best. Adding more liquid vanilla extract will also help sweeten your smoothie.
Can I substitute frozen for fresh ingredients?
I recommend sticking to the original recipe as much as possible.

However, you could make a few adjustments, for example, using fresh mango and instead use frozen strawberries.

As long as you have about 2 frozen ingredients, you should be good. If not, your smoothie might turn out thinner.
How do you preserve a smoothie for later?
Pour it into an airtight container (such as a mason jar or a pickle jar). Store in the fridge for a maximum of 2 days. 

When you're ready to serve, the smoothie might be a bit thicker. To fix this, simply add a splash of water if desired. 
Can you freeze a smoothie for the next day?
Yes. What I find works best is pouring it into an ice cube tray. Make sure to not fill it all the way to the top. The liquid will expand as it freezes so leave some room on top.

When you're ready to drink, take it out of the freezer and let it thaw gently before blending.

If you're not using a high-speed blender, start by pouring a little bit of liquid such as oat milk or water into the blender. Then add the smoothie cubes and blend until smooth.
Made my delicious oat milk smoothie? Get inspired by my other healthy vegan recipes.
Hearing about your recipe remakes is my favourite part of being a food blogger - make sure to leave a comment below if you've tried it out!
🍴Recipe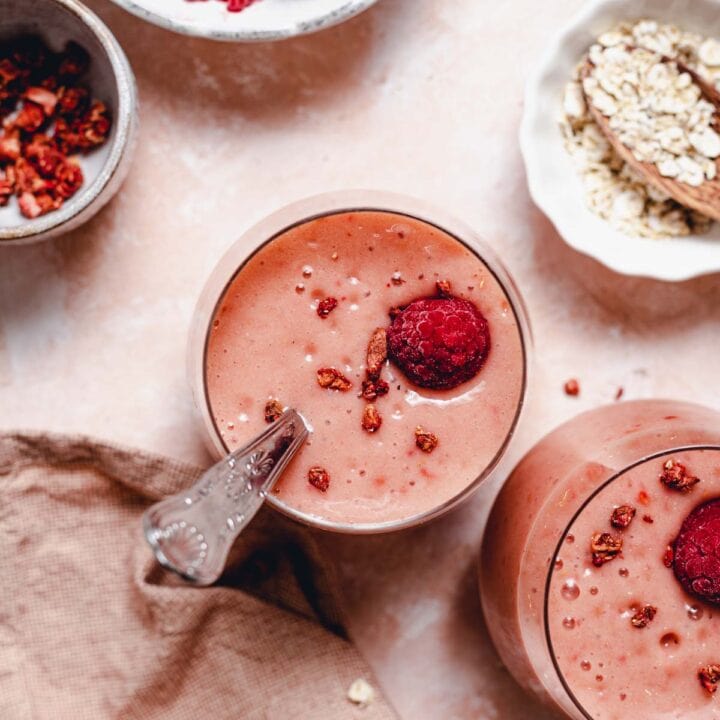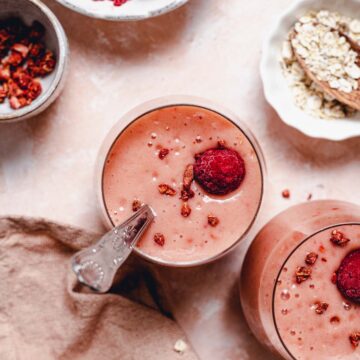 Easy Oat Milk Smoothie with Mango, Banana & Strawberries
Refreshing oat milk smoothie with a hint of vanilla and a fresh kick of raspberries, strawberries, and mango.
Print
Pin
Rate
Ingredients
1,5

cup

(

300

ml

) oat milk

1

teaspoon

vanilla extract

optional

1

cup

(

120

g

) frozen raspberries

1

cup

(

120

g

) frozen mango

8

fresh strawberries

leaves removed

2

bananas

ripe
Instructions
Pour oat milk into a blender. Add vanilla extract.

1,5 cup oat milk,

1 teaspoon vanilla extract

Then add the remaining ingredients.

1 cup frozen raspberries,

1 cup frozen mango,

8 fresh strawberries,

2 bananas

Blend at high speed for 2-3 minutes until completely smooth and no bits remain.

Serve immediately or keep refrigerated in an airtight container for later.
Notes
Tip 1: When blending, always add liquids first. Tip 2: Any lighter ingredients (such as powders - if using) should also be added before adding heavier ingredients such as frozen fruit. Tip 3: Blend until completely smooth and no bits remain. Make it thicker? To make your smoothie thicker, add more bananas. Make it thinner? To make it thinner, add more liquid (oat milk or water). Feel free to add a sweetener of your choice if desired. Liquid sweeteners work best. To serve - Best enjoyed fresh. Serve with a handful of ice cubes if desired. To store - Pour into an airtight container and place in the fridge. Keep for a maximum of 2 days. To freeze - Pour into an ice cube tray and freeze for later if desired. 
Nutrition
Calories:
137
kcal
|
Carbohydrates:
31
g
|
Protein:
3
g
|
Fat:
1
g
|
Sodium:
37
mg
|
Potassium:
383
mg
|
Fiber:
5
g
|
Sugar:
20
g
|
Vitamin A:
531
IU
|
Vitamin C:
38
mg
|
Calcium:
127
mg
|
Iron:
1
mg
Disclaimer: The nutritional information above is calculated automatically. The author of this post cannot guarantee 100% accuracy of this data.