The perfect eggless and vegan coffee cake for beginners. Super easy, quick and so tasty. Rich coffee taste with hints of vanilla, cocoa and hazelnut for the ultimate flavour explosion.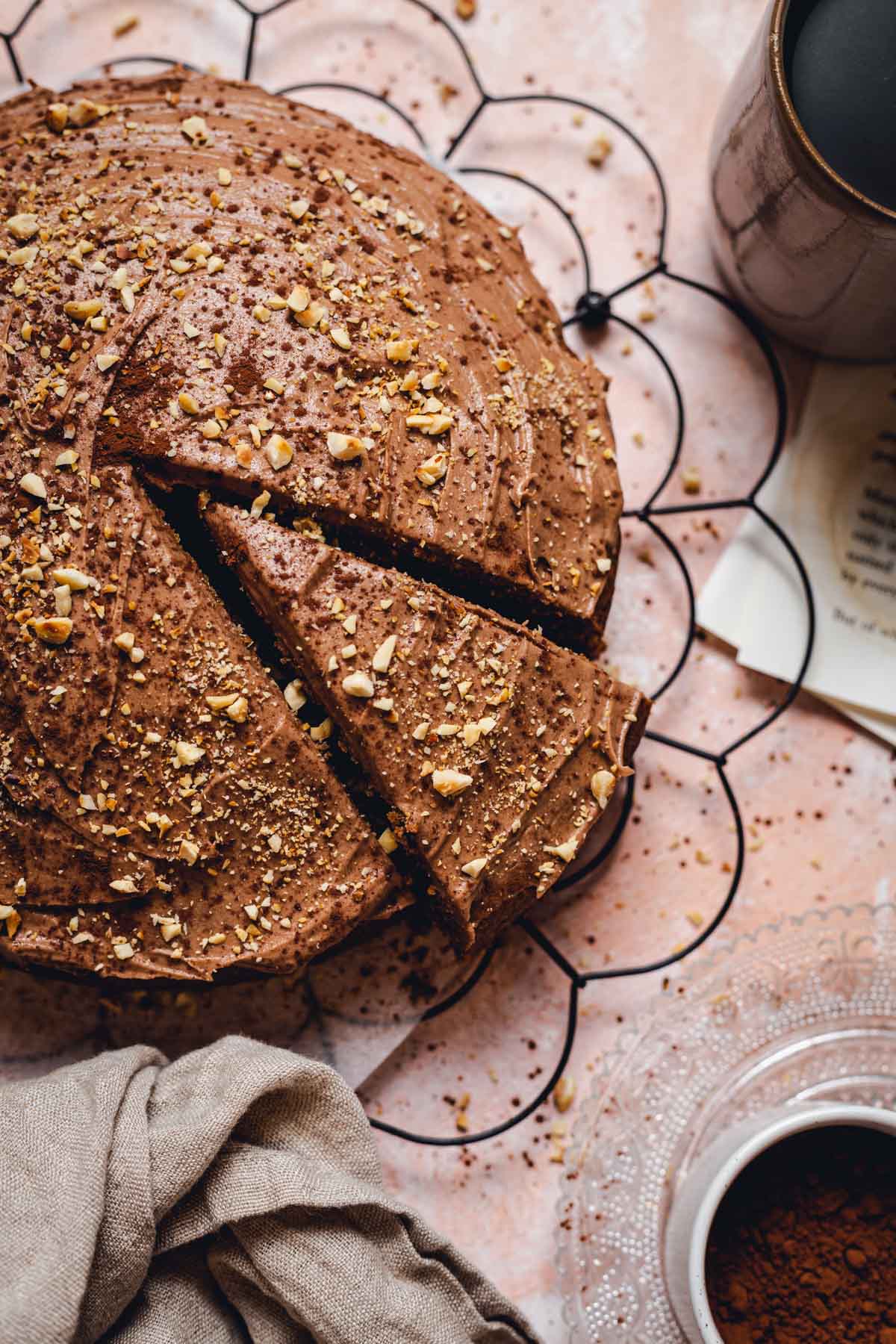 Why You Need To Try This Cake
Completely eggless - flaxseed egg makes a fantastic substitute for a real egg
Cocoa and hazelnut make the perfect flavour pairing for the icing
Tested & approved by vegans and non-vegans alike
A hint of vanilla to give it an added depth
Completely beginner-friendly
No fancy equipment needed
Uses the same tried & tested base as my vegan pear cake, lemon curd cake, and apple cake.
Plus, you can find EU and US measurements, expert tips and FAQ below!
The Ingredients
Below are the ingredients you will need for this delicious cake.
A Few Notes About The Ingredients
Flaxseed: you will need to use ground flaxseed. Find it in all bigger supermarkets or health stores. If you can't access ground flaxseed, use whole flaxseed and blend for 1 minute to turn it into powder.
Granulated sugar: sometimes called white sugar or 'regular' sugar.
Instant coffee: I used strong instant coffee. It needs to completely dissolve in the mixture. If you're using ground coffee or capsules, make sure that the coffee is strong.
Vanilla extract: I used liquid vanilla extract which you can easily access in most supermarkets. This can be substituted for vanilla paste.
Plant milk: Use any unsweetened plant milk such as soy, almond or oat milk. Avoid coconut milk which has a strong flavour.
Not pictured are the three icing and toppings ingredients you will need: vegan-butter, icing sugar, and hazelnuts.
Step-by-step Photos
The photos below are taken from a recipe video you can find at the bottom of this page (coming soon!).
P.S. - You can also find all the exact measurements and detailed instructions at the bottom of this page.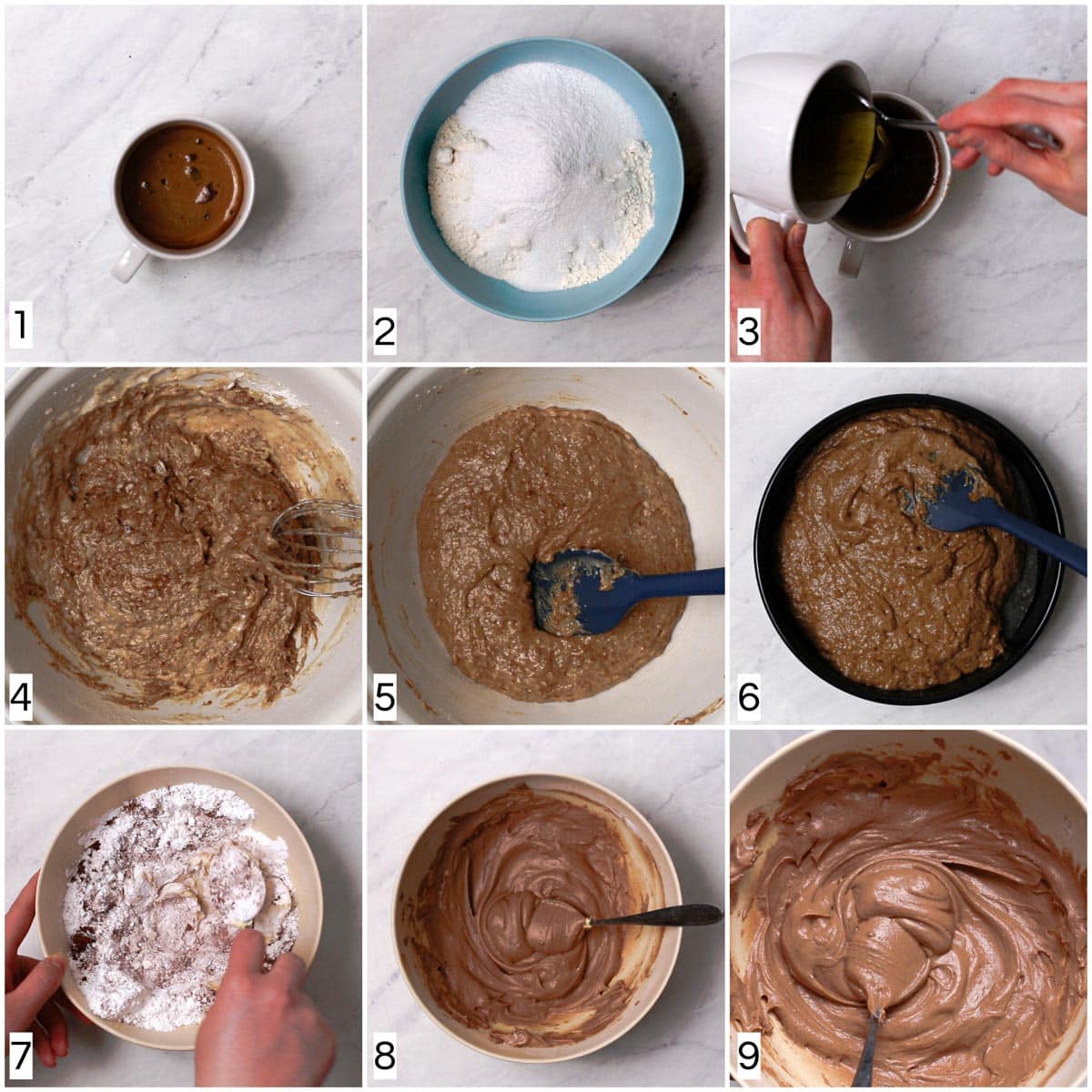 Mix coffee and boiling water. Add flaxseed. Set aside for 5-10 minutes.
In a separate bowl, mix all your dry ingredients.
Add the coffee mixture to your wet ingredients and mix.
Pour your wet mixture over your dry ingredients.
Mix until just combined, but do not overmix.
Transfer to a lined cake tin. Smooth out the top.
Bake at 190°C / 374°F for 50-55 minutes and prepare your icing in the meantime.
When you've prepared your icing, place it in the fridge for 10-15 minutes.
Remove the cake from the oven, let cool and cover with icing.
Top off with a dusting of cocoa powder and sprinkle with chopped hazelnuts. Then serve with a delicious cup of coffee for the ultimate coffee lover experience.
Expert Tips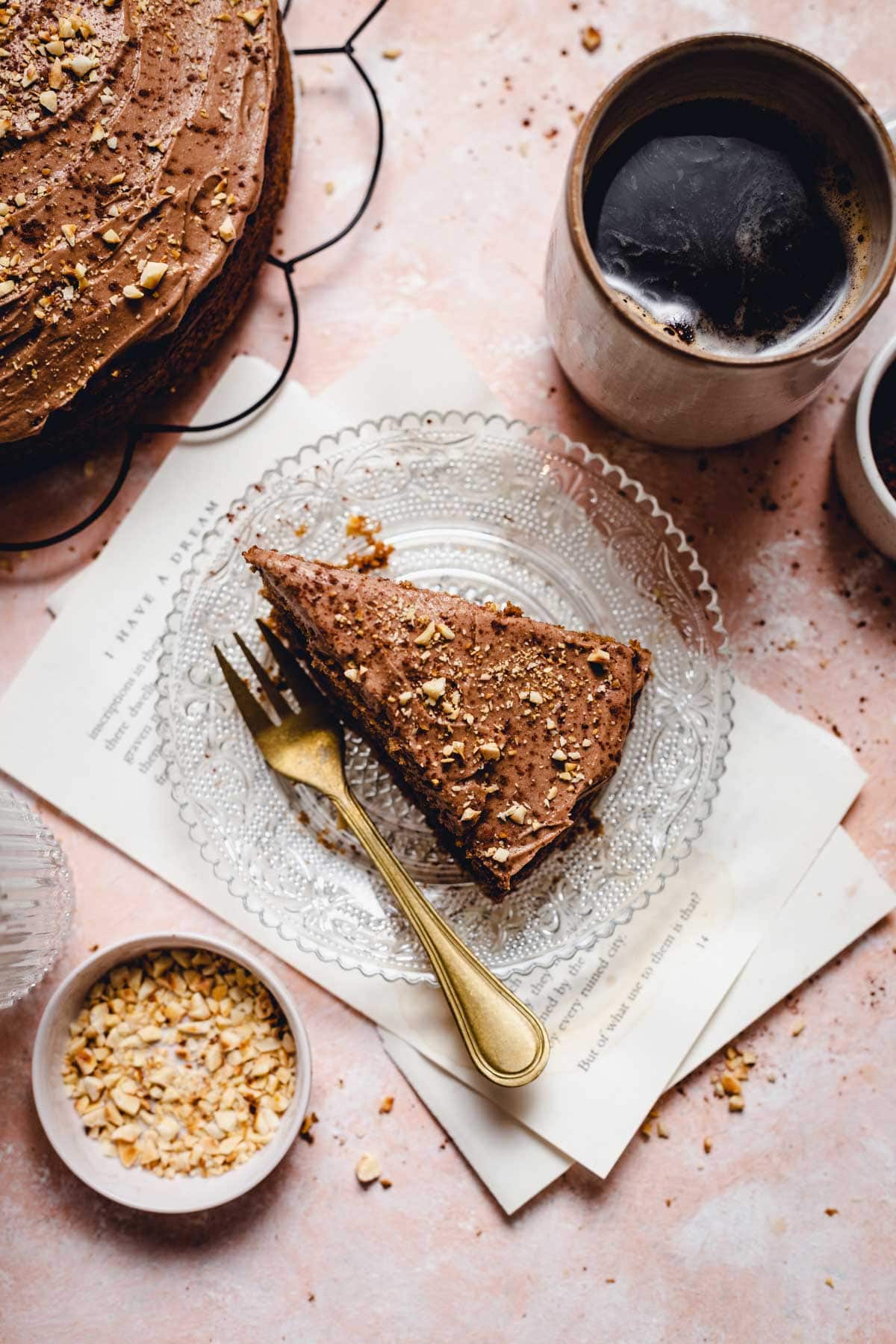 1. Your vegan egg
Flaxseed egg is the absolute key to getting that signature fluffy texture. You will need to use flaxseed as the cake won't work the same without.
Wondering how to make the vegan egg for this coffee cake?
Simply mix instant coffee with boiling water. Then add ground flaxseed and mix well. Set aside for 5-10 minutes. After that your mixture should be thick, almost jelly-like.
For best results, it's important that you use boiling water.
2. Do not overmix
What makes this cake so irresistible for me is its gorgeous texture. In order to get that, you will need to avoid overmixing the batter.
All the dry ingredients can and should be mixed very well. However, once you add the liquids, try to mix minimally. I find that a rubber spatula works best as the batter doesn't stick to it as much.
Simply mix until the dry and wet mixtures are just combined and then stop immediately.
If you overmix, the cake will start developing more gluten. This means that the texture will resemble bread rather than cake.
3. Check it's baked
To avoid over or underbaking this cake, make sure to test it first.
After 50-55 minutes, insert a metal or wooden skewer in the middle of the cake. If the skewer comes out clean, the cake is done. If not, place it back in the oven for a few minutes and check again.
In case you don't have a wooden skewer, simply use a chopstick or a very thin knife. You'll cover the top with the icing later on, so any holes in the middle won't be noticeable.
FAQ + Troubleshooting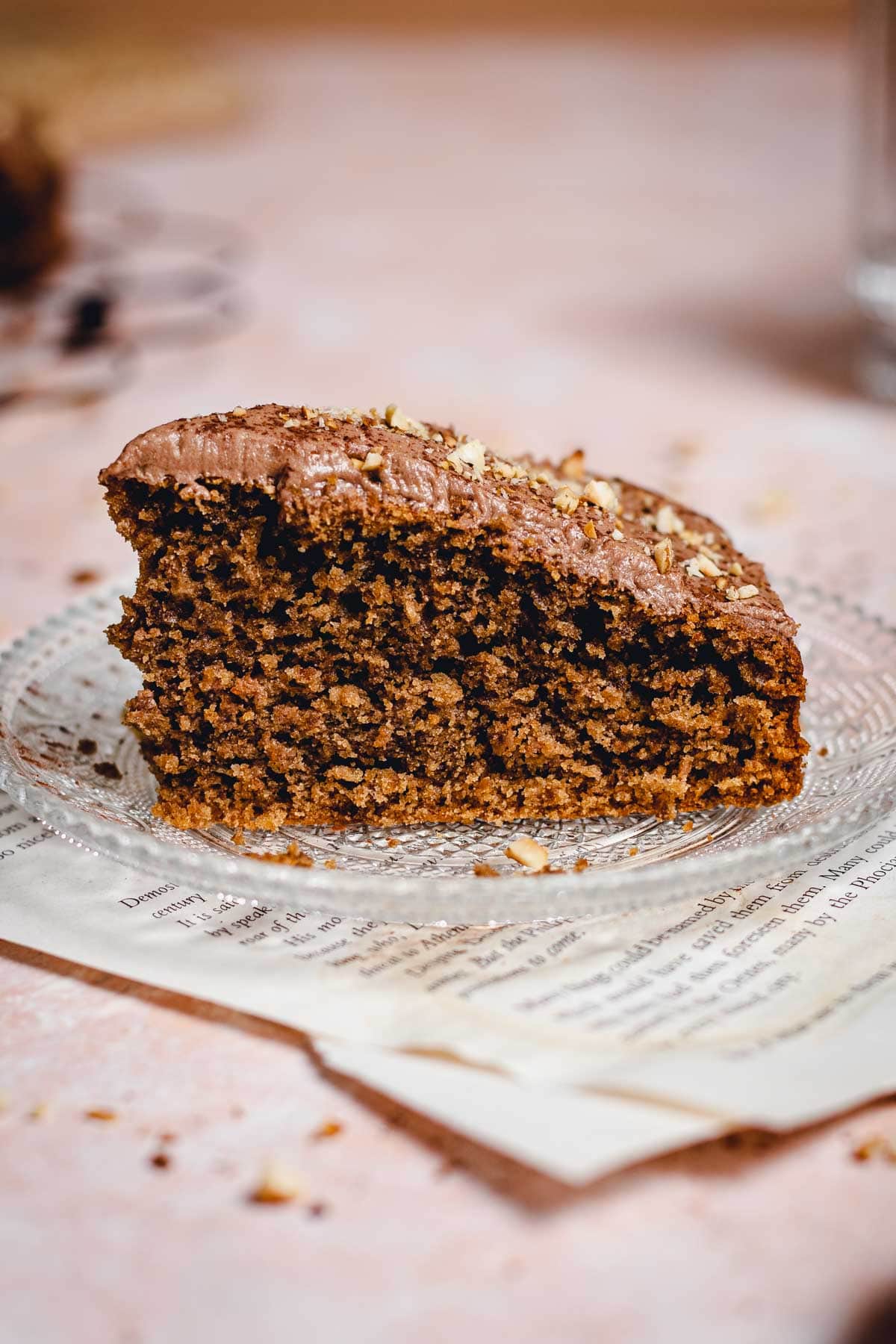 Do I need a mixer to make my icing?
Not at all! I make this icing simply using a fork, spoon or a whisk. There's no need to use a mixer as the icing comes together so easily without. However, if you want to make your job easier, feel free to use it.
I'm a beginner and never baked vegan cakes before. Can I make this?
Absolutely! This cake is completely beginner friendly all the way. The batter is very simple to make and so is the icing. All you need to do is to read this recipe from start to finish and follow all the instructions to the dot. 
How should I apply the icing?
Ideally, you would apply it with a palette knife. However, I used a silicone spatula and that worked very well too. Remember you will cover the top with cocoa and hazelnuts so any imperfections in the icing will be easily covered up. 
Why is my cake crumbly and dry?
If your cake is dry, it means it's overbaked. To help solve this issue, you could place a slice in the microwave for 10-20 seconds just before serving.

This will help bring out some moisture. For more tips on how to moisten a dry cake after baking, click here. 
Why is my cake so dense?
If your cake is dense instead of fluffy, it means you've overmixed the batter. 
It will still taste great, but sadly, the dense texture is not something you can fix after baking. 

Instead, make sure to not overmix it the next time. 
How do I store my cake?
Let it cool, then store in an airtight container for up to 3 days at room temperature.

Remember it's best enjoyed when fresh, so I would recommend eating it within the first 2 days or freezing for later. 
Can I freeze my cake?
You can freeze it with or without the frosting. 

Simply leave it to cool, then slice and store in the freezer for up to 1 month.
To prevent individual slices from sticking to each other simply place a sheet of baking paper between each slice.
Can I make this gluten-free?
You would need to substitute plain flour for gluten-free plain flour. However, I haven't tried making this cake gluten-free so can't comment on how it would turn out.
This wraps it all up! If you have any questions or suggestions feel free to get in touch via the comments below.
If you've enjoyed this vegan coffee cake recipe, you might like these cakes too:
Or, check out my desserts section here. As always, if you've made this easy vegan coffee cake please consider leaving a review below. Your reviews, comments, and support help me run this blog.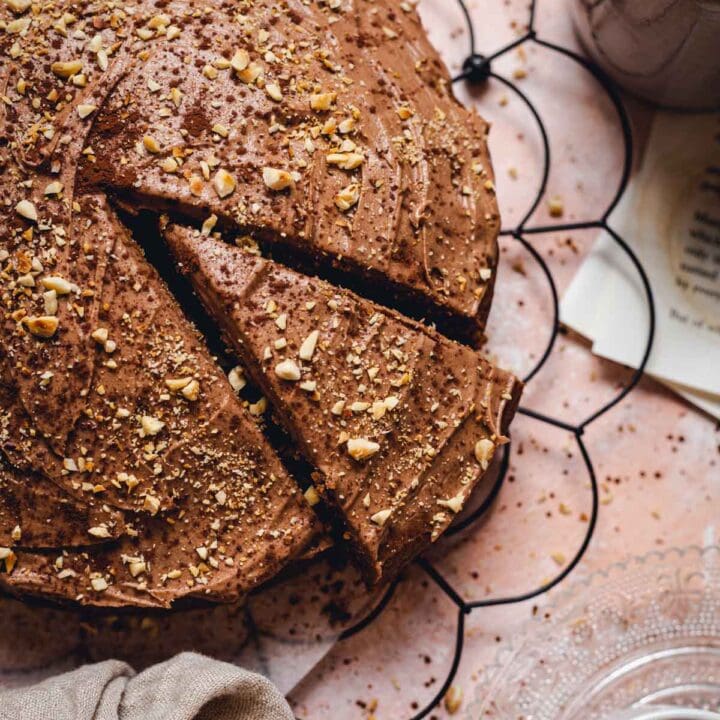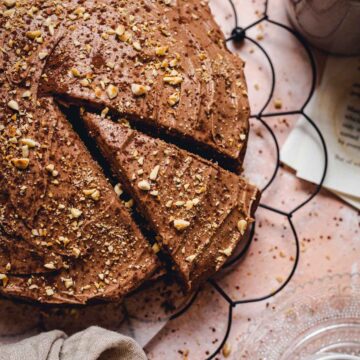 Vegan Coffee Cake
Super easy vegan coffee cake that's bursting with flavour when you bite into its gorgeous fluffy inside.
Print
Pin
Rate
Equipment
8 inch (20 cm) cake tin

Whisk

Measuring cups or scales

Baking paper
Ingredients
FOR THE CAKE
3

tablespoon

instant coffee

120

ml

water

3

tablespoon

ground flaxseed

300

g

plain white flour

110

g

caster sugar

½

teaspoon

salt

3

teaspoon

baking powder

140

ml

light olive oil

150

ml

unsweetened plant milk

1

tablespoon

vanilla essence
FOR THE ICING
140

g

icing sugar

70

g

vegan butter

½

tablespoon

cocoa powder
TOPPINGS
1

tablespoon

roasted chopped hazelnuts

1

teaspoon

cocoa powder
Instructions
FOR THE CAKE
In a small bowl, mix coffee and boiling water. Then add flaxseed and mix well. Set aside for 5-10 minutes.

In a separate bowl, mix flour, sugar, salt, and baking powder.

Then add oil, plant milk, and vanilla to your flaxseed mixture.

Pour your wet mixture over your dry ingredients. Mix until combined but do not overmix.

Brush all the inner sides of a cake tin with oil. Then cut out a circle-shaped baking paper and place it in the bottom of your cake tin.

Transfer to a lined cake tin. Smooth out the top.

Bake at 374°F / 190°C for 50-55 minutes until a wooden skewer inserted in the middle comes out clean.

In the meantime, prepare your icing by mixing sugar, butter, and cocoa powder in a small bowl. You will need to use a spoon to press down the butter against the sides of the bowl to get it to melt and mix with the other ingredients. Mix vigorously until fully combined.

When your icing is ready, cover with cling film and place in the fridge for 10-15 minutes.

When your cake is baked, remove it from the oven and let cool completely.

Then cover with icing and sprinkle with roasted hazelnuts and cocoa.
Notes
For best results, make sure you are using boiling water for your flaxseed egg.
All the dry ingredients can and should be mixed very well. However, once you add the liquids, try to mix minimally. I find that a rubber spatula works best as the batter doesn't stick to it as much.
To store, let it cool, then store in an airtight container for up to 3 days at room temperature.
Remember it's best enjoyed when fresh, so I would recommend eating it within the first 2 days or freezing for later.
You can freeze this cake with or without the frosting. Simply leave it to cool, then slice and store in the freezer for up to 1 month
Nutrition
Calories:
328
kcal
|
Carbohydrates:
42
g
|
Protein:
3
g
|
Fat:
16
g
|
Saturated Fat:
3
g
|
Trans Fat:
1
g
|
Sodium:
138
mg
|
Potassium:
194
mg
|
Fiber:
1
g
|
Sugar:
21
g
|
Vitamin A:
223
IU
|
Vitamin C:
1
mg
|
Calcium:
54
mg
|
Iron:
2
mg