This vegan lemon loaf cake is light, airy and has a crispy top. It's the perfect cake for beginners and has plenty of moisture, flavour and can be topped with my homemade lemon curd.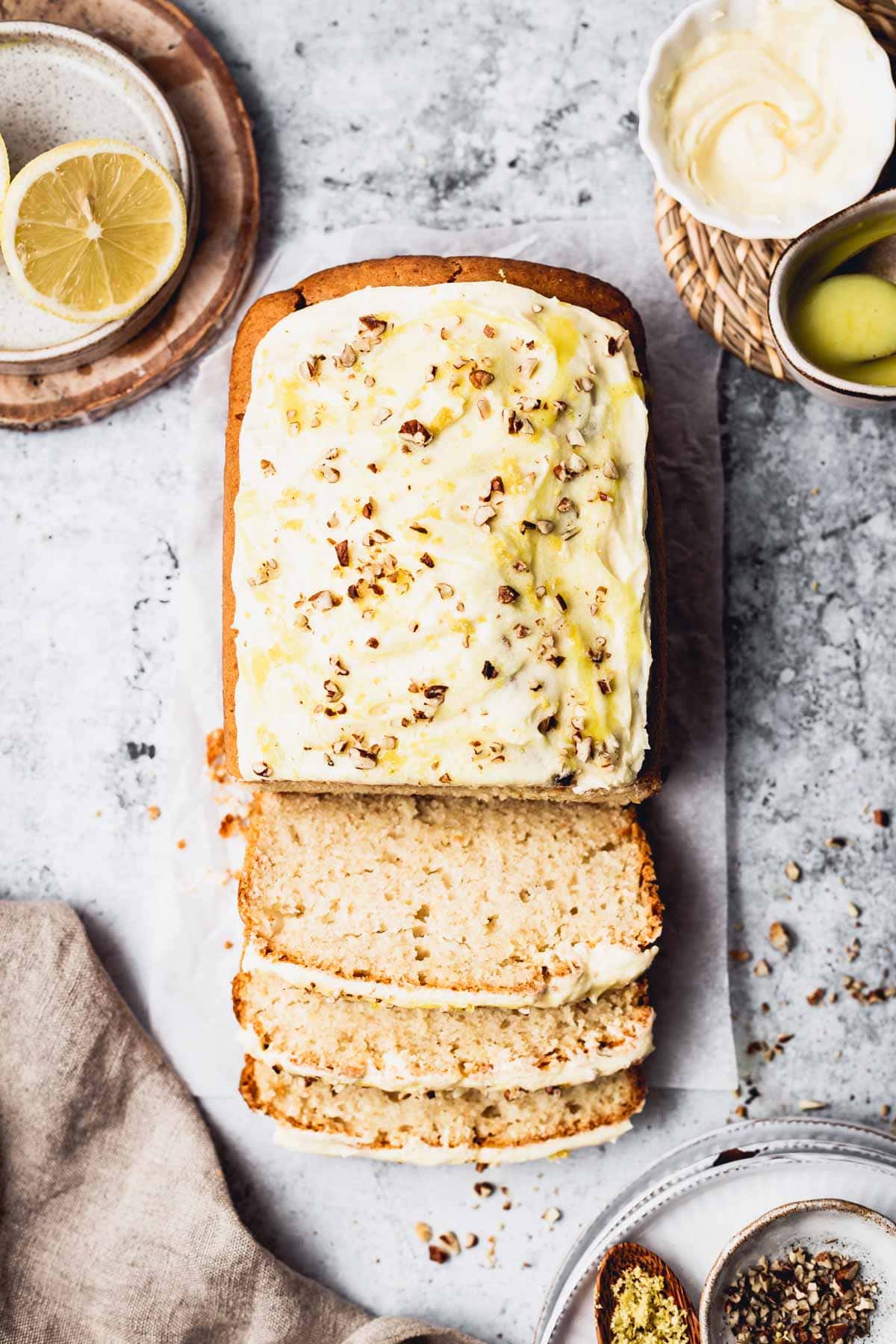 Why this recipe works
Rich, buttery flavour.
Beautifully lemony and sweet.
Includes a recipe for homemade lemon curd
Easy enough for beginners
Double the lemon goodness (cake AND curd!)
Crispy top with a soft moist middle.
What goes into this recipe
You'll need to have the following ingredients to make your vegan lemon loaf cake.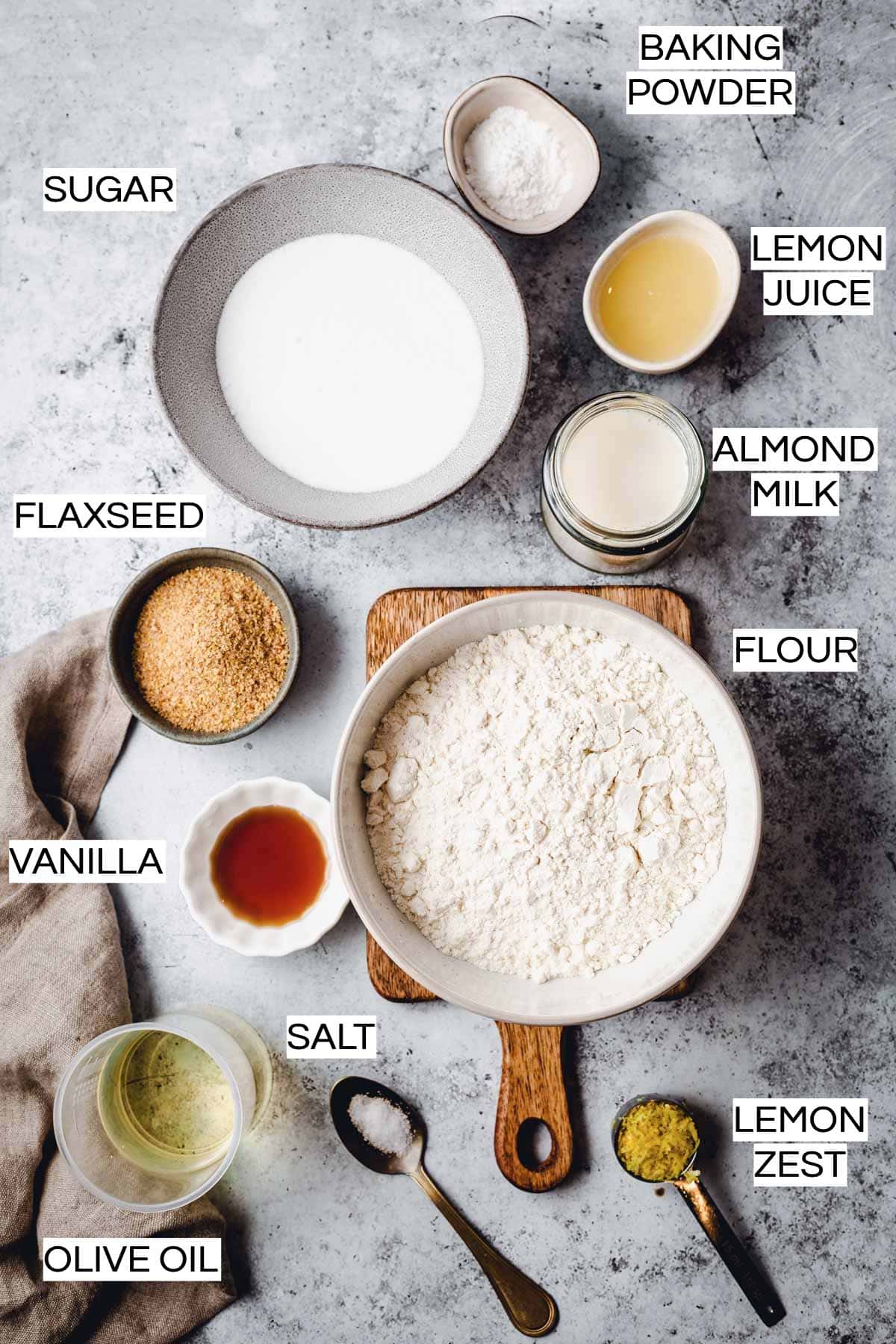 Before we start, here are a few notes about the ingredients.
Almond milk: can be substituted for any other plant milk.
Flaxseed: make sure to use ground flaxseed.
Vanilla: use any type of vanilla extract, such as liquid extract or vanilla paste.
To see all the ingredients needed for the optional icing and lemon curd, check out the recipe card at the bottom of this page.
To make this recipe you will also need the following equipment:
Loaf tin
Baking paper
Kitchen scales or cups
Step-by-step Instructions
Below is a quick visual guide to help you with baking. Check out the recipe card at the bottom of this page for exact measurements and in-depth instructions.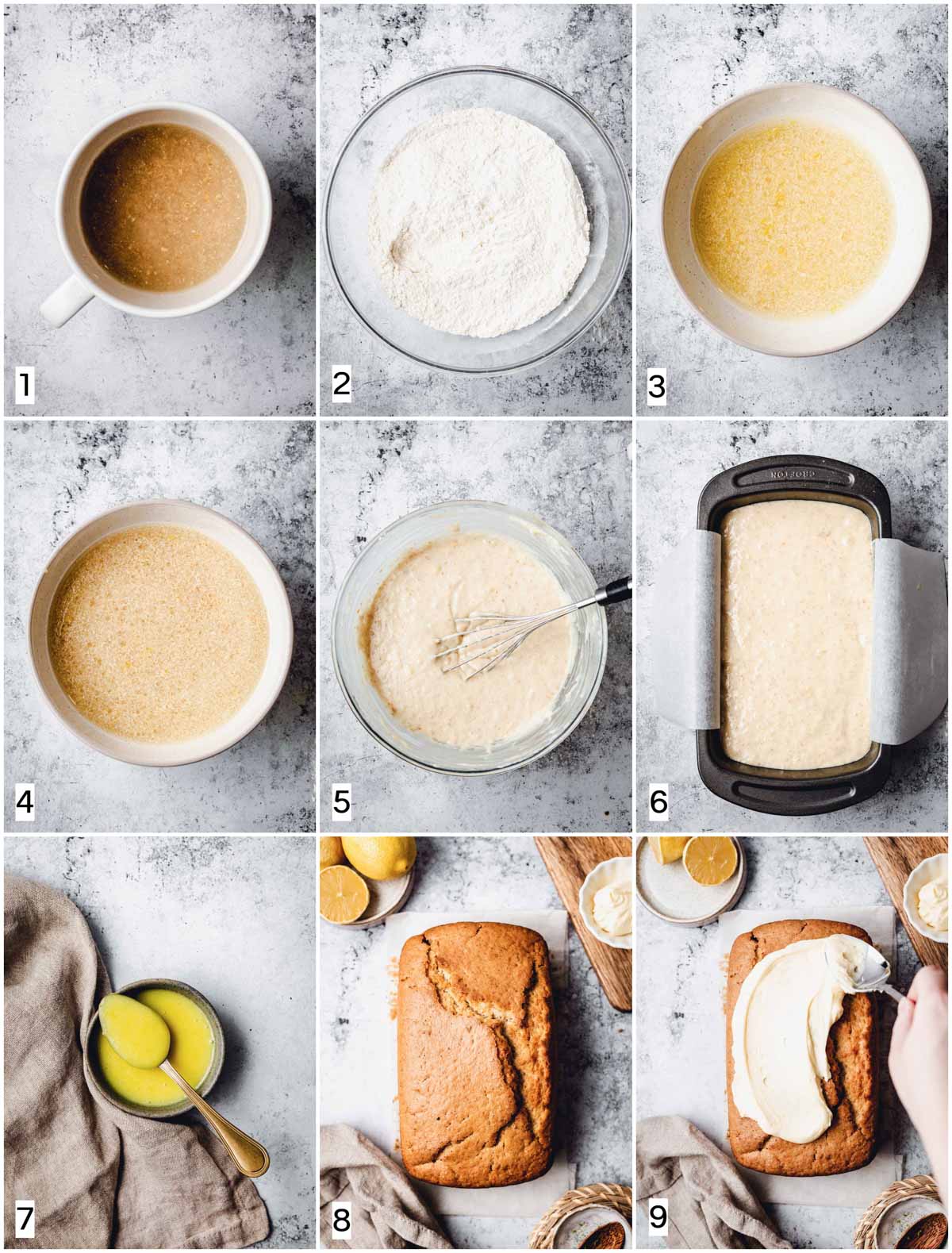 1. Make your flax egg by combining flaxseed with water. Set aside.
2. Combine all your dry ingredients.
3. Combine all your wet ingredients.
4. Add flax egg to your wet ingredients.
5. Slowly pour your wet mixture over your dry mixture and mix until smooth.
6. Line a loaf tin and pour in your mixture. Bake for 55-60 minutes.
7. In the meantime, prepare your optional lemon curd and icing.
8. Your cake is baked when golden brown and crunchy on the outside.
9. Wait for the cake to cool. Then spread with icing, drizzle with lemon curd and sprinkle with toppings.
My Expert Tips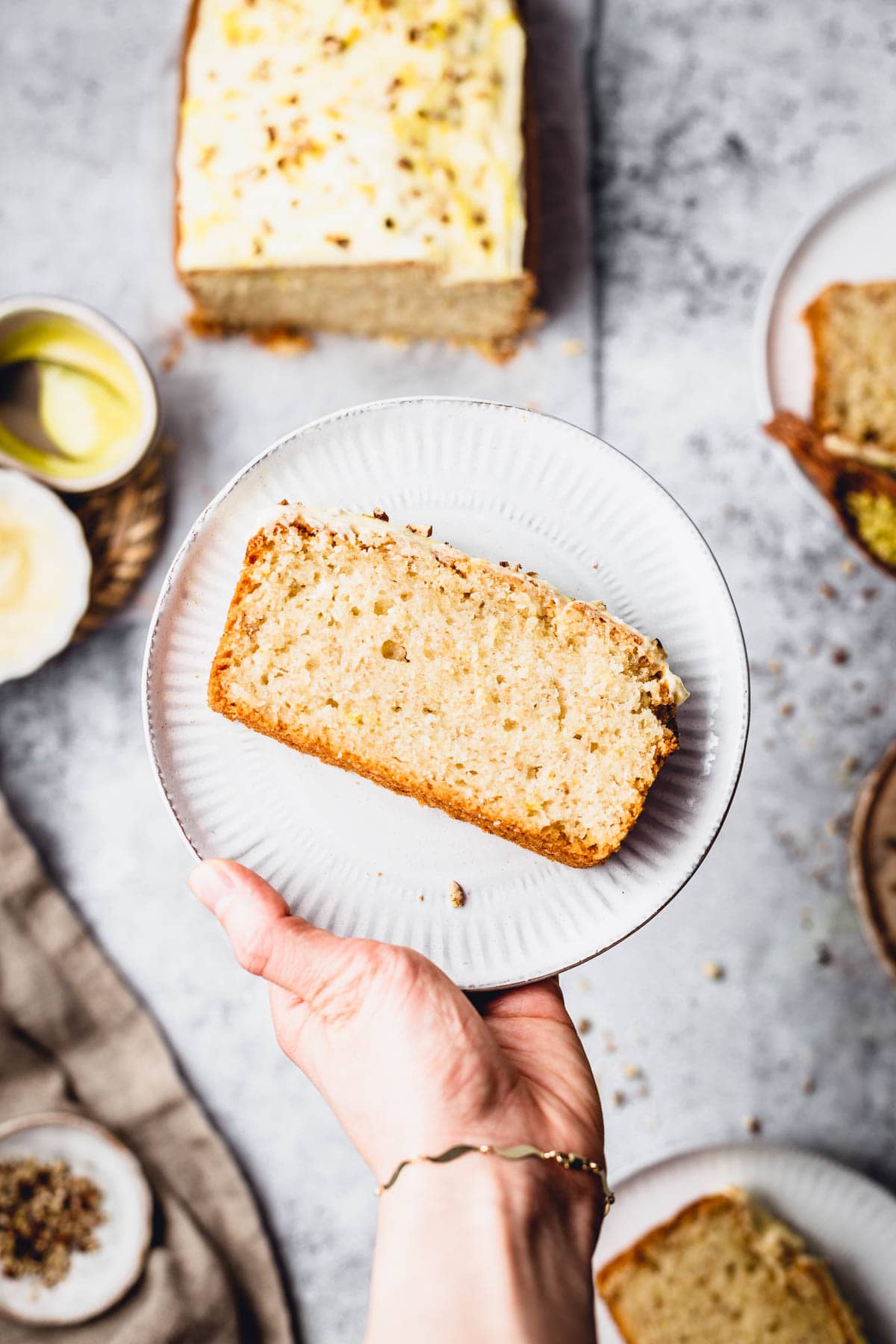 As mentioned above, this is a super easy recipe. However, it's always important to keep in mind a couple of tricks.
1. The flax egg
Your flax egg will be the heart of this recipe. It's nothing fancy, just ground flaxseed mixed with water. When left to set, these ingredients create a jelly-like texture. This will function as the egg in your cake.
However, it's important to keep in mind that the jelly texture will form best when you've used boiling hot water.
2. Don't overmix
Overmixing your batter will create a rubbery instead of crumbly and light texture. We're looking for a distinctly cake-like middle, so make sure to only mix until all your ingredients are just combined.
3. Check the bake
One of the appeals of a loaf cake is the beautiful dome when baked.
To check your cake is baked, insert a wooden skewer in the middle. If the skewer comes out clean, the cake is baked.
Not sure if the skewer is clean enough? If you think it might not be baked yet after doing the skewer test, I recommend baking for another five minutes. You do not want the dome to sink once you take your cake out of the oven.
Don't worry about it losing moisture - the oil and milk will keep the cake moist for those extra 5 minutes.
FAQs
Why has my cake sunk in the middle?
Usually when a cake sinks in the middle after baking it was slightly underbaked which means the cake doesn't hold its shape and sinks.

Pop back into the oven for 10-15 minutes and the middle might rise. If not it will still cook the cake fully but will be a bit denser in the sunken part.

If your cake is already cold, it's best to leave the cake the way it is, and bake a little longer next time.
Why is my cake dense?
First, ensure you've added your baking powder.

If you have you might have overmixed your dough which means the texture will stay tight and feel heavy.

Secondly, if the cake is underbaked it might lose some of the rise from the baking powder which will make it more dense.

Bake a little longer in the oven if the cake is still warm. If not leave as is and bake a little longer next time.
How do I store my cake?
Store in an airtight container for 4-5 days. If you want the cake to keep for a bit longer forgo the icing until you serve it.
Can I freeze my cake?
Yes, definitely. You can freeze the cake with or without the icing.

If the icing is on the cake when it freezes it will be a bit harder to keep it as nicely decorated once it defrosts. Find out everything about how to freeze cakes here.
Possible Ingredient Substitutions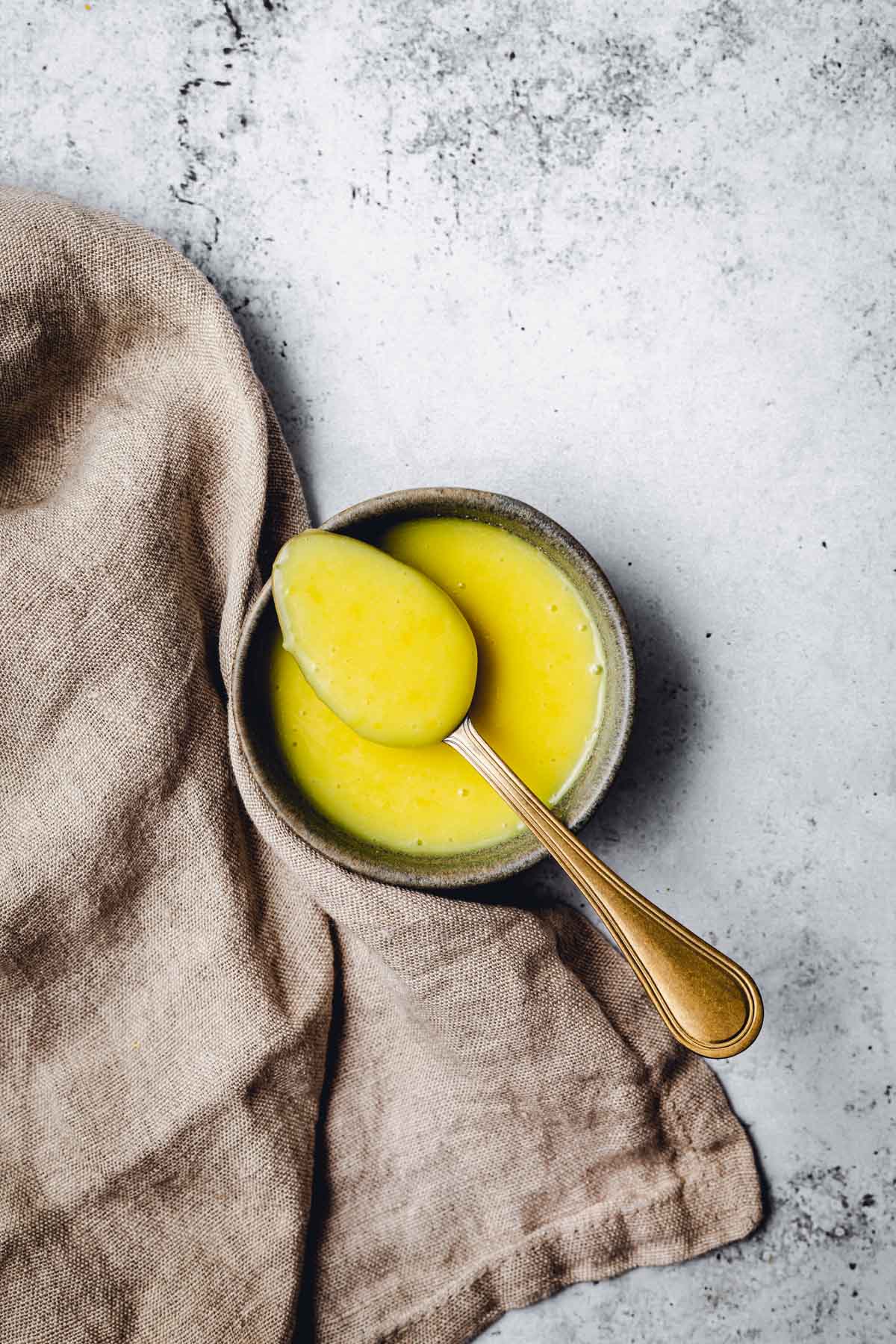 If you don't have all the ingredients, here are some ways you could substitute them:
Oil – Any light vegetable oil (sunflower, oil, etc) will work just fine.
Almond milk – Any milk will work for brushing so don't worry if you haven't got almond milk at hand as this won't make a huge difference.
Sugar – You want to go for a white caster sugar if you can, but you can use any white sugar or brown sugar. The brown sugar will result in a different texture and slightly different flavour (more caramelly). For a light fluffy cake, stick to white/light sugars.
Flavour add-ons – you can add some poppy seeds for crunch or some lime or orange zest to create a unique combination of citrusy flavours.
Any other ingredients you're missing at the moment? Get in touch via the comments below and I'll see if I can find a good substitution for you!
Feeling inspired to try more similar recipes? I've got a delicious apple loaf cake, chocolate banana bread and blueberry oat muffins waiting for you. Or, check out my full vegan desserts section here.
🍴Recipe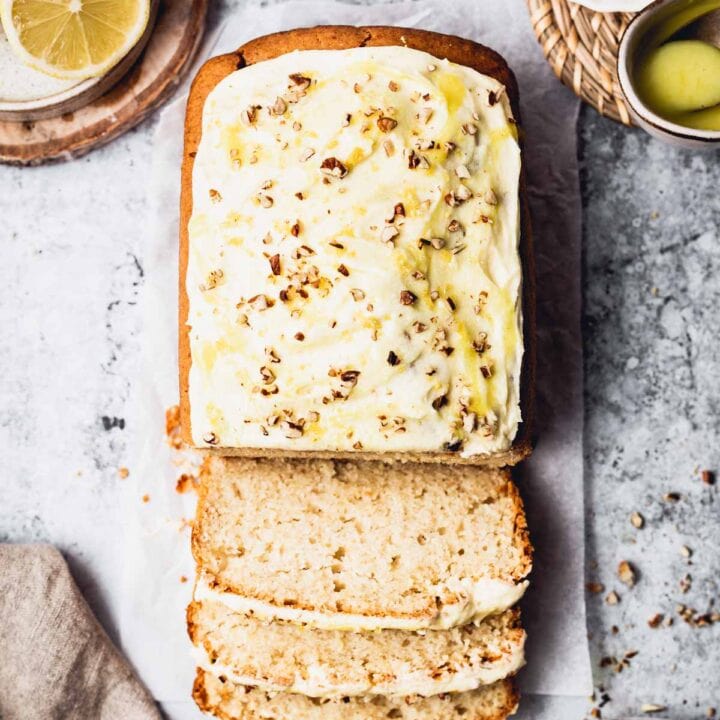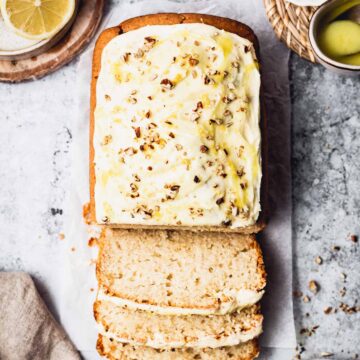 Vegan Lemon Loaf Cake
Easy and delicious vegan lemon loaf cake recipe with lemon curd.
Print
Pin
Rate
Ingredients
FOR THE CAKE
300

g

(

2

cups

)

plain flour

160

g

(

¾

cup

)

caster sugar

½

teaspoon

salt

3

teaspoon

ground flaxseed

11

tablespoon

boiling hot water

3

teaspoon

baking powder

1,5

tablespoon

lemon zest

2

tablespoon

lemon juice

1

tablespoon

vanilla extract

150

ml

(

½ + ⅛

cup

)

light olive oil

120

ml

(

½

cup

)

almond milk
FOR THE LEMON CURD GLAZE (optional)
120

ml

plant milk

1

tablespoon

cornstarch

60

ml

lemon juice

55

g

white sugar

1

tablespoon

lemon zest

1

pinch

turmeric

1

teaspoon

dairy-free utter
FOR THE ICING (optional)
70

g

dairy-free butter

140

g

icing sugar

¼

teaspoon

vanilla extract
Instructions
FOR THE CAKE
Pre-heat your oven to 375°F (180°C).

In a small bowl add flaxseed and boiling water. Stir and set aside.

Next, combine the flour, sugar, salt, and baking powder in a large bowl.

 In another bowl whisk together oil, milk, vanilla, lemon zest and lemon juice.

Add your flax egg to your oil mixture and mix well.

 Pour the oil mixture into the centre of your flour mixture and start whisking in the centre making your way towards the edge until all the flour has combined

 Mix until combined and the mixture is smooth, do not overmix.

Line your loaf tin with a layer of baking paper and brush the uncovered sides with a layer of oil.

Pour your mixture into the loaf tin and smooth out the top using a silicone spatula.

Bake at 375°F (180°C) for 55-60 minutes until golden brown and wooden skewer inserted in the middle comes out clean.
FOR THE LEMON CURD GLAZE (optional)
Pour plant milk and corn starch into a pan and stir.

Heat up your pan on low to medium heat, then add lemon juice, sugar, lemon zest and turmeric. Whisk.

Bring the mixture to boil and wait for it to thicken. Make sure to keep whisking as it thickens. 

Thicken for about 5 minutes. 

Check the lemon curd has thickened enough when it coats the back of a spoon and leaves a clear trail if you run a finger through the back of a spoon. 

Finally, add dairy-free butter and keep on the heat until the butter has fully melted, whilst whisking to get a smooth, velvety texture.
FOR THE ICING (optional)
To make the icing combine dairy-free butter, icing sugar, and vanilla and whisk until fluffy.

Use a spoon to spoon the icing on top of the (cooled) cake. Then use a knife to spread it evenly across the top of your cake. 

Top off with the lemon curd glaze.
Nutrition
Calories:
3146
kcal
|
Carbohydrates:
402
g
|
Protein:
33
g
|
Fat:
157
g
|
Saturated Fat:
21
g
|
Sodium:
1344
mg
|
Potassium:
1582
mg
|
Fiber:
11
g
|
Sugar:
163
g
|
Vitamin C:
23
mg
|
Calcium:
736
mg
|
Iron:
16
mg
Disclaimer: The nutritional information above is calculated automatically. The author of this post cannot guarantee 100% accuracy of this data.