Jump to Recipe
Meet my vegan donut sandwich! Fluffy vegan donuts are paired with delicious ice cream and topped off with a rich chocolate glaze. Easy, quick and satisfying.
I first tried out a vegan donut sandwich with ice cream at Camden Market back in 2016. Back then I was still living in Slovenia (which was not very vegan-friendly at the time…) and travelling to London to taste all the amazing vegan options was quite an adventure (and a very expensive one I may add).
The experience stayed with me to this day and one of the reasons I wanted to start this blog was to re-create and share the dishes I tasted while eating out. These extra-indulgent vegan donut ice cream sandwiches are the perfect example of that.
They required quite a lot of testing and re-testing, but in the end, it was all worth it. I'm confident this is a recipe I'll be coming back to again and again for decades!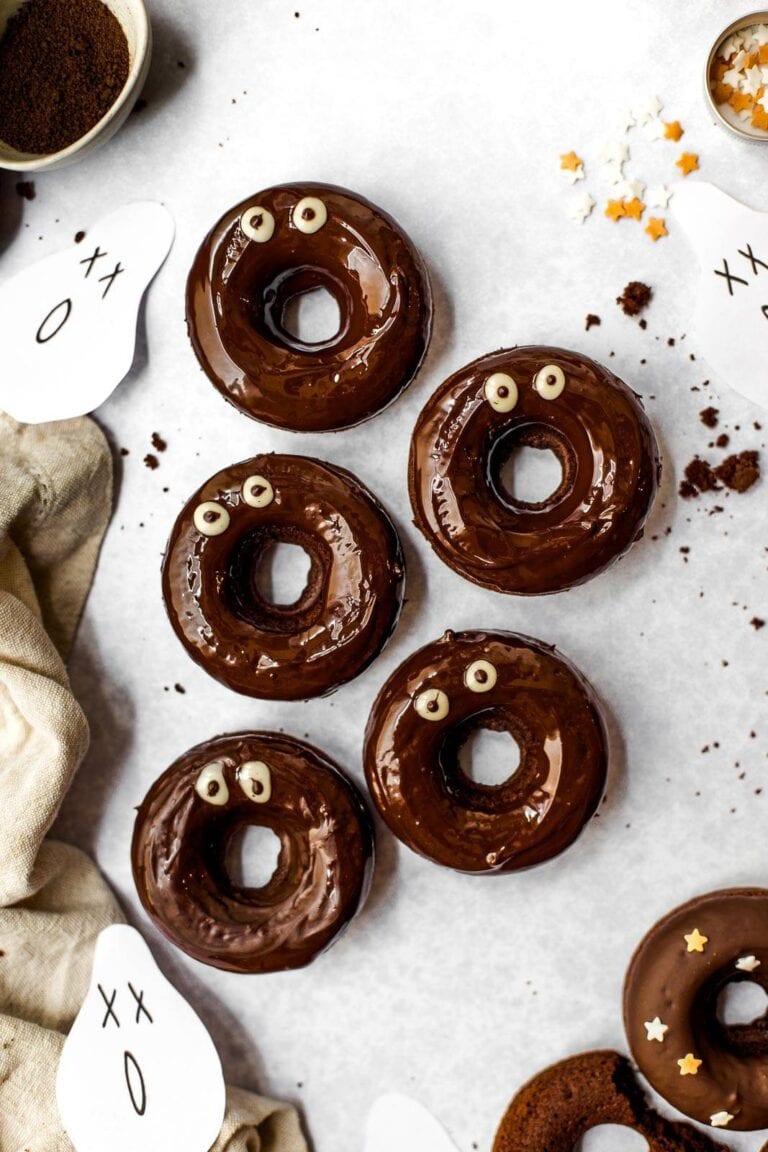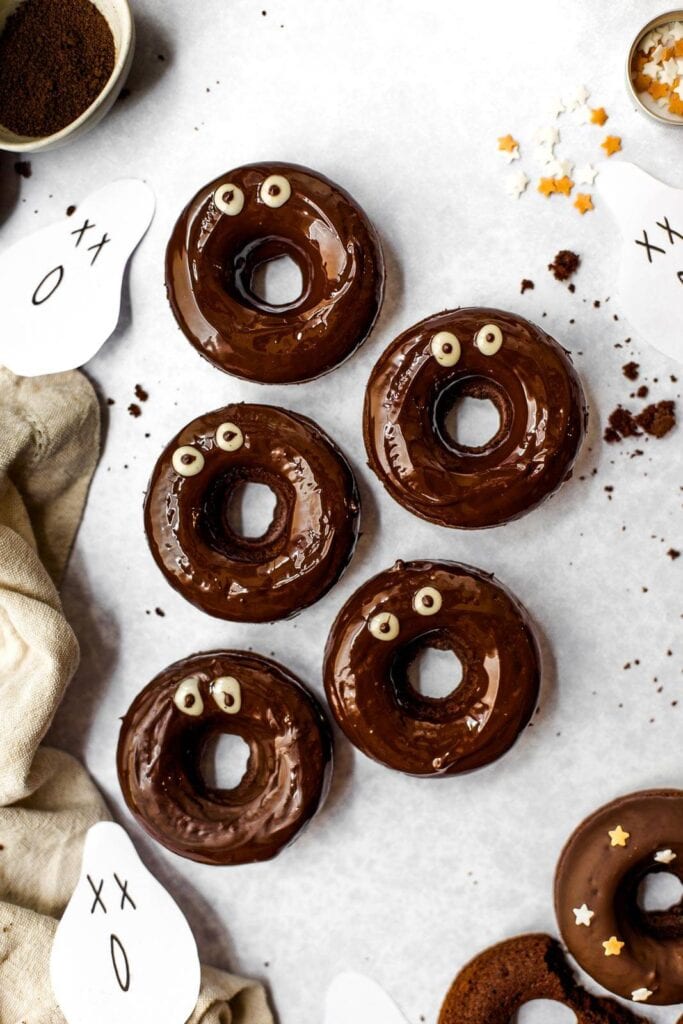 So … What Actually is a Vegan Donut Sandwich?
Ok, you might be confused at this point. We've got donuts and ice cream, but also a sandwich? How on Earth does that even work?
Easy peasy! A thick layer of ice cream is spooned between two fluffy vegan donuts and there you go. You've just got yourself the most delicious sandwich of your life.
First things first, let's start with the base – our easy vegan donuts.
These vegan donuts are:
incredibly easy to make
perfectly sweet
fluffy and satisfying
beginner-friendly
super quick to make.
You will need a donut baking tin/pan, but apart from that, all the ingredients are the very staples of vegan baking. Think flour, sugar, almond drink, baking soda, baking powder, cocoa powder, and vanilla extract. There's a large chance these might already be in your kitchen cupboard so why not turn them into a beautiful chocolate donut?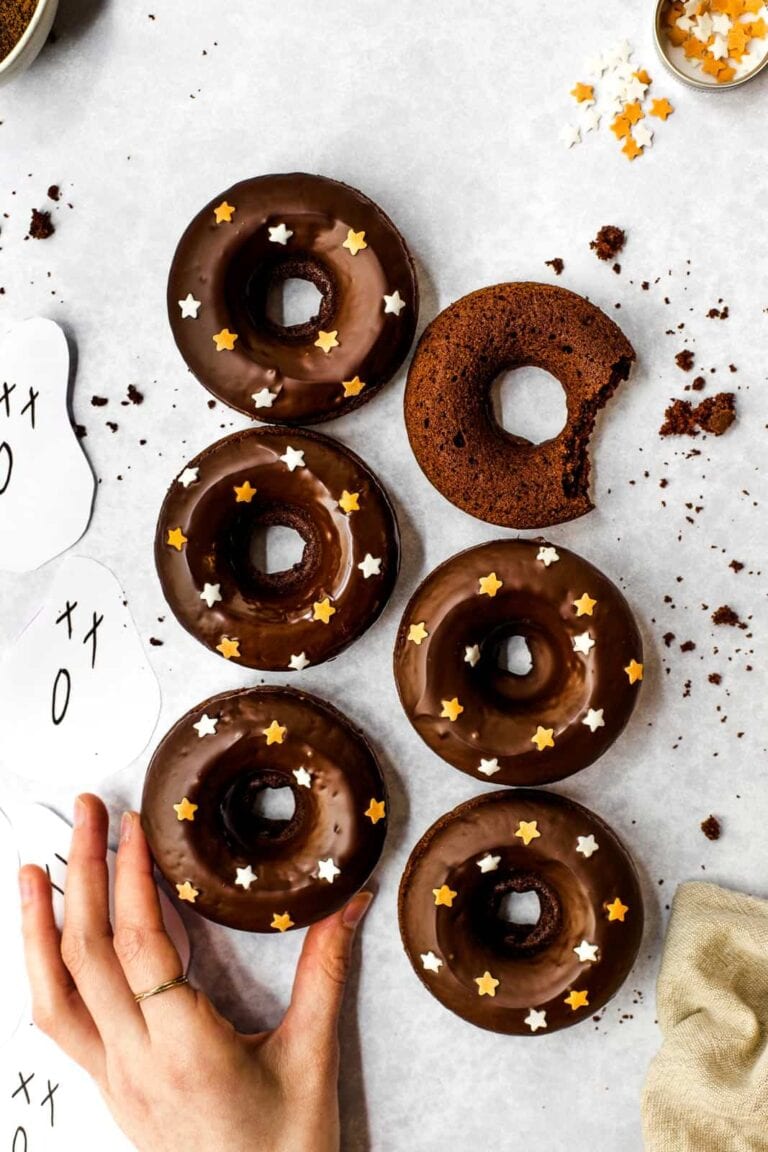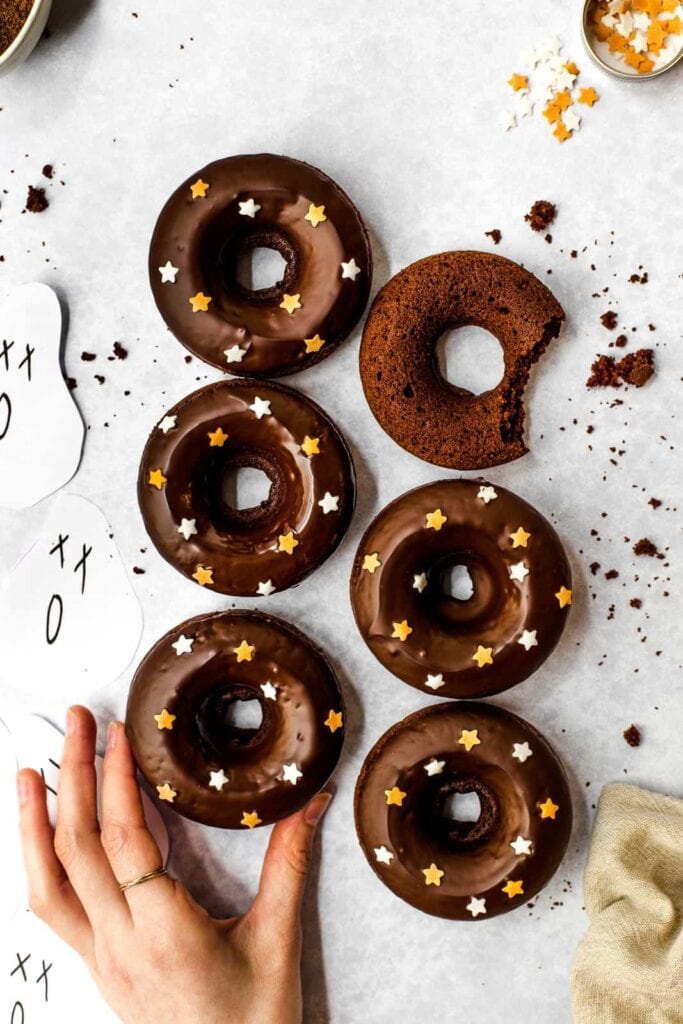 5 Tips For Making The Perfect Vegan Donuts
Want to make sure your donuts look picture perfectand taste nothing short of perfection? Make sure to carefully read the tips below!
1. Ensure all your ingredients are at room temperature. This is particularly relevant for vegan butter and almond drink that would normally be used cold. If you're eager to make the donuts quickly and absolutely can't wait for the two ingredients to warm up, pop them in a microwave for a few seconds.
2. Lightly grease the tin. Even when using a non-stick donut tin, it's always a good idea to lightly grease it. I use just a drizzle of olive oil and a small brush to distribute it evenly across the moulds.
3. Pipe the donuts mixture into the tin.Don't just spoon the mixture into the tin. Make sure you transfer it to a piping bag and pipe the perfect circle into the tin/pan. This will ensure your donuts look just like something you've seen on GBBO!
4. Do not overfill the tin. If you overfill your donut pan, the holes will close up.
5. Leave the donuts to cool before taking them out of the tin. Always allow time for donuts to cool down completely before taking them out to decorate.
I made these just in time for Halloween so orange toppings and spooky eyes were absolutely essential. What toppings will you go for? I'm thinking shredded coconut, cocoa nibs, rainbow sprinkles or just some brown sugar are some solid options.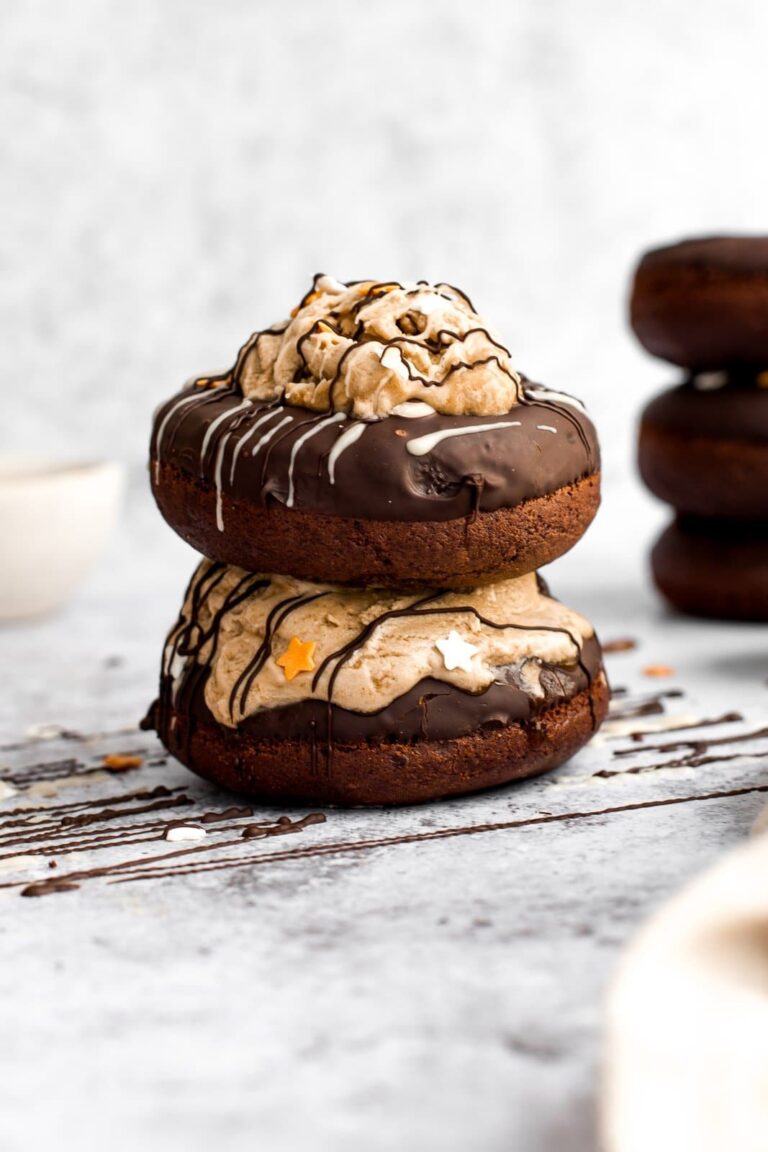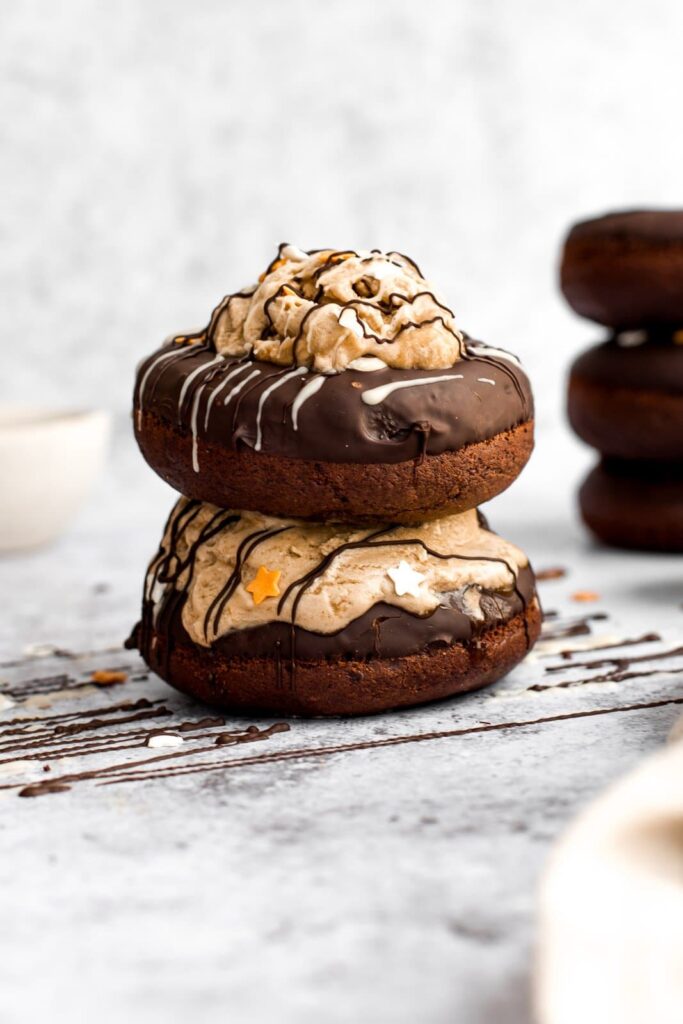 Vegan Donut Sandwich with Ice Cream? Why Not!
If you prefer a slightly lighter version, the chocolate glaze can be left off.
To bring you these delicious vegan ice cream donuts I partnered with my friends over at Coconuts Organic.Their award-winning range of vegan ice creams is based on natural ingredients only and I'm afraid I might be obsessed with it.
Their founder Cecily started making her own ice cream at home and launched the business in 2015. As a small business owner myself, I was so impressed and inspired by her story.
Within a year of the launch, she'd secured a Great Taste Awardand became a national distributor. You might even remember her from the 2018 edition of BBC Dragons' Den!
The Coconuts Organic range is truly unlike any other non-dairy ice creamI've ever tried before. It's sweet without being too overwhelming and remains perfectly creamy, making it undetectably vegan! They're basically luxury, indulgence, and comfort in a tub.
If you want to grab one yourself, hop over to Tesco and enjoy a game-changing ice cream experience 😉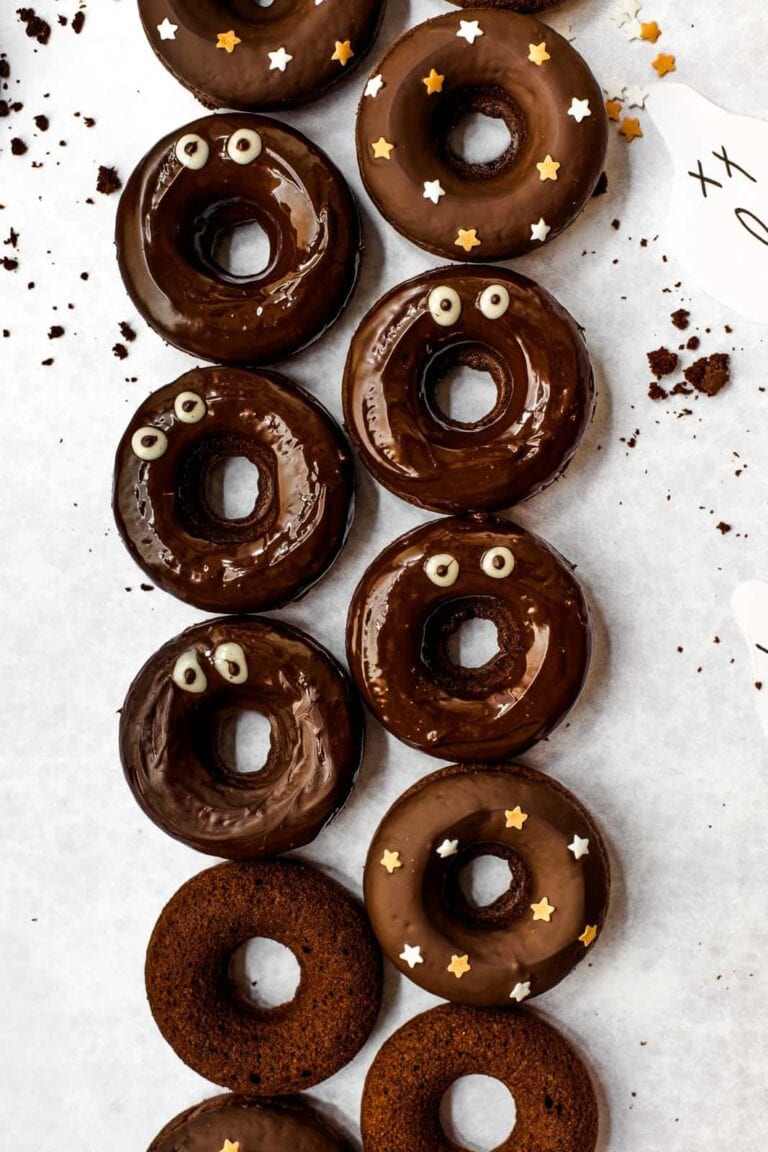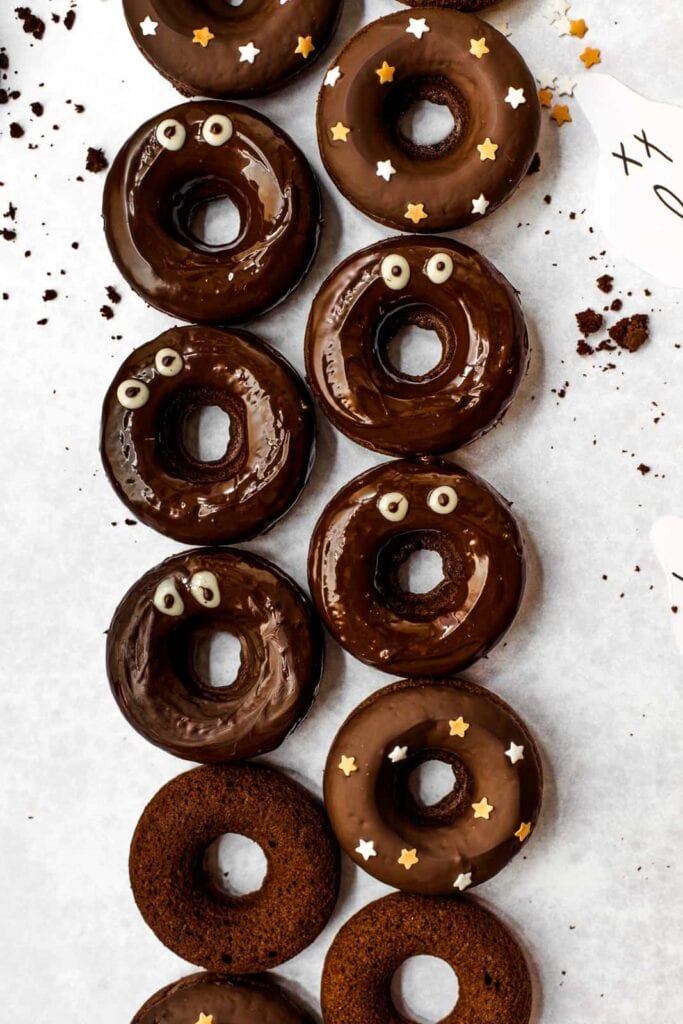 Don't Stop. Grab my favourite vegan chocolate desserts.
I'm a huge lover of all things chocolate (I mean, have you even seen my Instagram feed?). If you're looking for your next chocolate dessert that doesn't require a baking degree, you've come to the right place:
Grab my Chocolate Chip Cookies! These were featured by Best of Vegan and are super easy, quick and fail-proof. You've been warned – they're dangerously addictive!
My Vegan Chocolate Waffles are true fluffy perfection. They're the lightest waffles you'll ever make and totally customisable.
Last but not least, my Peanut Butter Chocolate Milkshake is the super bubbly and refreshing chocolate dessert of your dreams.
P.S. I've also compiled a list of my 5 Top Chocolate Dessertsthat you absolutely don't want to miss out on. Grab it for free here!
Ready to make all your donut dreams come true? Donut fear (see what I did there?) and let's dive straight in.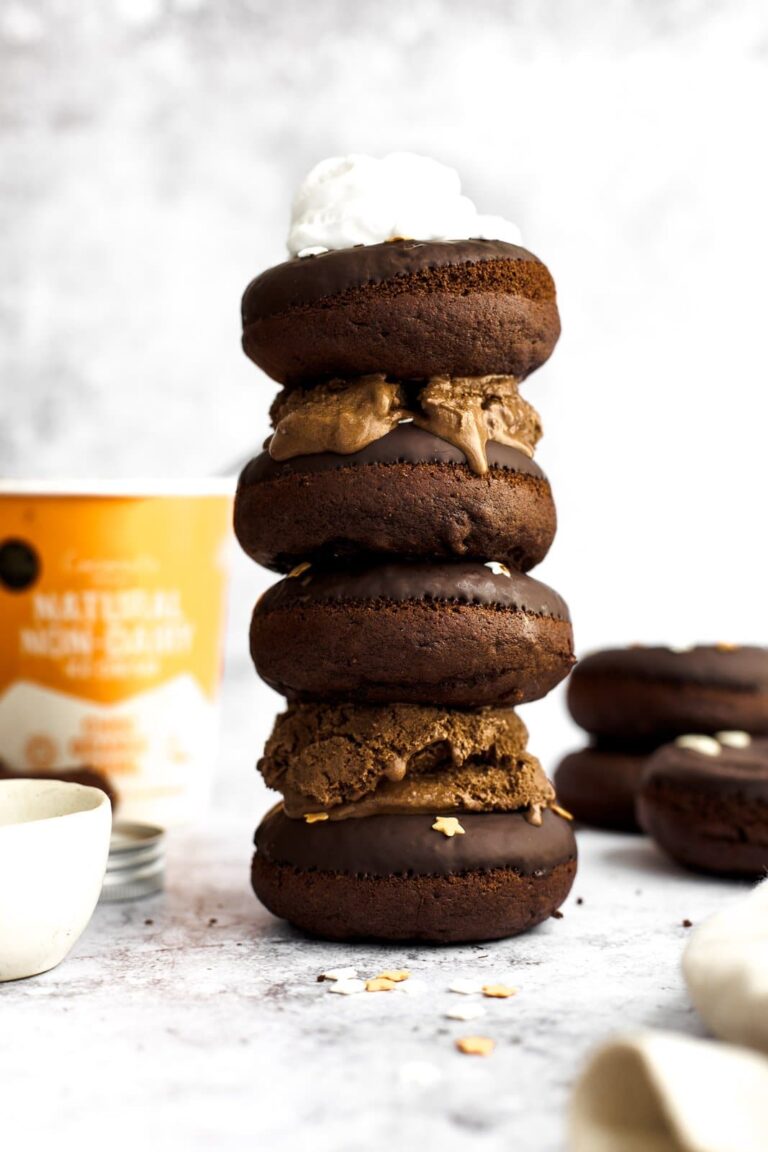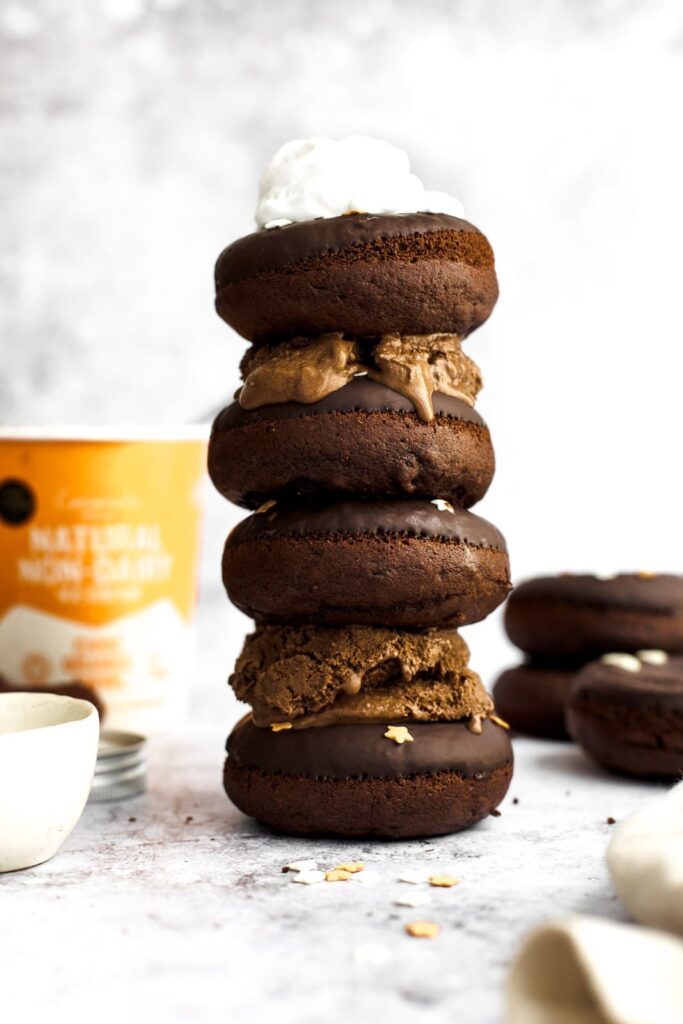 🍴Recipe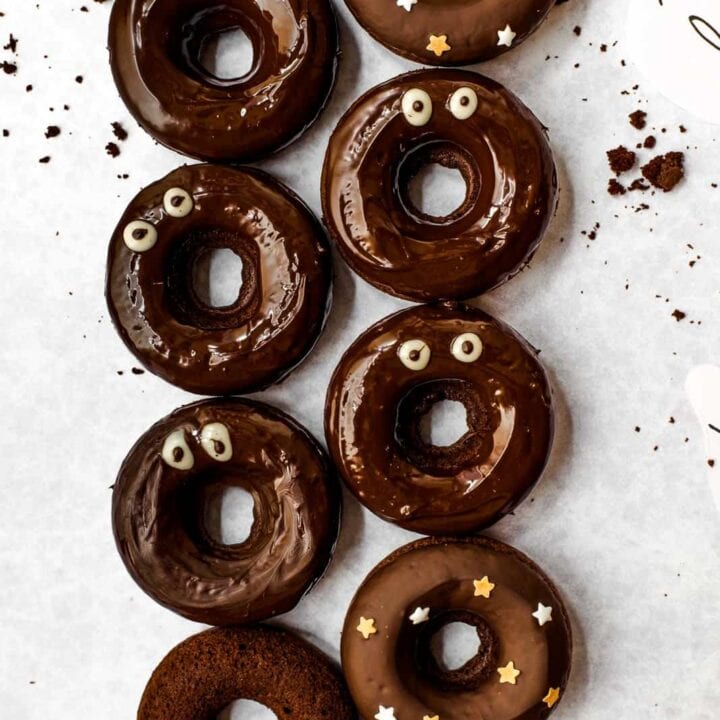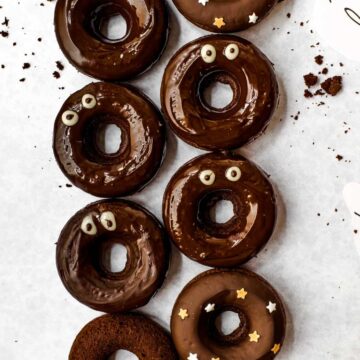 Vegan Donut Sandwich with Ice Cream
Delicious vegan donut sandwich you can serve with or without ice cream.
Print
Pin
Rate
Ingredients
FOR THE DONUTS
1

cup

all-purpose flour

1

teaspoon

baking powder

1

teaspoon

ground cinnamon

½

teaspoon

baking soda

½

teaspoon

salt

⅔

cup

unsweetened almond milk

½

cup

caster sugar

¼

cup

vegan butter

(melted)

¼

cup

cocoa powder

1

teaspoon

apple cider vinegar

1

teaspoon

vanilla extract
FOR THE GLAZE
150

g

dark chocolate

50

g

white chocolate

sprinkles

(optional)
Instructions
FOR THE DONUT
Whisk together flour, baking powder, cocoa, baking soda, and salt and set aside. 

In another bowl, whisk together almond milk, sugar, butter, apple cider vinegar, and vanilla. Pour into dry ingredients and fold together until just combined. Do not overmix as this will make the donut heavy and stodgy.

Grease your donut pan with a light layer of oil or vegan butter.

Spoon the batter into a piping bag and pipe into the donut pan. 

Bake for 12-14 minutes at 180°C (fan oven setting) until skewer comes out clean.

Leave donuts to cool slightly in the tray for 5-10 minutes, then remove from tray and let cool fully before glazing.
FOR THE GLAZE
Simply melt your favourite dark chocolate (either in a microwave or over a bain maire) and dip in your cooled donuts.

Optional: Pipe a small white chocolate dot and another smaller chocolate dot on top to create goggly eyes for your monster donuts. Sprinkle with white and orange edible stars and voila!
Nutrition
Calories:
201
kcal
|
Carbohydrates:
26
g
|
Protein:
3
g
|
Fat:
10
g
|
Saturated Fat:
5
g
|
Cholesterol:
1
mg
|
Sodium:
180
mg
|
Potassium:
173
mg
|
Fiber:
2
g
|
Sugar:
14
g
|
Vitamin A:
185
IU
|
Calcium:
37
mg
|
Iron:
2
mg
Disclaimer: The nutritional information above is calculated automatically. The author of this post cannot guarantee 100% accuracy of this data.
So, here we have it, my friends! Gorgeous and drool-worthy vegan donut sandwich for all your baking pleasures!
Disclosure: This post was sponsored by Coconuts Organic. Thank you so much for supporting the brands that help make My Vegan Minimalist possible and big thanks to Coconuts Organic for choosing to work with me. All opinions are my own.