Wondering when rhubarb is in season? Read my ultimate EXPERT guide on all things rhubarb! Find out when rhubarb is in season in US, UK, Australia & beyond. Plus, discover its flavor, uses, pairings & health benefits.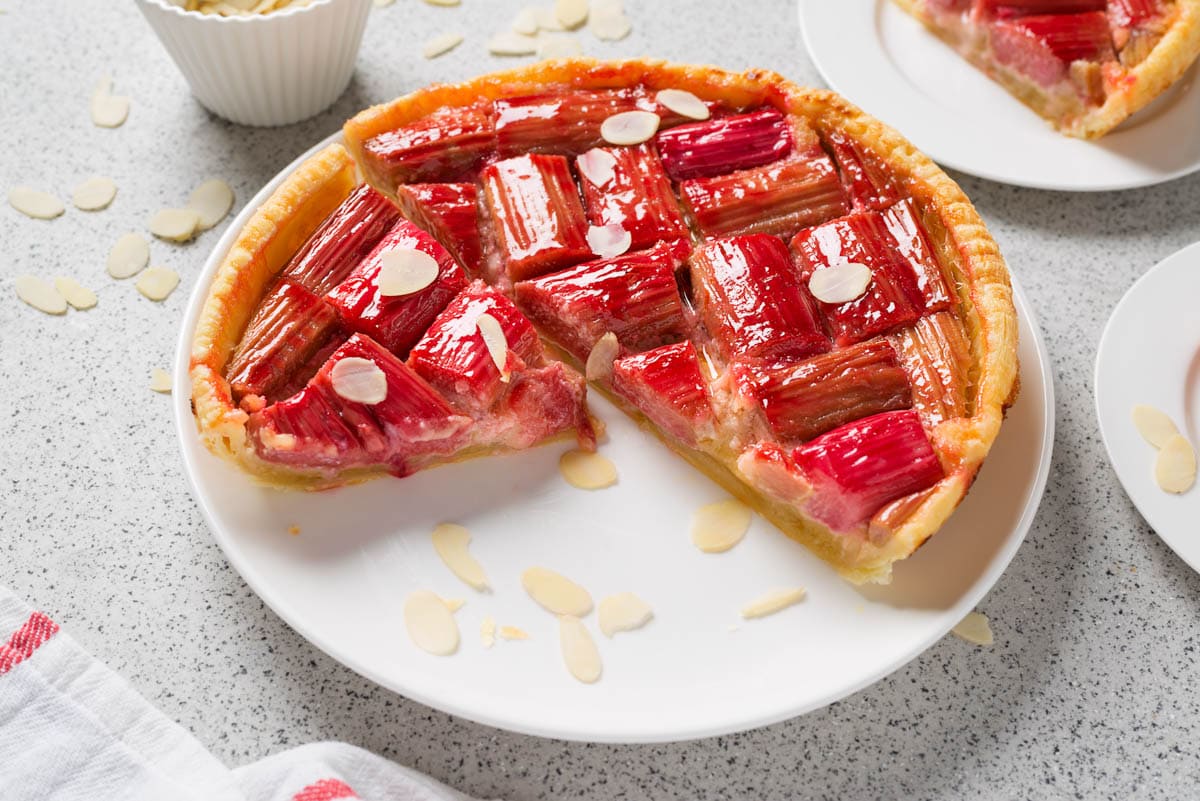 Jump to:
👐 Introduction
The wonderful pink upside-down cakes or flavour-packed compotes. Rhubarb is known and adored far and wide, but how well do we actually know the plant?
It can be traced back to China, Mongolia & Siberia, with experts not entirely sure of where it originally came from.
Rhubarb comes from the same botanical family as buckwheat, the Polygonaceae family (Source).
Even though, botanically speaking, rhubarb is a vegetable, it's often classified as fruit.
🌱 Rhubarb US & UK season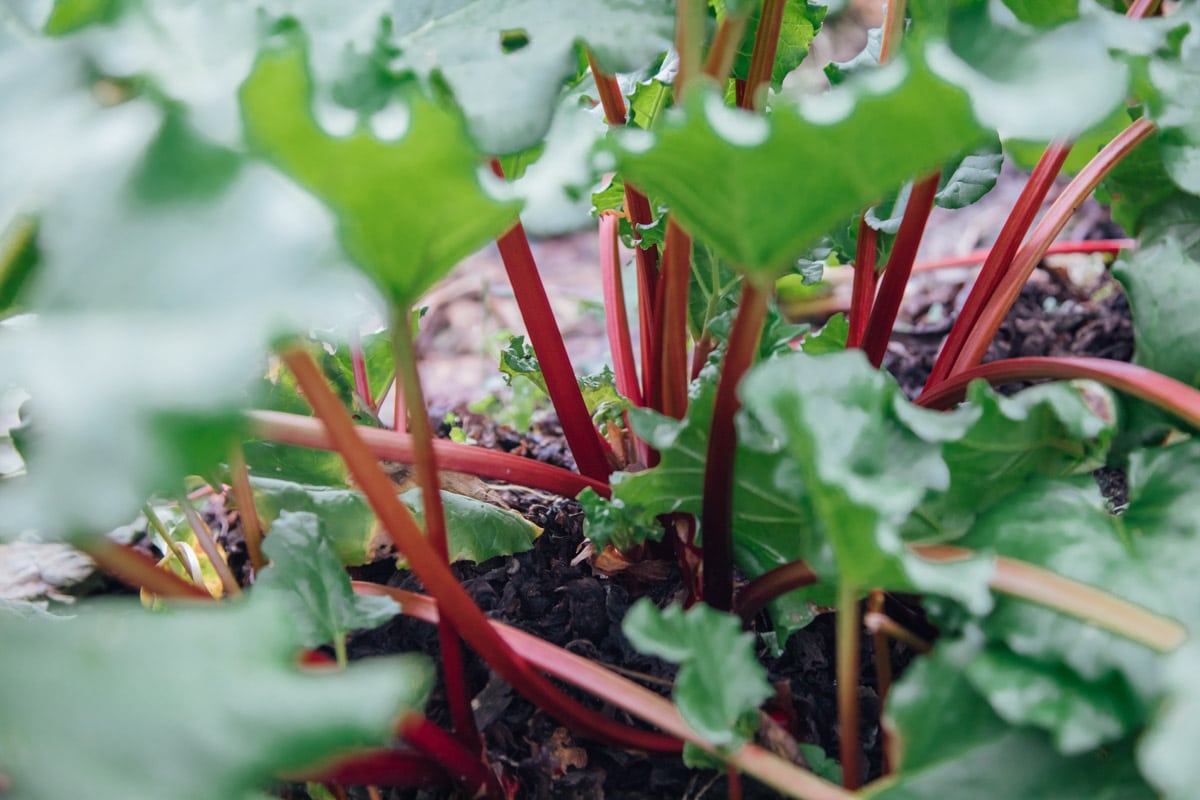 Both in the US and the UK, rhubarb season begins in April and continues all the way through July (source: National Trust). This is commonly referred to as mid-spring and mid-summer season.
It's known as one of the first vegetables to come up in spring!
In the US, most rhubarb comes from Washington, Oregon, and Michigan. This is not a surprise! Rhubarb is a cold-weather plant originally native to Siberia. It thrives in damp, cold, wet, loamy soil.
In Australia, rhubarb is mostly grown in western parts of the country. In some parts of the country, it can grow all year. However, it's usually the most abundant in fall/autumn (source: Local Flourish).
Did you know? In the UK, there is an area called the Yorkshire Rhubarb Triangle. This is where the majority of rhubarb grown in the UK comes from The Yorkshire It's between the cities Leeds, Bradford & Wakefield.
✂️ Forced Rhubarb
You might have heard of forced rhubarb and wondered what it means.
In short, this rhubarb is 'forced' with warmth and darkness, making it available about 6 to 8 weeks earlier than non-forced rhubarb.
It's sometimes called champagne rhubarb or winter rhubarb.
This way we get to enjoy this delicious crop before the official beginning of the season and much earlier than other garden delights.
Taste - forced rhubarb has a softer texture & sweeter taste compared to summer rhubarb. It's also less stringy.
Colour - The stalk remains brighter & bolder in colour. No green tinge.
Season - as early as late December. Ends in late March.
👩‍⚕️ Health Benefits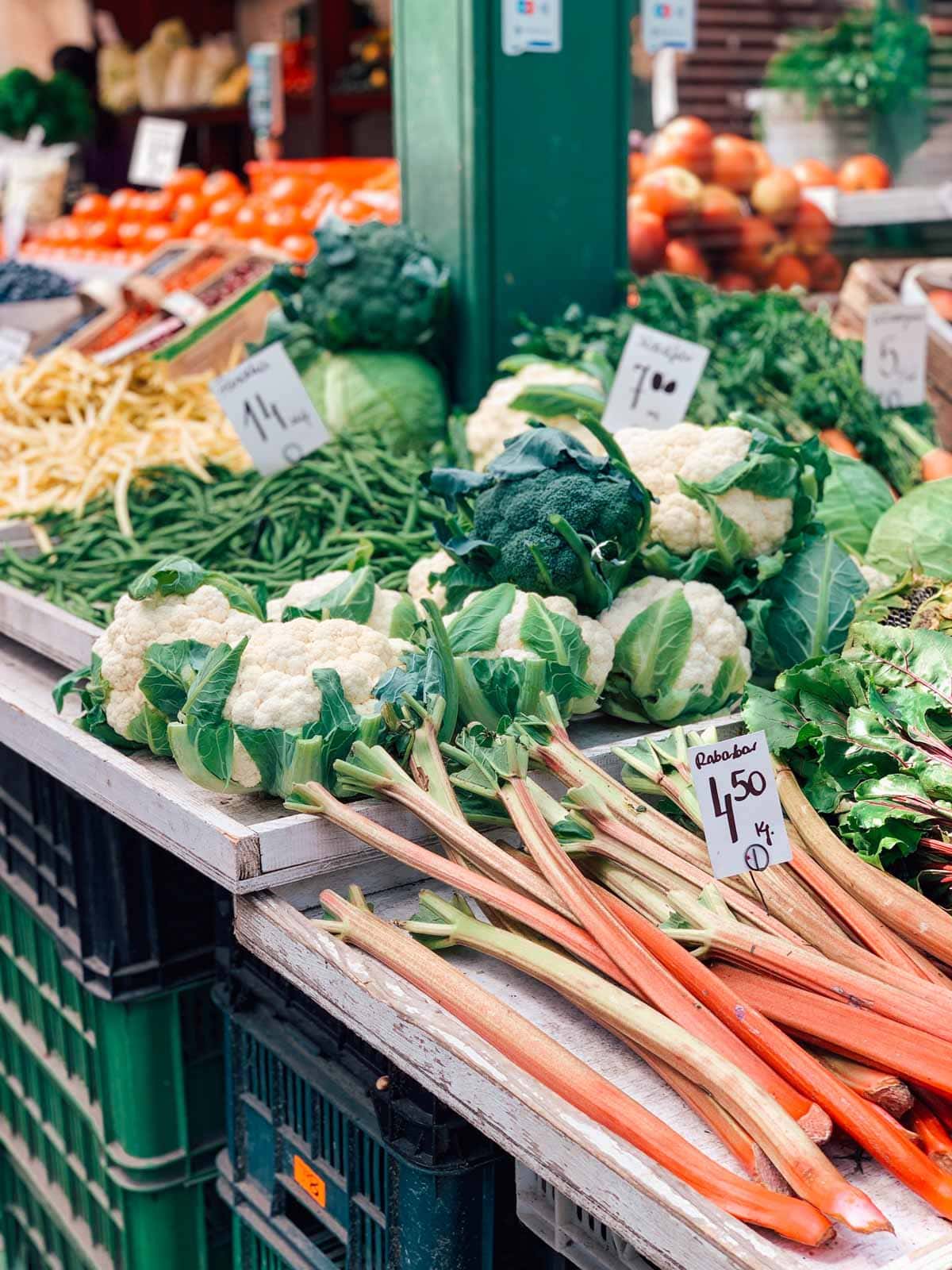 Is rhubarb good for you? Let's take a look.
According to Healthline, rhubarb is not extremely nutrient-rich.
However, it's a good source of both fibre and antioxidants. Moreover, it's also low in calories and sugar.
At first glance, it seems high in calcium - one 100g serving contains 15% of your daily recommended value. But, there's a catch!
Its calcium comes mainly in the form of the antinutrient calcium oxalate which can't be absorbed properly. More about this antinutrient below.
Something that rhubarb is definitely rich in is fibre. You might be surprised to hear that fibre is actually a type of carbohydrate (yes, demonizing carbs is so 2015!).
Its main antioxidant is anthocyanin - the component that gives rhubarb the gorgeous pink/red color we all adore.
Antioxidants help the body fight free radicals and might reduce your chances of developing certain kinds of cancer.
Anthocyanin might also help reduce inflammation (Source: Web MD)
However, it's important NOT to overestimate the health benefits of rhubarb. Or any other vegetable for that matter. Why?
Research on rhubarb is very limited. Studies that look into its positive effects on human health are often done on a small scale.
Furthermore, rhubarb contains vitamin K. This might reduce the effectiveness of the blood-thinning medication. If you're taking any such medication, always consult your doctor about any foods you need to be avoiding!
😋 Flavor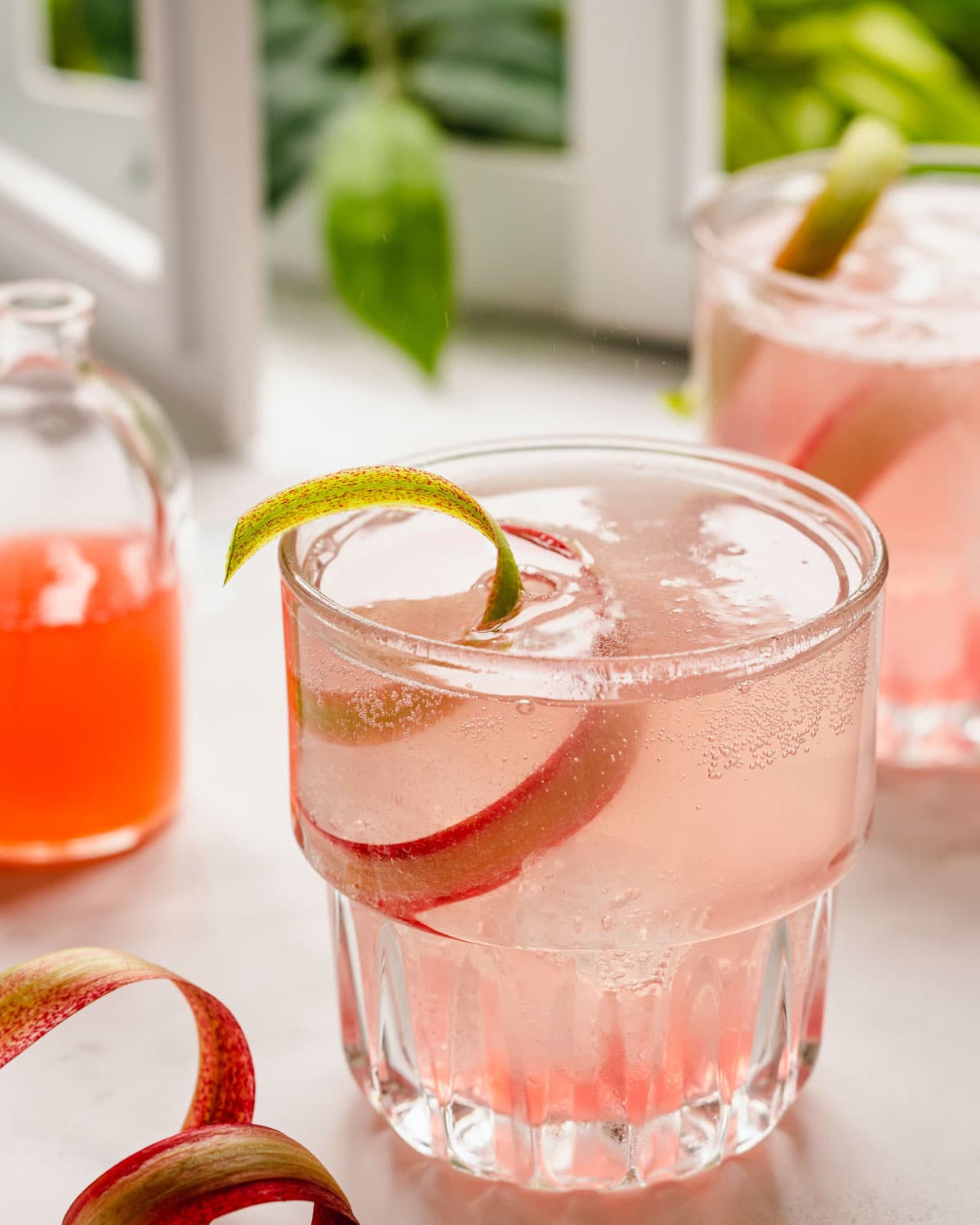 Wondering what rhubarb tastes like?
Perhaps you've tried it as a child and can't quite recall the flavor. Or you've tried it in sugary desserts and couldn't really pinpoint the exact taste.
To put it simply, rhubarb has a rather tart and sour taste. Not many people enjoy it raw, as it's quite tangy and overpowering. This is why it's so often cooked, boiled, or baked into scrumptious desserts.
On its own, it's quite full of flavor - you definitely couldn't describe it as mild or bland. It's a rich mixture of tart, acidic & sour.
Some people describe rhubarb's taste as savory rather than sweet. This might be why it makes such a fabulous addition to so many desserts.
That contrast between sweet and savory or acidic is often what makes the very best desserts (salted caramel, anyone?)
All in all, it's probably fair to say rhubarb is an acquired taste. It can take some time to grow on you (pun intended)!
🙌 Pairings
Wondering what rhubarb pairs well with?
According to The Spruce Eats, it pairs well with fruits like apple, berries, nectarine, peach, plum & strawberry.
It also makes a great pair with ginger & citrus fruits.
Some lesser-known but just as delicious combinations include pairing rhubarb with lavender, cardamom, coconut, and tomatoes.
🎨 Colour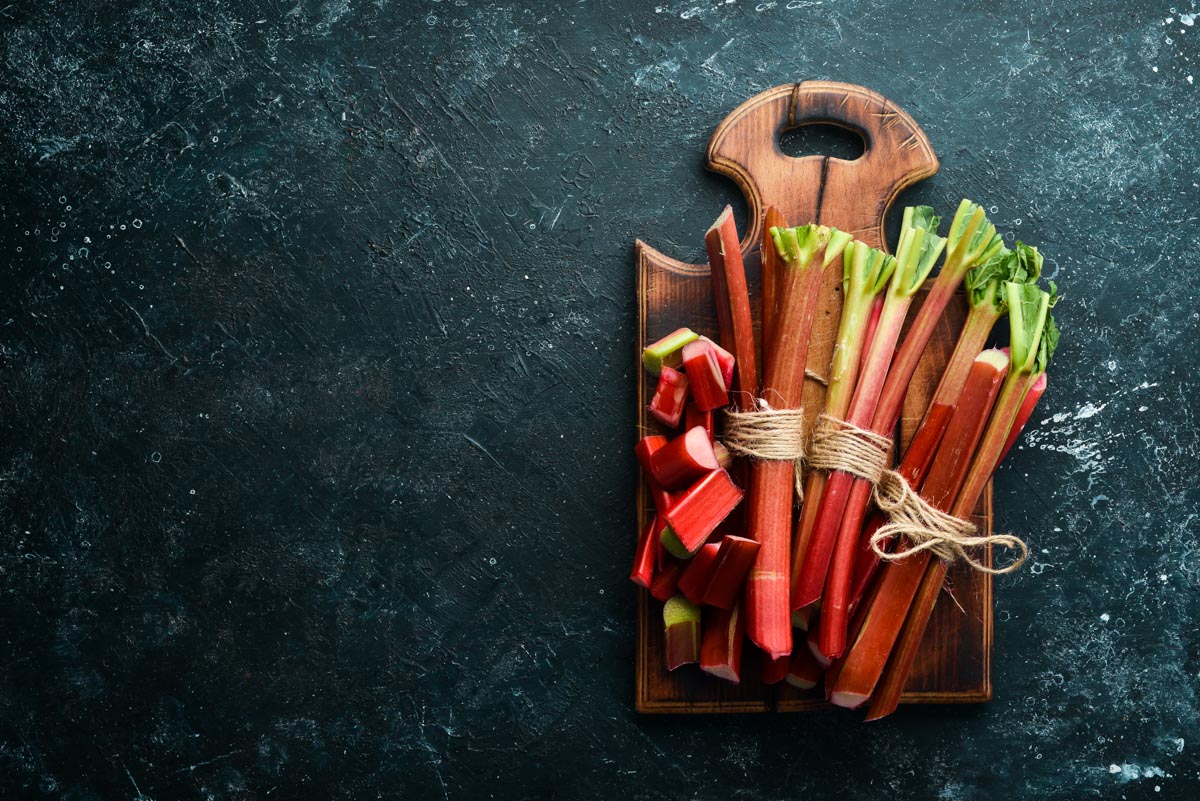 There are several varieties of rhubarb, each known for their own colour.
As a plant, rhubarb is visually stunning. It has large, textured green leaves and colorful pink stalks.
The colour of rhubarb stalks ranges from soft pink & pastel purple to bright red & bold purple. There are also green varieties.
Chinese rhubarb (used in traditional Chinese medicine) has a stronger taste than its American counterpart.
This is important to note when preparing your dish. If you're going to make a gorgeous upside-down rhubarb cake or a pretty pink drink, go for the bright & bold red rhubarb.
If you're just using it in a compote, hiding it away in cake batter, or making a summer crumble, the colour probably won't matter so much. This way, you might as well pick the soft green variety.
🎂 Uses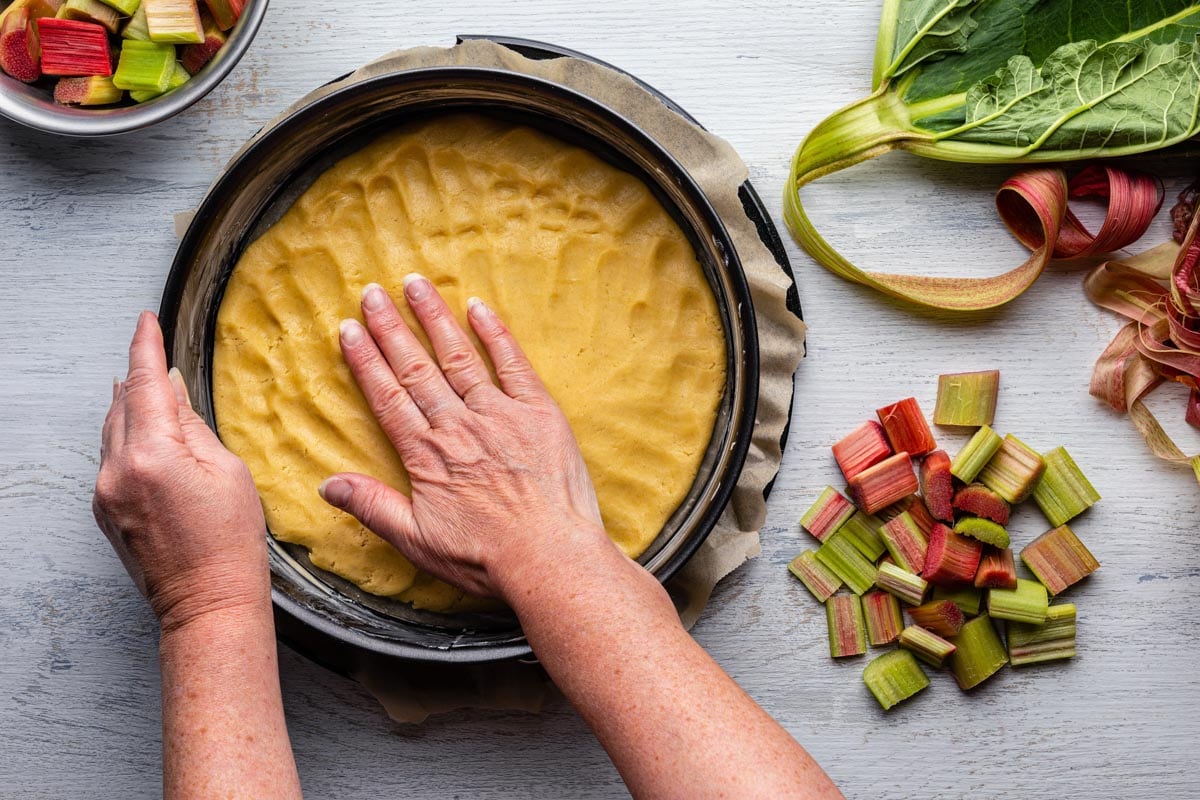 It's almost impossible to list all the possible uses for this pretty pink vegetable.
Here are some sweet recipe ideas:
Cakes
Galettes
Chutneys
Tarts
Pavlovas
Cheesecakes
Crumbles
Souffles
Muffins & cupcakes
Perhaps surprisingly, you can use it in savory recipes too!
Some savory uses & drinks include:
Mocktails & cocktails
Rhubarb juice
Smoothies
Salad dressings
Ketchup
Spring soups
Stir-fries
Casseroles
Salsas
❓ Oxalic Acid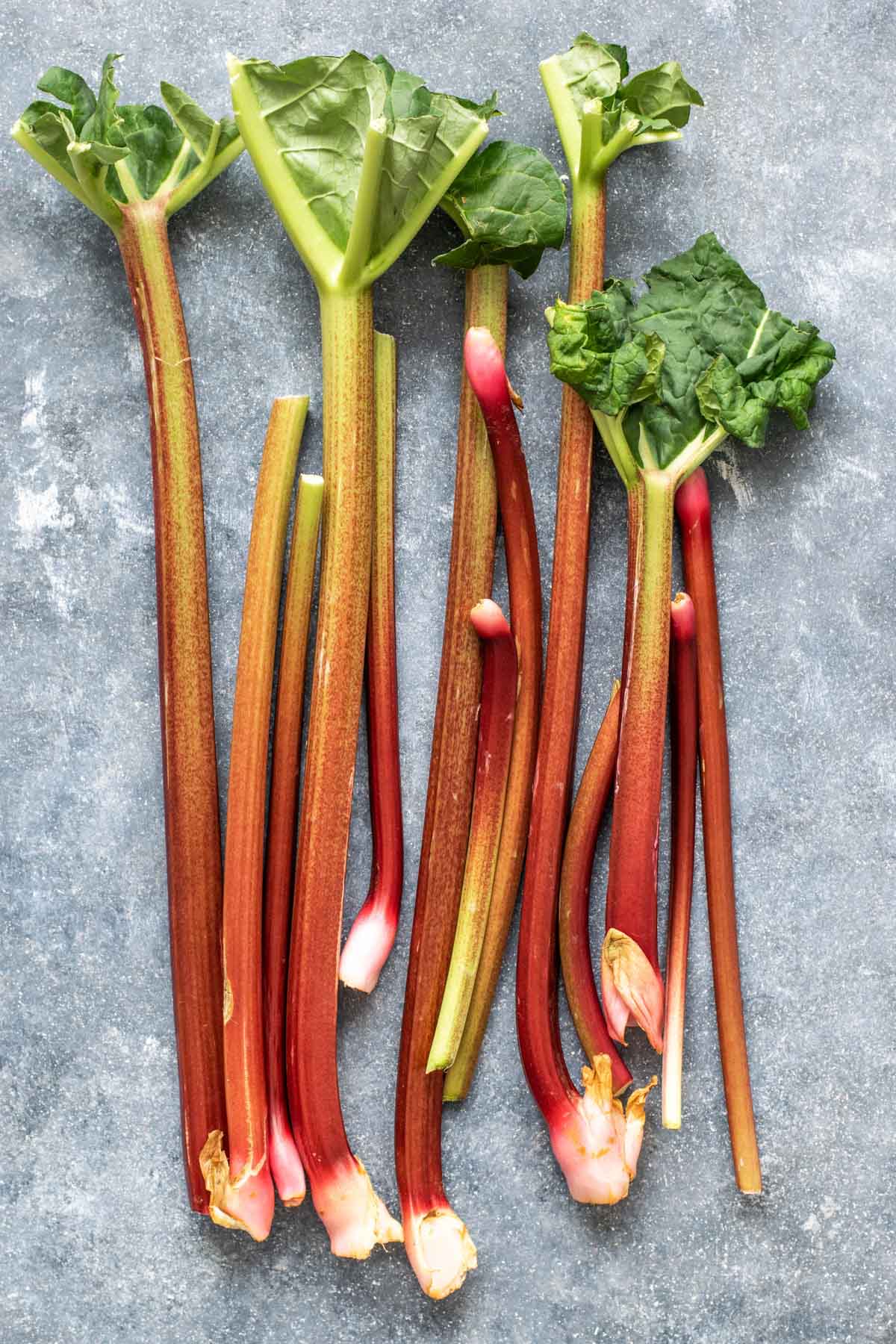 Are rhubarb leaves toxic? Is rhubarb really good for you?
First and foremost, it's important to point out the difference between the rhubarb leaves and stalks.
While the stalks do contain some oxalic acid, it's the leaves that contain a particularly high amount.
But what actually is oxalic acid?
Remember, oxalic acid is not unique to rhubarb. It's an organic component found in many fruits, vegetables, even cocoa and nuts.
Why should we be careful?
If you consume oxalate in high amounts, you might develop a condition called hyperoxaluria. This happens when oxalate is excreted in the urine and can also lead to calcium oxalate crystals forming in your internal organs. (Source: Healthline).
Particularly dangerous for your kidneys, this can lead to the formation of kidney stones.
It's important to note that there are many other factors that might influence the development of kidney stones.
Does this mean that rhubarb leaves are poisonous?
Yes, rhubarb leaves can technically be poisonous. However, reports of that are extremely rare. Remember, it's the dose that makes the poison.
You would need to consume absolutely huge amounts of rhubarb leaves to develop poisoning from eating rhubarb.
🌿 Rhubarb Root
The root is a powerful laxative, often used to treat conditions like constipation, hemorrhoids, or gastroenteritis.
In traditional Chinese medicine, rhubarb root is used to help treat burns, conjunctivitis, and other injuries.
In addition to that, it's also been used to treat lung & eye infections and nose bleeds.
📌 Conclusion
Hope you enjoyed my in-depth guide into all things rhubarb and found the exact answer to the question "When is Rhubarb in Season?"
For more tips & fun trivia check out my food tips section.
If you have any questions or suggestions make sure to leave a comment below!