These savoury vegan muffins are so easy and so addictive. They're the perfect savoury food that really hits the spot. You can enjoy them as yummy snack or even a side.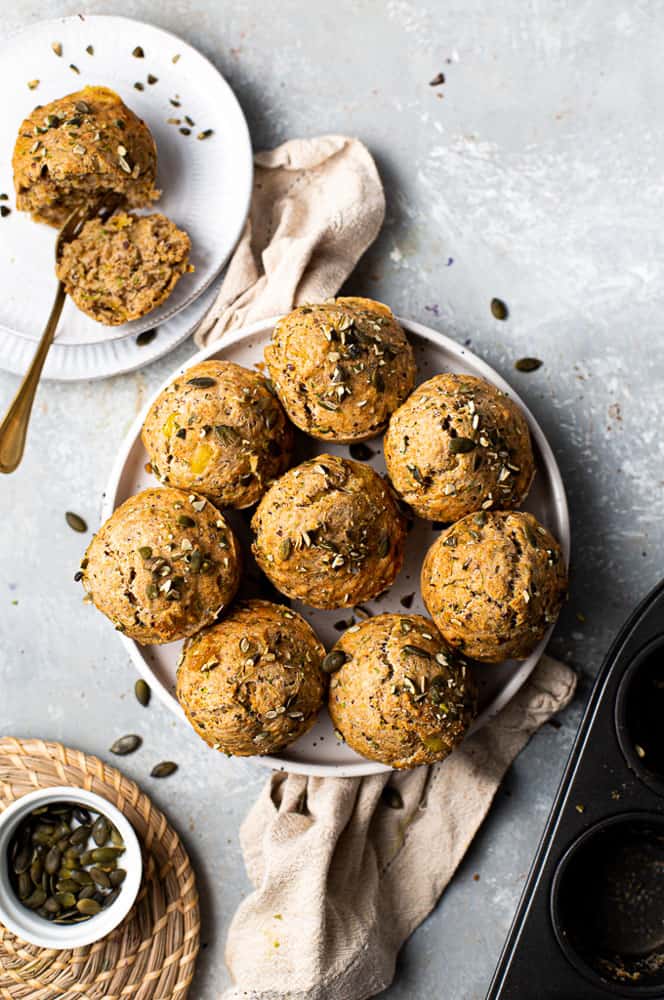 Sometimes you just need a savoury treat. One that feels like ultimate comfort food that would be too good to resist.
6 reasons why you need to make these savoury veggie muffins
Well, let me tell you!
They have a deliciously crunchy pumpkin seed topping.
You can easily customise them!
They're super easy - completely beginner friendly.
You'll get in a secret portion of veggies!
They're filled with herbs like thyme and chives.
You can enjoy my step-by-step instruction photos!
In conclusion, if you make one recipe today, let it be this one.

You'll find both metric and US weight measurements in the instructions below. Plus, you can adjust the portion sizes with just a click.
How to make savoury vegan muffins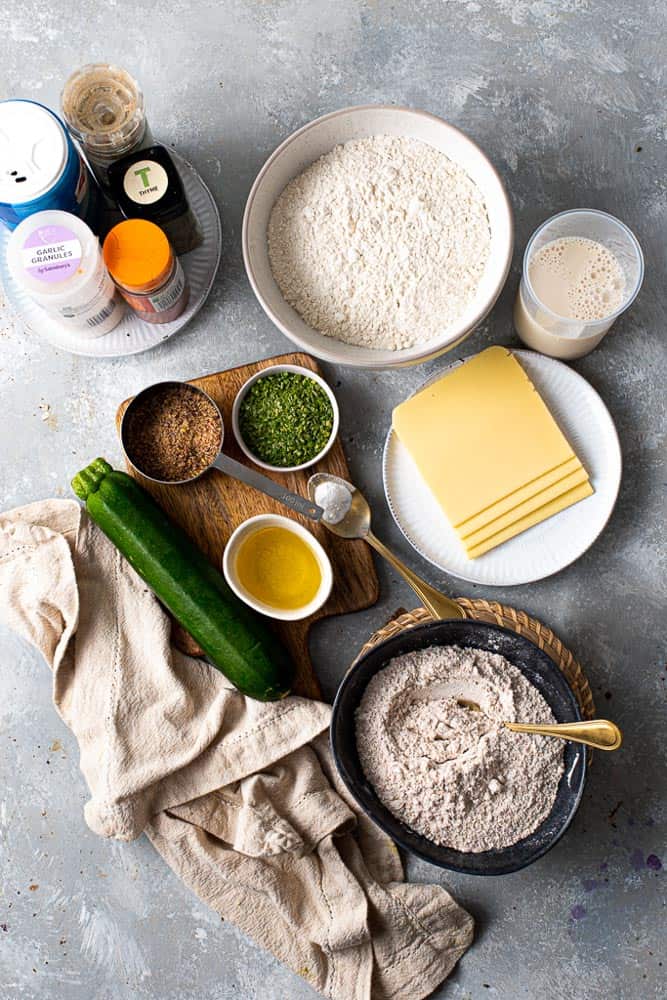 The base for this recipe is a lovely, springy batter. You will need the following ingredients:
Wholemeal flour
Plain flour
Baking powder
Flaxseed + water (to make flaxseed egg)
Olive oil
Almond milk (or other UNSWEETENED plant milk)
Vegan cheese
Zucchini
Seasoning: salt, black pepper, garlic powder, chives, thyme and paprika
Pumpkin seeds: for topping
That's it! Best of all, you also won't need any special equipment like mixers or food processors.
Before we get into the details - if you're enjoying this recipe, subscribe to my newsletter below and instantly receive printable 90 Vegan Meal Ideas straight to your inbox!

STEP-BY-STEP INSTRUCTIONS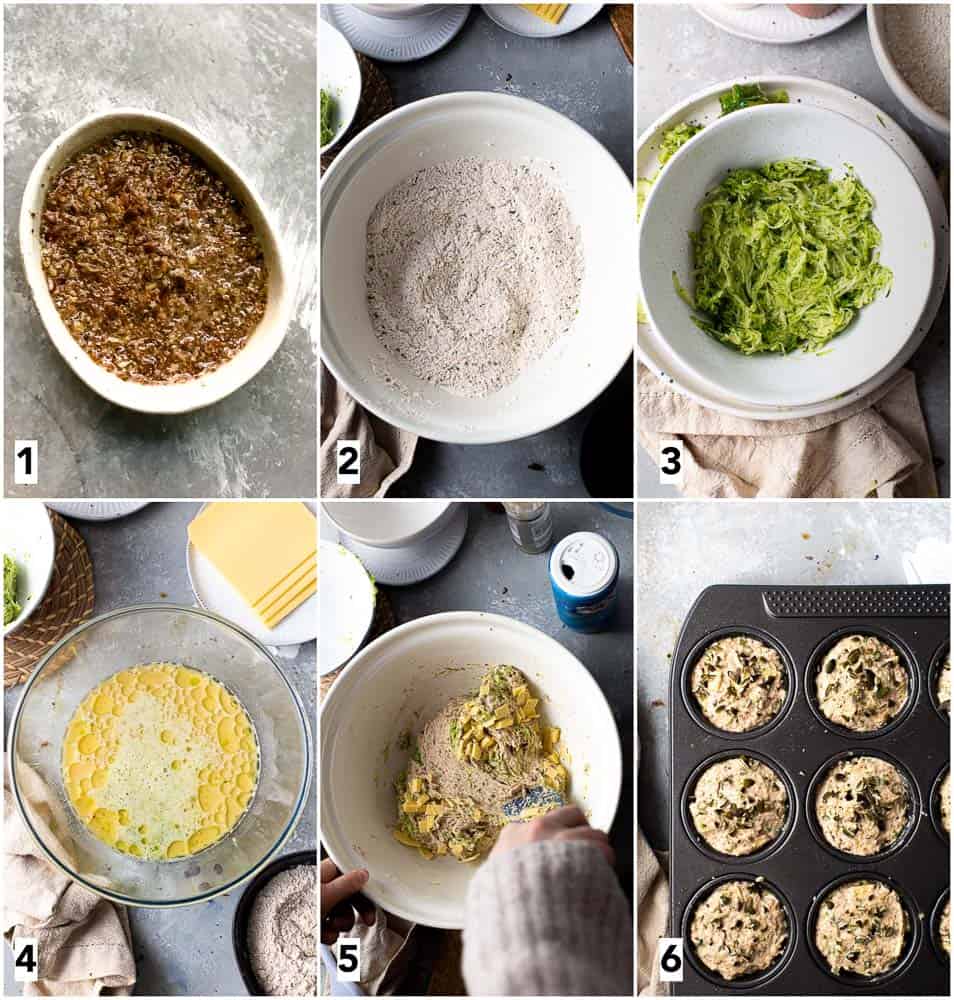 First you'll need to create a flax egg! Never heard of that? It's basically a DIY vegan egg replacement. You can make it by combining flaxseed and boiling hot water, then letting it set for about 5-10 minutes.
Then you'll grab a bigger bowl and sift in all your dry ingredients like flour, salt, baking powder and all the seasoning.
Time to grate a courgette / zucchini. Set aside.
Onto our wet ingredients. Combine oil, almond milk and flaxseed egg mixture that you made in Step 1. Mix well with a fork/spoon/etc and then don't forget another important step - take the grated zucchini, hold it over your wet mixture and really squeeze out all the liquid from it. See that Photo 4 has a slight green tint? That's because we added the zucchini liquid into it! Stir well once again.
Combine your dry and wet mixture.. Mix well with a silicone spatula until fully combined. When fully mixed, stir in the cheese and the zucchini.
Now all that's left to do is to line a muffin tray with oil and fill your muffin tins all the way to do top. Sprinkle with pumpkin seeds and bake at 180°C/356°F for 30-35 minutes.
More savoury vegan goodness? Try out my:
TIPS FOR MAKING YOUR VEGAN SAVOURY VEGAN MUFFINS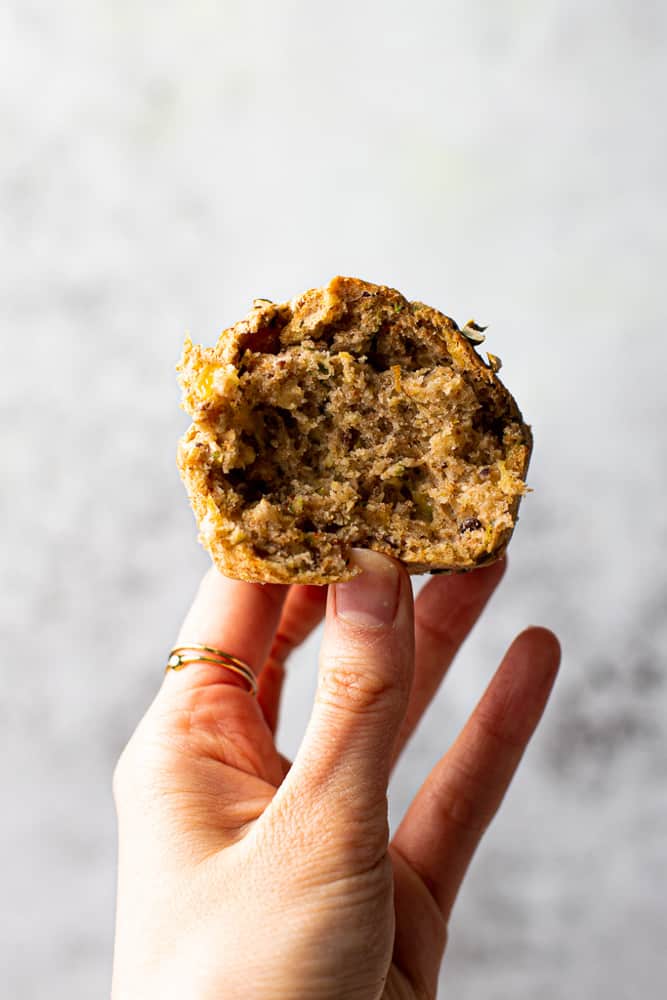 Below you can find some common troubleshooting tips! If you're stuck at any point of making this recipe, go ahead leave a comment below or message me directly on Instagram. I'll make sure to get back to you ASAP and help you along!

DON'T OVERMIX
Stir your dough well until no flecks of flour remain. However, do not overmix. If you overmix, this will develop the gluten and make your muffins feel more like bread than the fluffy, airy goodness they are.

FIX YOU DRY DOUGH
Made your dough and you think it's too dry? Add water one tablespoon at a time. Before you do that, also make sure that you really squeezes out ALL the water from your grated courgette. The courgette adds a lot of liquid so not squeezing it out properly can make a big difference.
DON'T USE PAPER MUFFIN LINERS
These don't work in the same way as sweet muffins (such as my blueberry ones), so DO NOT use paper muffin liners/moulds. Simply spoon the batter straight into your very well greased muffin tin. If you use paper liners, there's a big change you won't be able to get the muffins out without completely destroying them. Oops!
POSSIBLE INGREDIENT SUBSTITUTIONS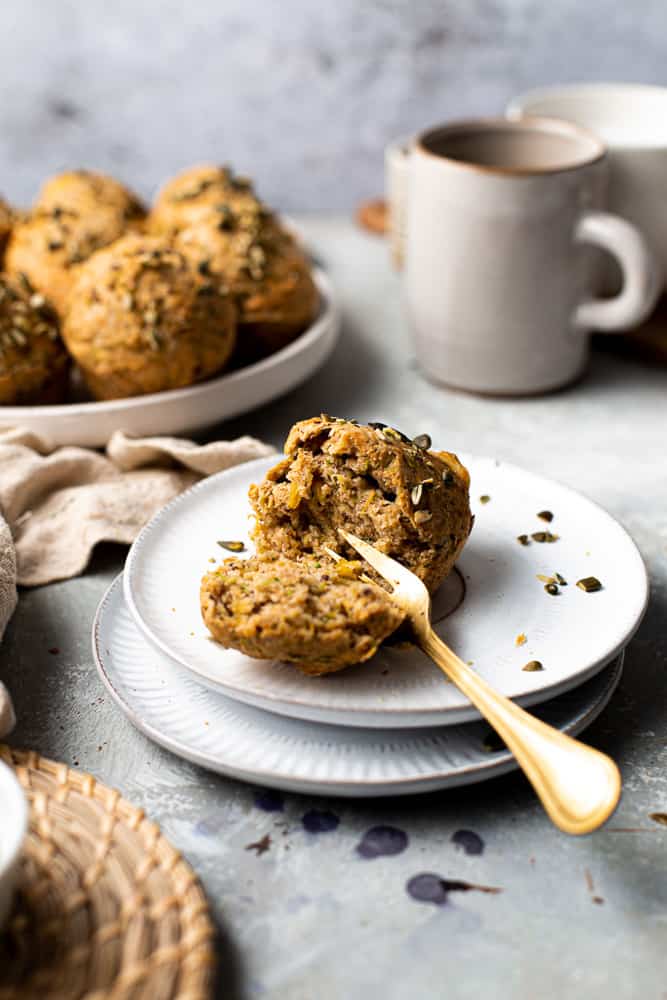 I like to keep my recipes as customisable as possible. This way, if you don't have all the ingredients in your fridge or pantry, you can still make the recipe you're craving. As always, I do recommend sticking to the exact recipe, but I understand it's not always possible. If you're looking for some ideas for possible ingredient substitutions, I've got you covered:
No wholemeal flour? No worries, you can simply use just plain flour.
Want to avoid using plain flour? If you're attempting to avoid plain flour altogether, I would advise against it. Plain flour is what helps make these vegan muffins so fluffy and airy. Only using wholemeal flour will leave you with flatter, hard, denser muffins. More tips on how to sub whole wheat flour for white flour can be found here.
No thyme or chives? No worries. Substitute with other herbs of your choice. I recommend using similar green herbs currently in your pantry. These could be rosemary, parsley, basil, etc.
No flaxseed? Substitute with chia seed. This will serve as your vegan egg. Don't just simply leave out the flaxseed egg - this won't work. To make your chia egg, follow the exact same instructions you would for the flaxseed egg. Simply just switch out flaxseed for chia seed.
Want to experiment even more? You could also add in some other veggies such as green onions or sundried tomatoes.
Missing any other ingredients? Let me know in the comments below and I'll try and help you out.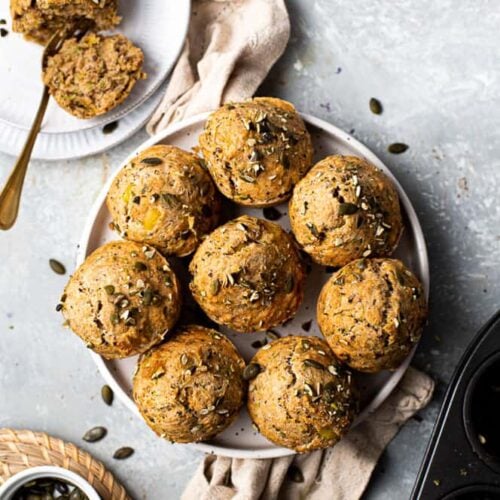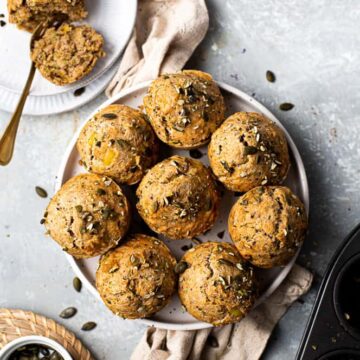 Savoury Vegan Muffins
Delicious, melt-in-the-mouth savoury vegan muffins with a crunchy topping.
Print
Pin
Rate
Ingredients
2

tbsp

ground flaxseed

120

g

wholemeal flour

240

g

plain flour

2,5

tsp

baking powder

1

tsp

salt

¼

tsp

ground pepper

A

pinch

garlic powder

2½

tbsp

dried chives

1

tsp

dried thyme

1

tsp

paprika powder

2½

tbsp

olive oil

220

ml

almond milk

or other UNSWEETENED plant milk

80

g

vegan cheese

130

g

zucchini

should equal about 1 small zucchini

2

tbsp

pumpkin seeds

topping
Instructions
Make a flax egg by combining ground flaxseed and boiling hot water (6 tbsp). Stir well until no lumps remain and set aside for 10 minutes.

In the meantime, sift all your dry ingredients (flour, baking powder, salt, pepper, garlic, chives, thyme and paprika) into a medium sized bowl. Stir well. 

Grate a courgette / zucchini. Set aside.

In a different bowl, combine your wet ingredients – oil, almond milk and flaxseed egg. Then take the grated zucchini and squeeze out all the water from your zucchini over your wet mixture. Stir well.

Add your wet mixture to your dry mixture. Mix well with a silicone spatula until fully combined. When fully mixed, stir in the cheese and your grated zucchini.

Grease the muffin tin with plenty of oil and spread the oil all over your moulds with a brush. Then fill the moulds with your mixture (with a spoon) and top with pumpkin seeds. 

Bake at 180°C/356°F (fan oven setting) for 30-35 minutes.
Nutrition
Calories:
200
kcal
|
Carbohydrates:
31
g
|
Protein:
5
g
|
Fat:
7
g
|
Saturated Fat:
1
g
|
Sodium:
345
mg
|
Potassium:
246
mg
|
Fiber:
3
g
|
Sugar:
1
g
|
Vitamin A:
173
IU
|
Vitamin C:
3
mg
|
Calcium:
101
mg
|
Iron:
2
mg
Made my vegan savoury muffin recipe? Do let me know your feedback in the comments below - I love hearing about your remakes of my recipes!