You simply need these spooky black vegetables in your life. Whether you're adding them to your garden or sprinkling them onto your next salad, their gothic, striking, Halloween-like look will always spark up a conversation!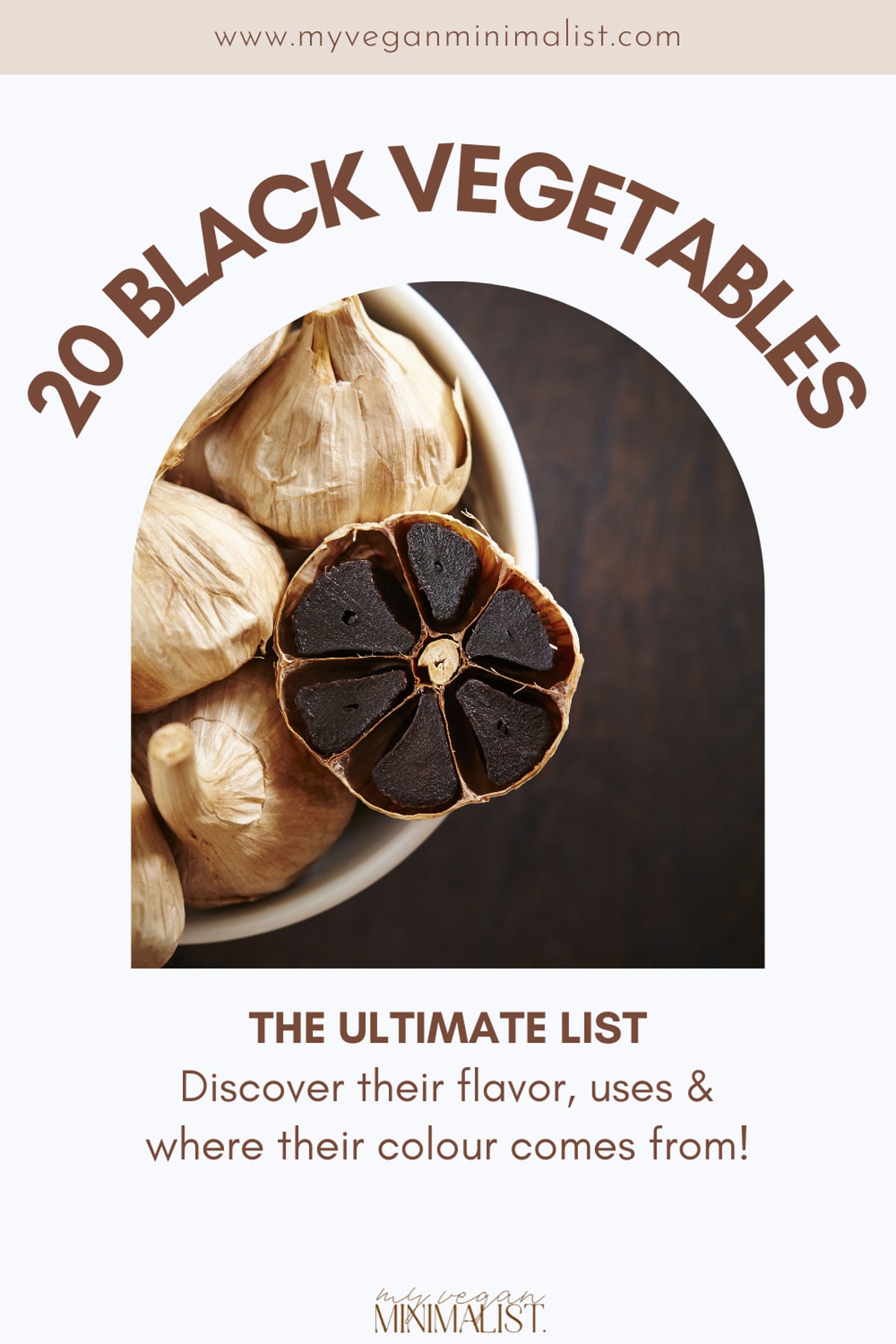 Reminder - the term black vegetables is used broadly. It describes various dark vegetables like black lentils, black kale, black radishes, etc. They might have black or very dark purple, dark blue, or dark green skin.
Black fruits and vegetables are a real sight to see. Their dark coloured skin comes from two flavonoids - anthocyanins and anthoxanthins. 
Flavonoids are high in antioxidants, meaning that your black veggies are not only brilliant to look at but also packed with health benefits!
Let's explore them all below!
Jump to:
1. Aubergine (Eggplant)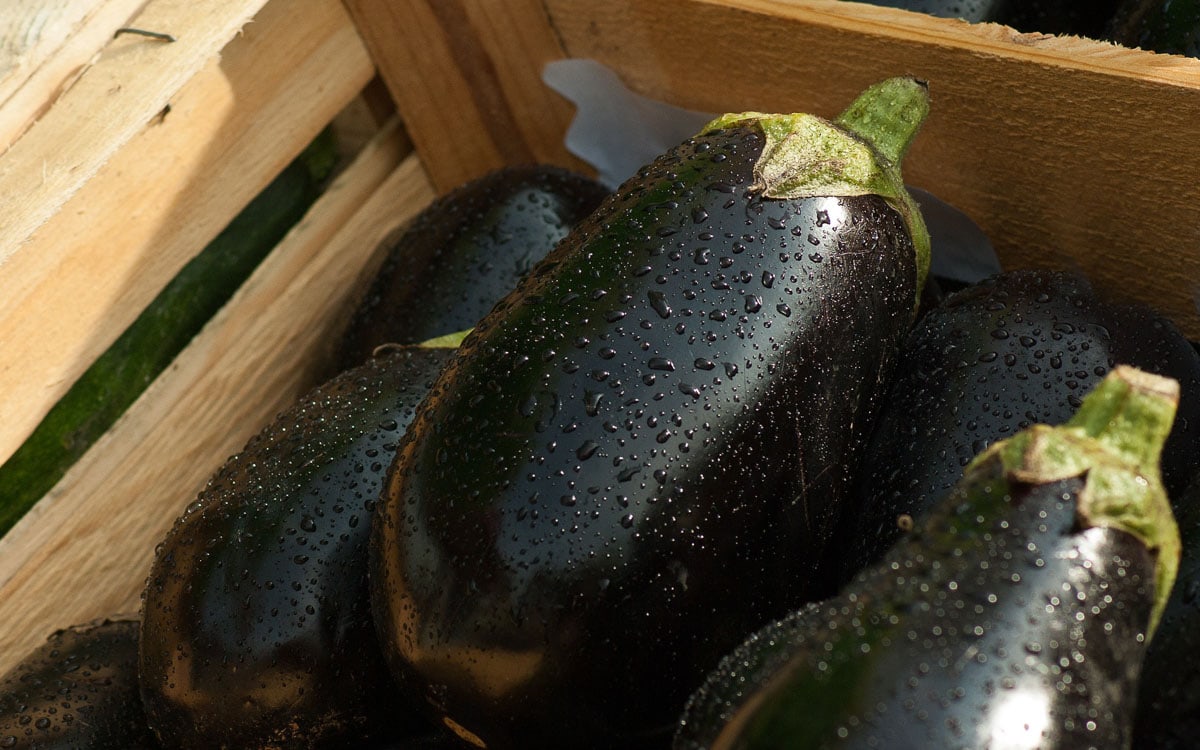 Technically a fruit, but commonly considered a vegetable, aubergine (or eggplant in the US) has been used for centuries.
With its deep dark purple, almost black colour, it's both striking for its beauty & flavour! There are countless varieties of eggplant, ranging in size and flavour.
It's thought to have originated from India before making its way all across the world and being a staple in many cuisines.
Taste - Its texture and taste resemble zucchini, but with a bitter aftertaste.
Uses - It's beloved in dips (baba ganoush, anyone?), curries, ratatouille, salads, and more.
2. Black Beans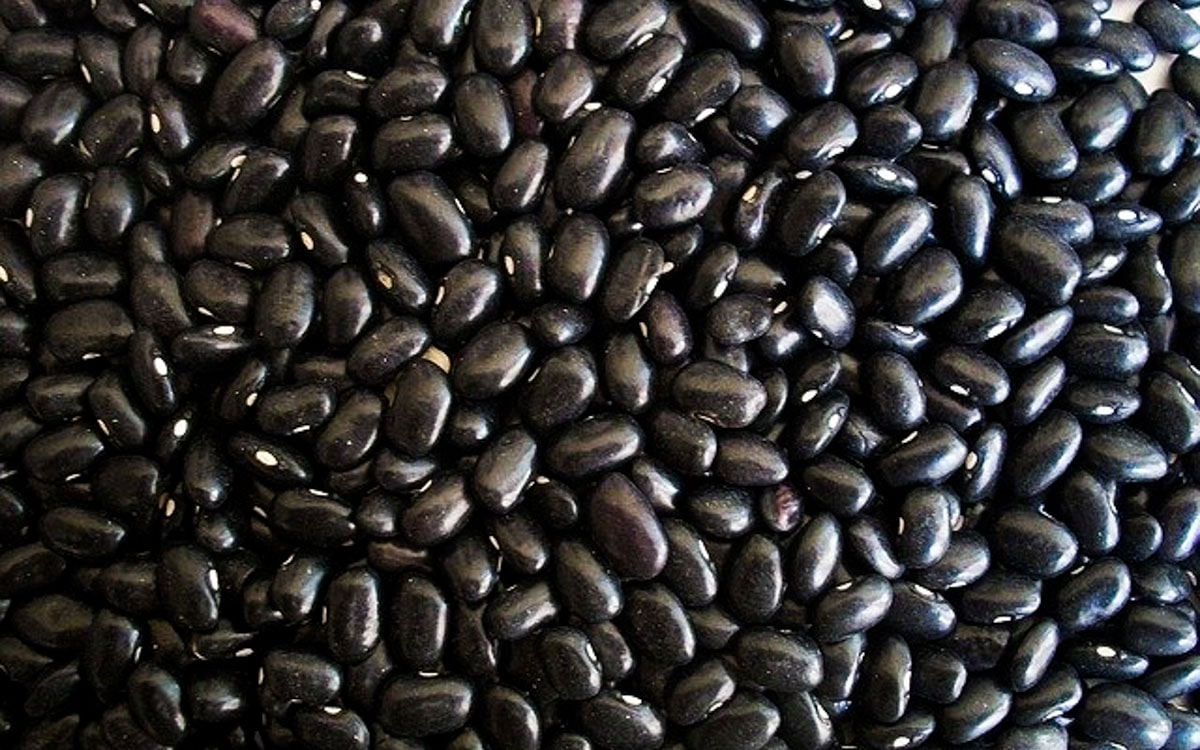 Did you know black beans date back at least 7000 years?
Categorised as legumes, they are usually very affordable, especially when bought in bulk.
Taste - They're mild in flavour, slightly sweet and easy to incorporate into many dishes. When cooked, they become soft & creamy.
Uses - Black beans can be used in SO many dishes ranging from soups & stews to salads, dips, burgers, chillis, and more. 
3. Black Beauty Tomatoes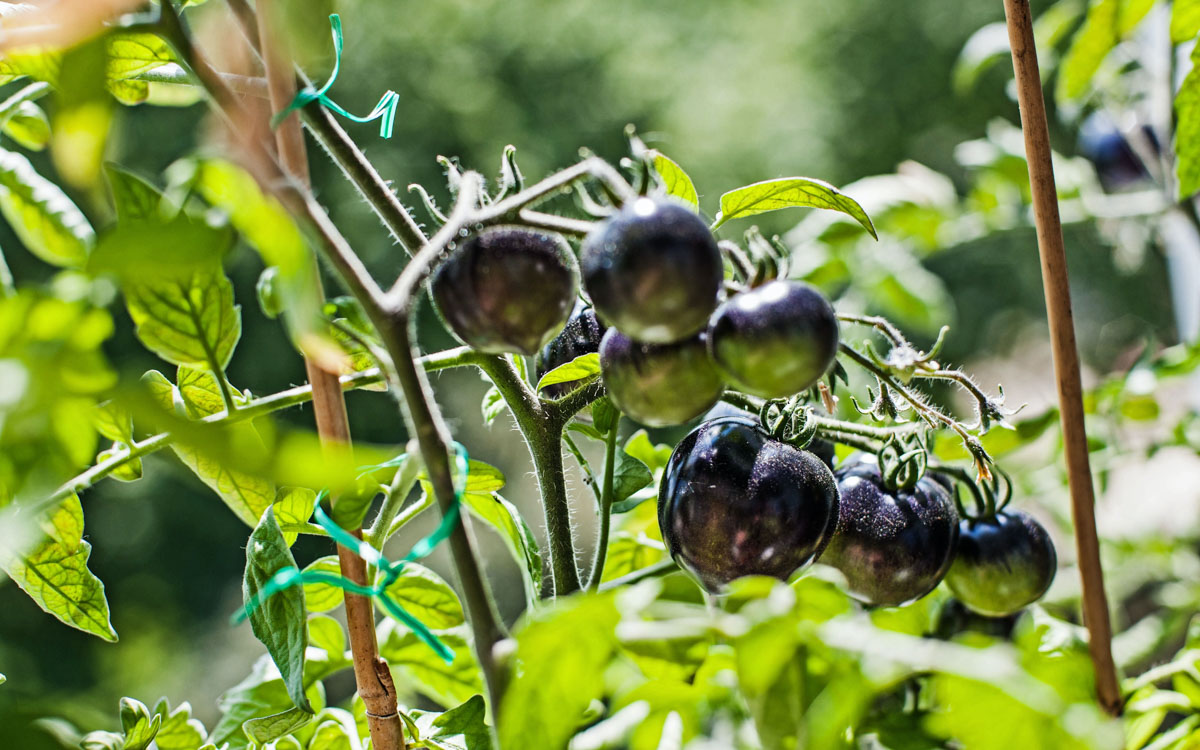 Just like aubergines, tomatoes are technically a fruit.
Black Beauty Tomatoes are a type of gorgeous beefsteak variety.
They contain the same antioxidant as blueberries & blackberries. The antioxidant (anthocyanin) is also what gives them their signature dark purple/black tone.
Taste - They tend to taste a little bit more earthy & smoky compared to standard tomatoes. In fact, some people think they taste a bit like wine!
Uses - Just like regular tomatoes, they can be used in soups, salads, sauces, dips & more. Options are endless!
4. Black Beluga Lentils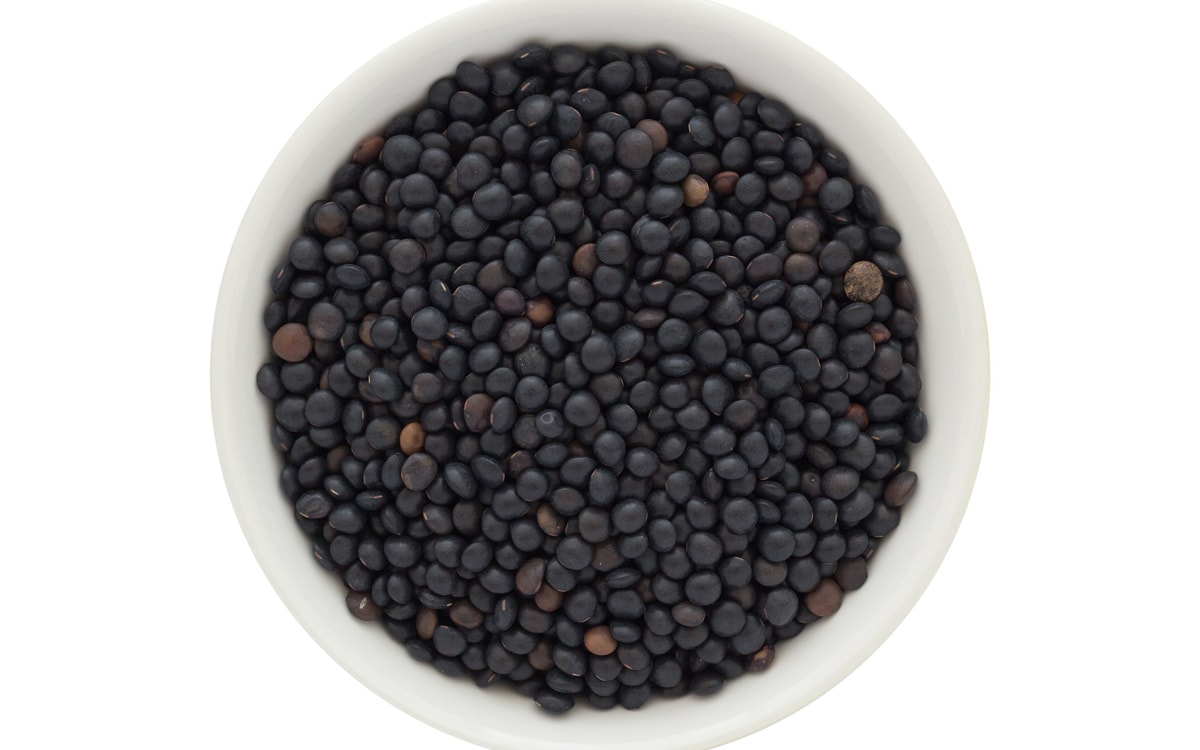 Did you know that black lentils are one of the earliest cultivated crops?
These black vegetables are very small & round, resembling beluga caviar - which is where they get their name!
Taste - Richer than other lentil varieties. Slightly earthy, similar to black beans.
Uses - It's impossible to list all the different uses - they're SO versatile. Think salads, nourish/buddha bowls, snacks, curries, stews, burgers, & more. 
5. Black Carrots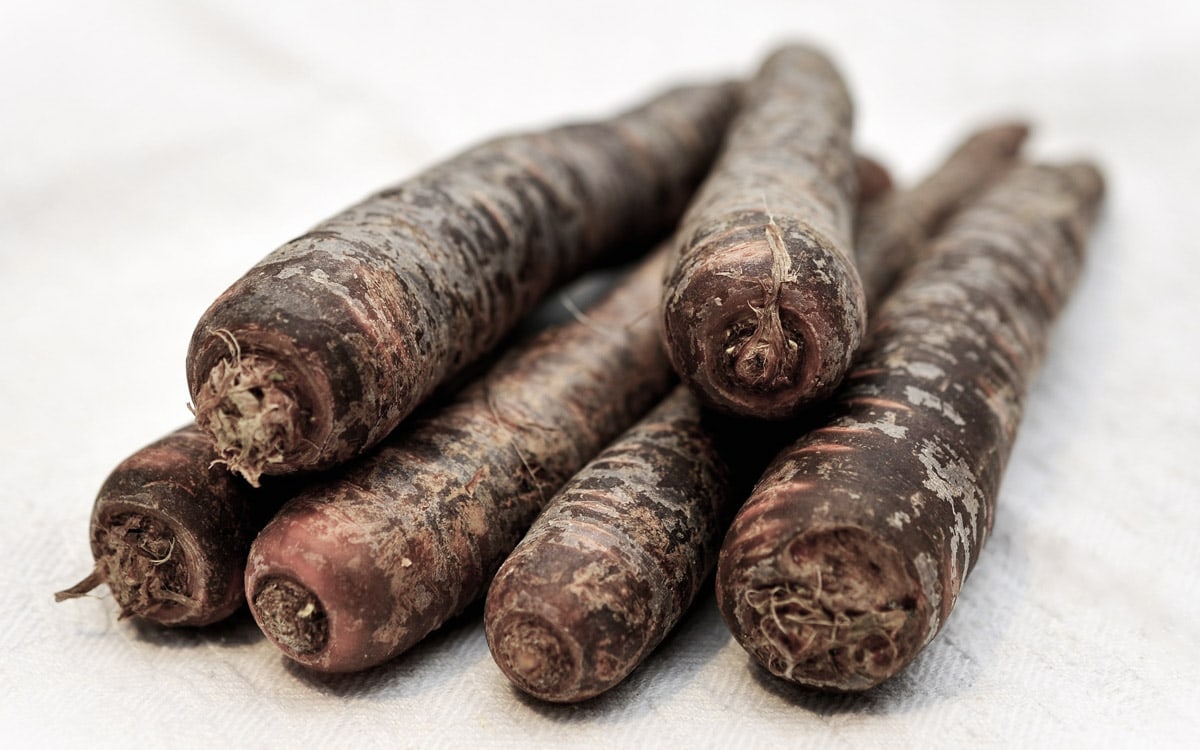 Brilliantly rich in vitamin C and chock-full of anti-inflammatory properties. Black carrots have a light or orange core but are strikingly dark (almost gothic!) on the outside.
In fact, these powerhouses have approx. 12 times more antioxidants than regular carrots! Not only that, they're also rich in calcium.
Taste - Sweeter than their orange and yellow counterparts. Slightly spicy aftertaste. Overall bolder & more flavoursome than regular carrots.
Uses - Simple! Just use them how you would use orange carrots. Roast, cook, mash, pickle, fry, etc! Also used as a replacement for synthetic food colouring.
6. Black Chickpeas (Garbanzo Beans)
Another oldie, but a goldie! Chickpeas might date as far back as 7500 years!
Black chickpeas are also called kala chana. They're extremely popular in Indian cuisine.
Being affordable, high in protein, fibre-packed & delicious, they're a great addition to many dishes. Plus, with a little bit of imagination, they make a great & cheap meat replacement.
Taste - Slightly bolder, earthier & nuttier than regular (beige) chickpeas. They also keep their shape better when cooked.
Uses - Same as normal chickpeas. Think curries, dahls, dips, snacks, burgers, salads, soups.
7. Black Corn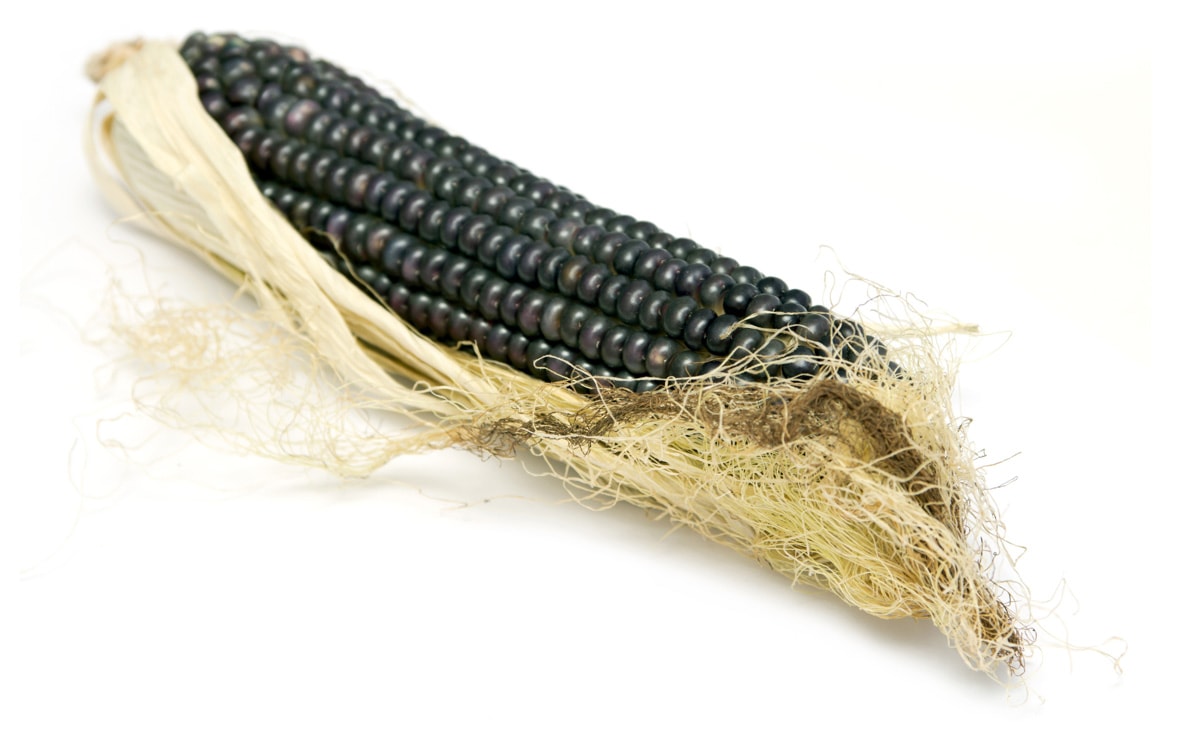 When you think of corn, images of yellow cornfields probably spring to mind. 
But did you know there are SO many different corn varieties? We're talking red, purple, white, blue, black, orange & more!
Black corn is thought to date back to the early Aztecs - it's sometimes called Aztec Corn or Mexican Corn.
Taste - Not quite as sweet as yellow corn. Chewy, starchy, mild.
Uses - Can be eaten grilled, cooked, steamed, etc! Pretty versatile, but make sure to season it well.
8. Black Fungus
This striking wild mushroom is grown mainly in China and thrives in tropical climates.
It's super low in fat but packed full of many nutrients and antioxidants. There is some research that shows black fungus might be helpful in lowering cholesterol, but these are early studies.
Taste - I know, the name sounds SO unappetising! But rest assured it's totally edible. It has a rather neutral taste, with woody and earthy undertones.
Uses - You can usually find it dried. Use it in stir-fries, noodle soups, dumplings, soups, or as a snack. They're very popular in vegan cooking!
9. Black Futsu Pumpkin
Bumpy, dark & totally unfamiliar? Don't worry, Black Futsu Pumpkin might not be the most gorgeous looking vegetable, but it's SO healthy & delicious.
Taste - Nutty, sweet, buttery. Soft when cooked. Similar to other pumpkin varieties.
Uses - This heirloom pumpkin can be fried, pureed, roasted, grilled & more. Use it in curries, creamy soups, warm winter salads & more. Use it to replace butternut squash (for example in my yummy baked mac & cheese). 
10. Black Garlic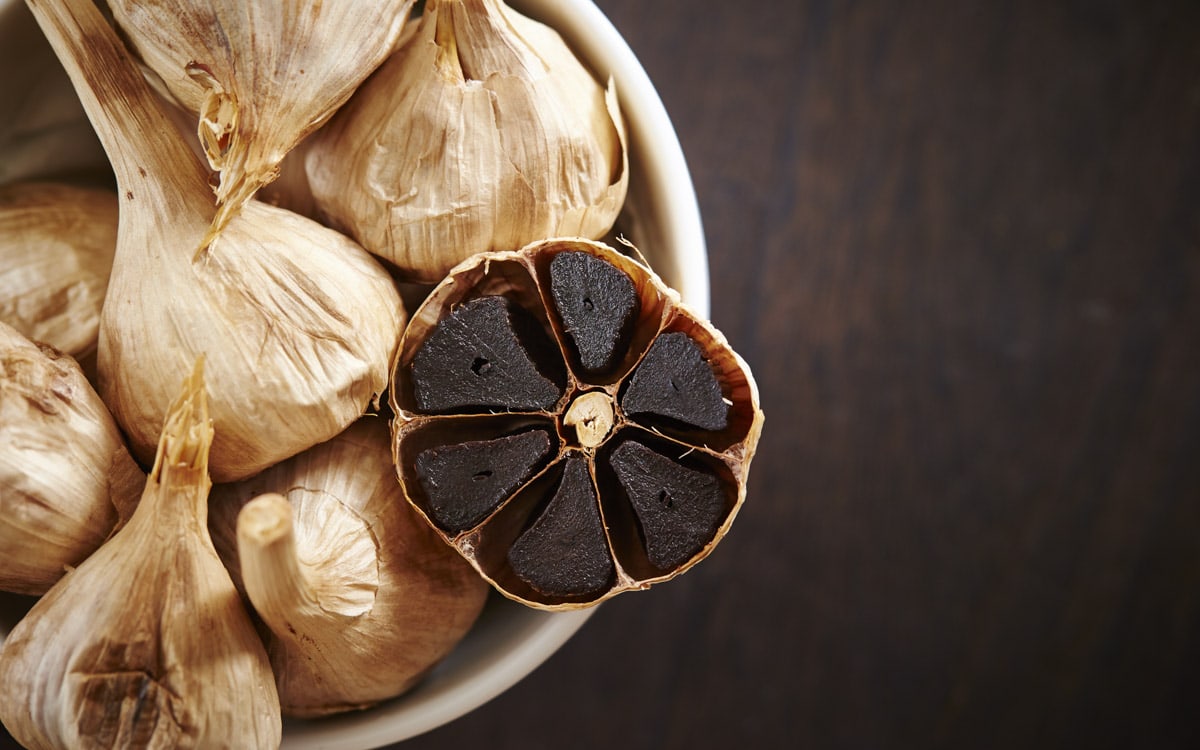 Richer in antioxidants than regular garlic and so much more impressive (if you're into Halloween!).
Taste - Softer & stickier than standard garlic. Rich, sweet & umami-like. And if you're wondering, it doesn't taste burnt at all.
Uses - Go crazy & experiment! You practically can't go wrong with this one (unless you burn it). Add it to grilled vegetables, soups, broths, pizzas, salads, sauces. I could go on forever! 
11. Black Kale
Cavolo nero might not be pitch black in colour, but it deserves a spot on this list.
It's a true nutrition superstar, what marketers would call a superfood!
Also known as Tuscan kale, it originates from Italy. Its name means black cabbage in Italian.
Taste - Similar to broccoli, green kale, cabbage, tenderstem broccoli. Slightly bitter, but not overpowering.
Uses - Easy to incorporate into any dish. Use it as a hero ingredient in a cavolo nero pasta, or add it to sauces, salads, soup, curries & more. 
12. Black-eyed Peas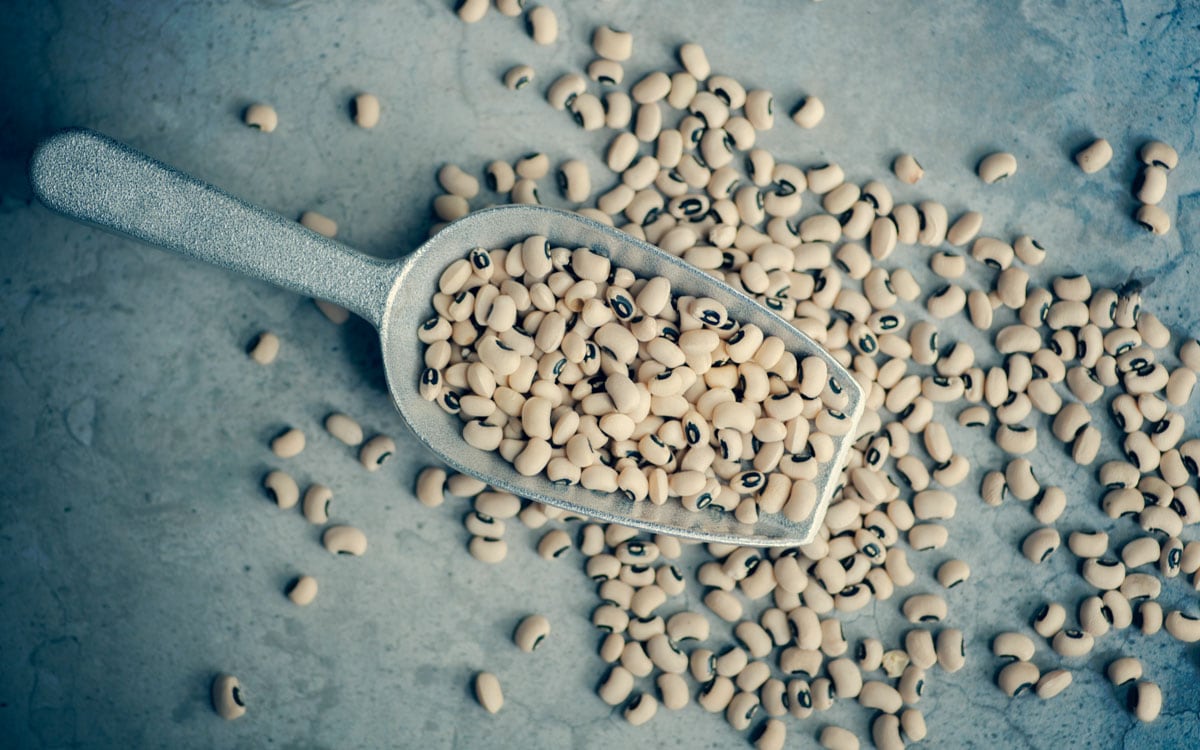 Rich in fiber & protein, black-eyed peas date back to prehistoric China and India. They're the topic of many legends and packed with nutrients.
Taste - Similar to white/brown beans. Earthy, a little bit sweet. Soft and creamy when cooked.
Uses - Same as other peas. Add to soups, sauces, mash it into dips, sprinkle it on salads.
13. Black Peppers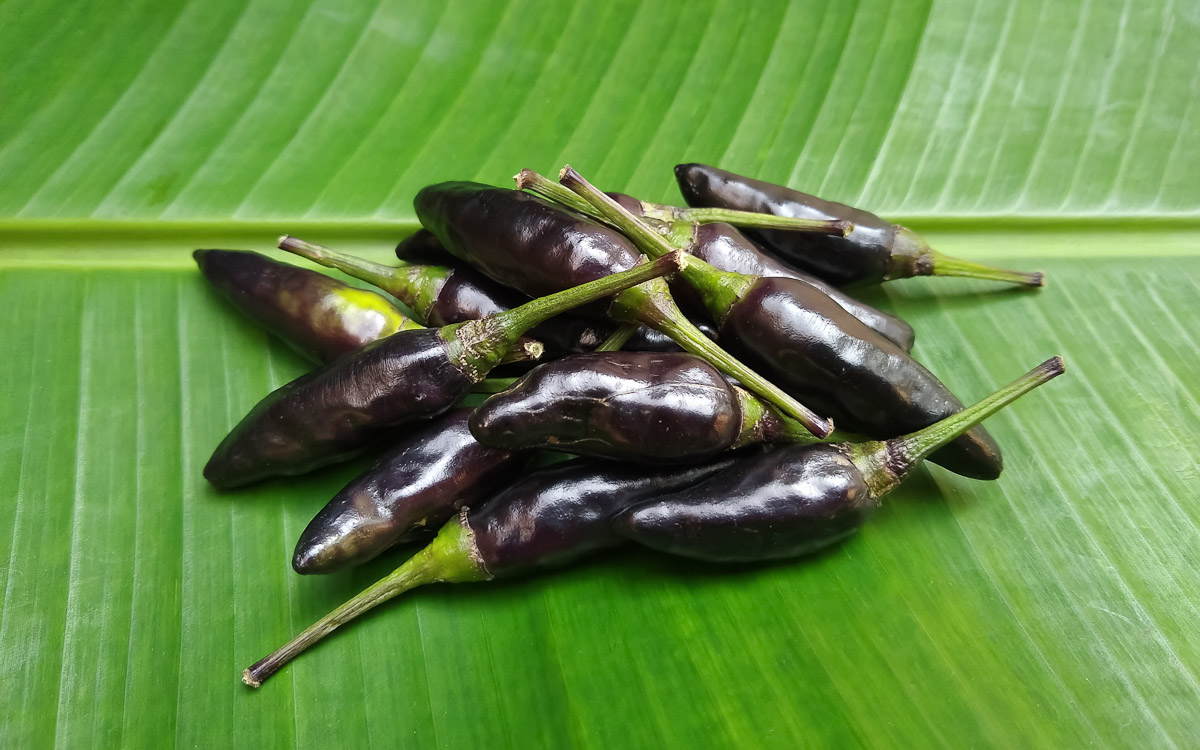 There are several varieties of black peppers. You can find heirloom sweet bell peppers as well as long & thin Hungarian black peppers.
The latter is extremely rare, mildly hot, similar to jalapeños.
Taste - Mildly spicy, a little bit sweet.
Uses - Use them sparingly to add heat to your dish. If you're a lover of all things spicy, remember these are mild & not as spicy as some other varieties.
14. Black Pumpkins
Also called Cucurbita winter squash, they're known for their very dark green skin.
These black vegetables are fairly easy to grow and are super resistant to various diseases.
Taste - Slightly nutty, sweet & earthy. The longer you cook them, the sweeter & richer in flavour they become.
Uses - Can be eaten raw or cooked. Use them as you would any other pumpkin variety. Also perfect as your next spooky Halloween decoration!
15. Black Radish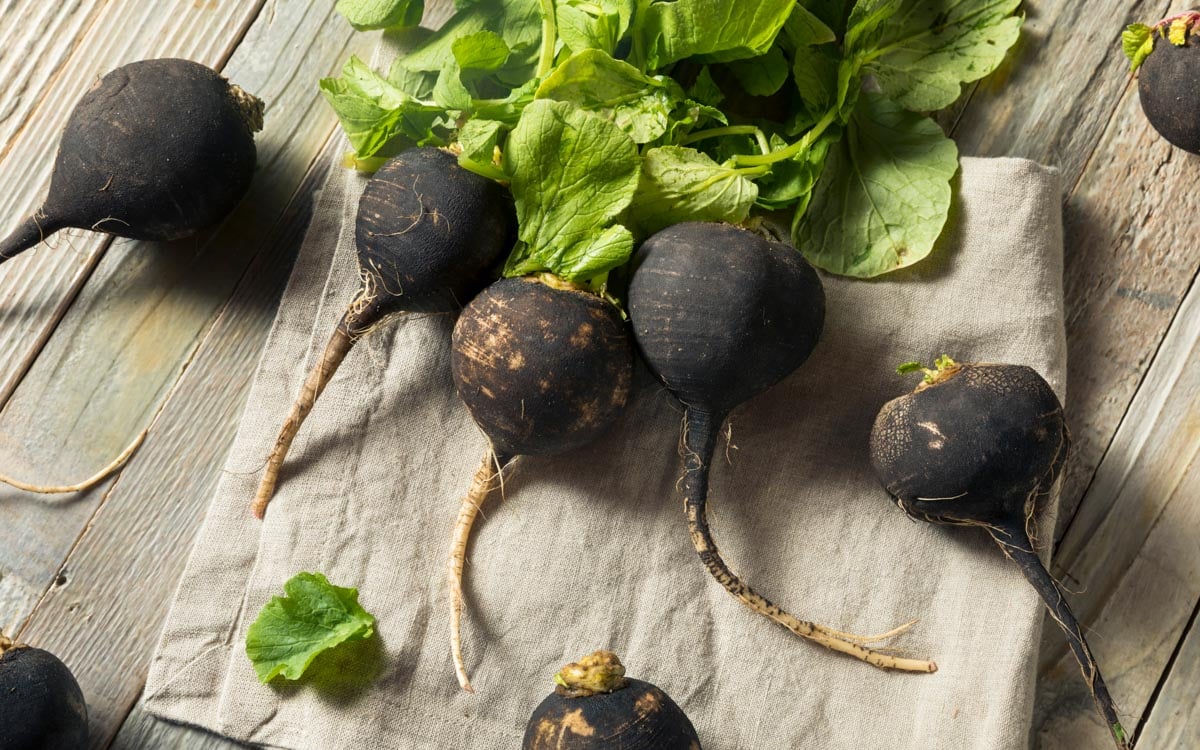 With their skin almost entirely black in colour, these spooky radishes are truly mesmerizing.
They're a root vegetable, available all year round. Rich in vitamin A, B, C & E, traditionally used to help strengthen the immune system.
Taste - They range from mild to very bitter (almost spicy). Also described as earthy, bold & pungent.
Uses - Toss into salads, pickle them, add them to tacos, or even to juices.
16. Black Salsify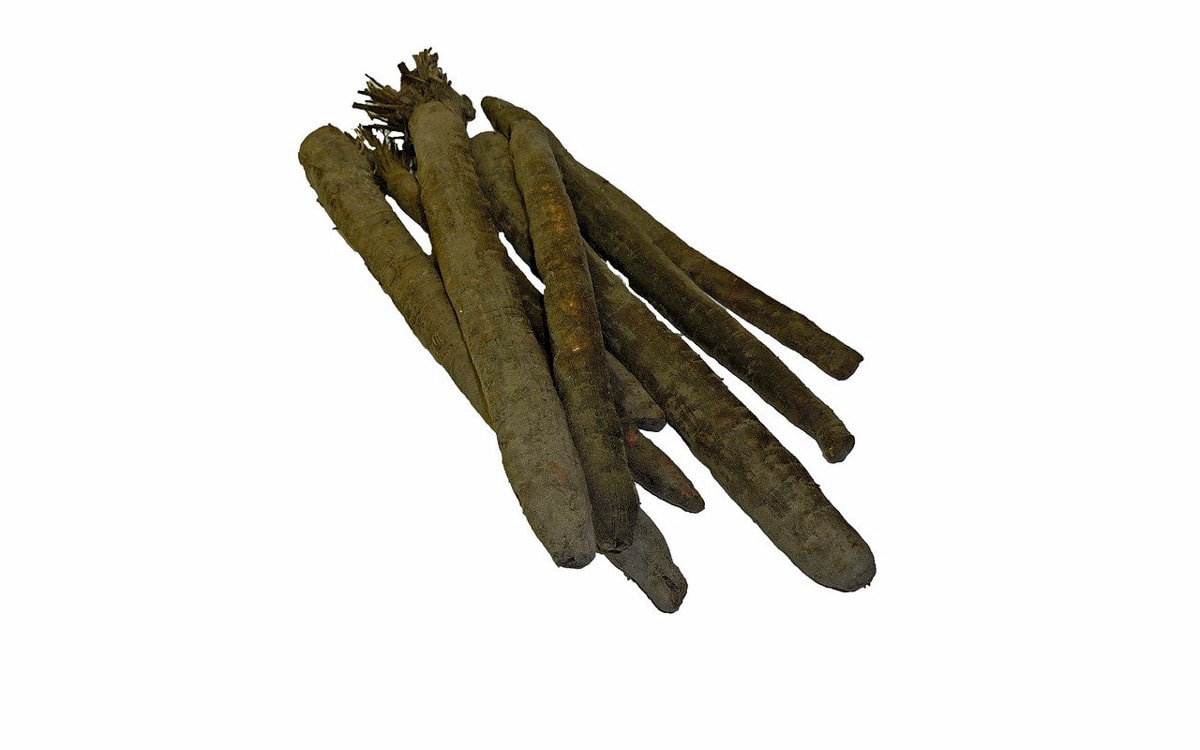 Pronounced sahl-seh-fee.
This root vegetable is relatively unknown but so incredibly versatile & underrated. If you can get your hands on it, definitely give it a go!
Taste - Mild, a little bit sweet. Easily takes on other flavours. Sometimes called the vegetable oyster because they taste a little bit like oysters.
Uses - Boil, steam, mash, grill, fry. Perfect in stews and soups. Used it like you would parsnip, carrots, and other root vegetables.
17. Black Yam
With its dark brown skin and white inside, this type of yam is popular in the West Indies.
Taste - A little bit earthy, subtly sweet. Starchy,
Uses - Use them how you would potatoes. Fry, grill, mash, add them to soups. You can even use them for traditional African porridge.
18. Black Zucchini
First grown in the 1950s, Black Beauty Zucchini is technically a fruit, but we'll ignore than here.
It's used as a vegetable and has blackish skin and can grow HUGE.
Taste - It doesn't have much flavour on its own, so you'll need to rely on spices & seasoning.
Uses - Once again, use it how you could use any other type of zucchini.
19. Dark Opal Basil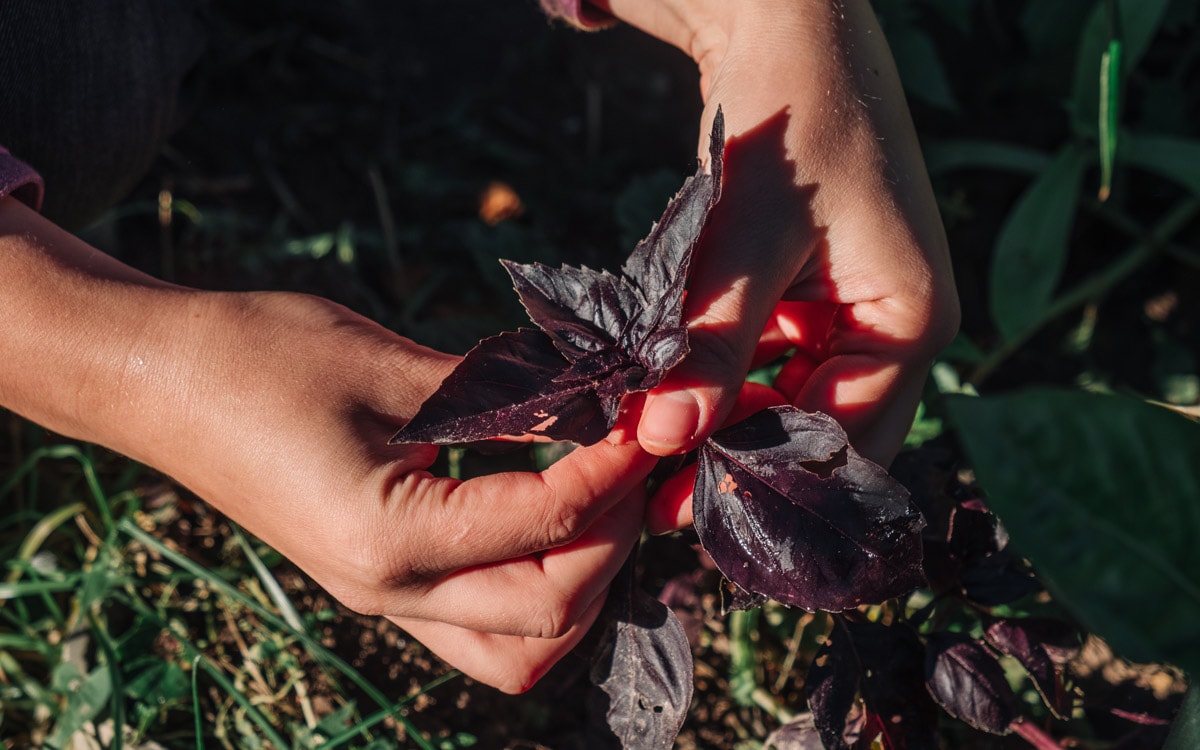 With its gorgeous dark purple leaves, this type of basil is not just beautiful, but also incredibly delicious.
The real origin of purple basil is still unknown. It's trickier to grow than green basil, but so worth it!
Taste - Milder than regular basil. Very aromatic. Includes flavour notes like anise, mint & cinnamon.
Uses - Blend it into the most incredible pesto or sprinkle it on fresh summer salads.
20. Shetland Black Potato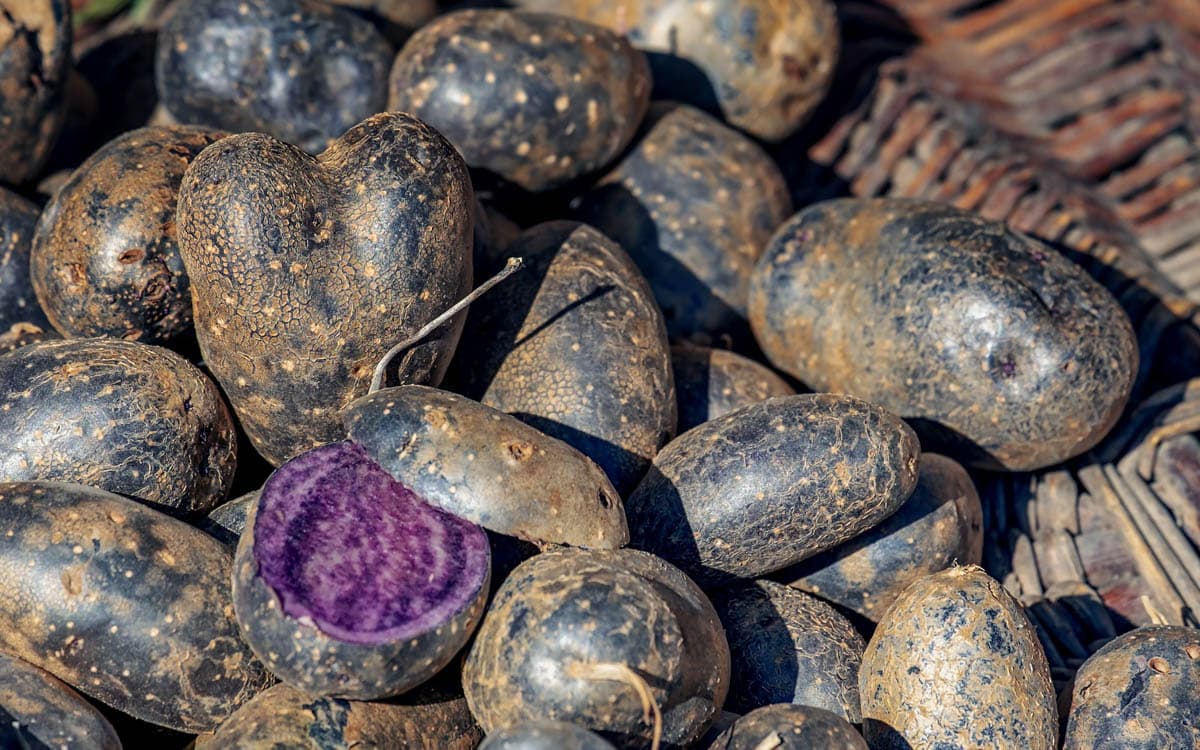 There are many varieties of black potatoes. Some of them have dark black skin with white, some with purple flesh.
Shetland Black Potatoes were developed way back in the Victorian era and are smaller than their white counterpart.
Taste - Sweet & buttery. Fluffy texture when cooked.
Uses - Can be boiled, roasted, steamed, grilled & more. Often used to make chips and crisps.
FAQ
What gives colour to fruits and vegetables?
They get their colour from phytochemicals. There are various types of phytochemicals.

Cartenoids give orange and yellow colour to vegetables, while flavonoids provide deep dark colours.

Chlorophyll is responsible for the green colour. 
Are there any black fruits?
Yes, there are many black fruits growing across the globe. Check out my ultimate list of black fruits here. 
What produce is black?
Black tea, black sesame seeds, black rice, black pasta, black quinoa to name a few.
Conclusion
Enjoyed this list? Let me know your favourite spooky black fruit or vegetable in the comments below!
If you're looking to explore more check out my full food tips section including: