The right vegan egg wash substitute can put the perfect final touch to your bake. Whether you want a golden, crunchy, or glossy glaze, I found affordable and easy-to-find vegan substitutes that work for practically any dish. Egg wash without egg? No problem!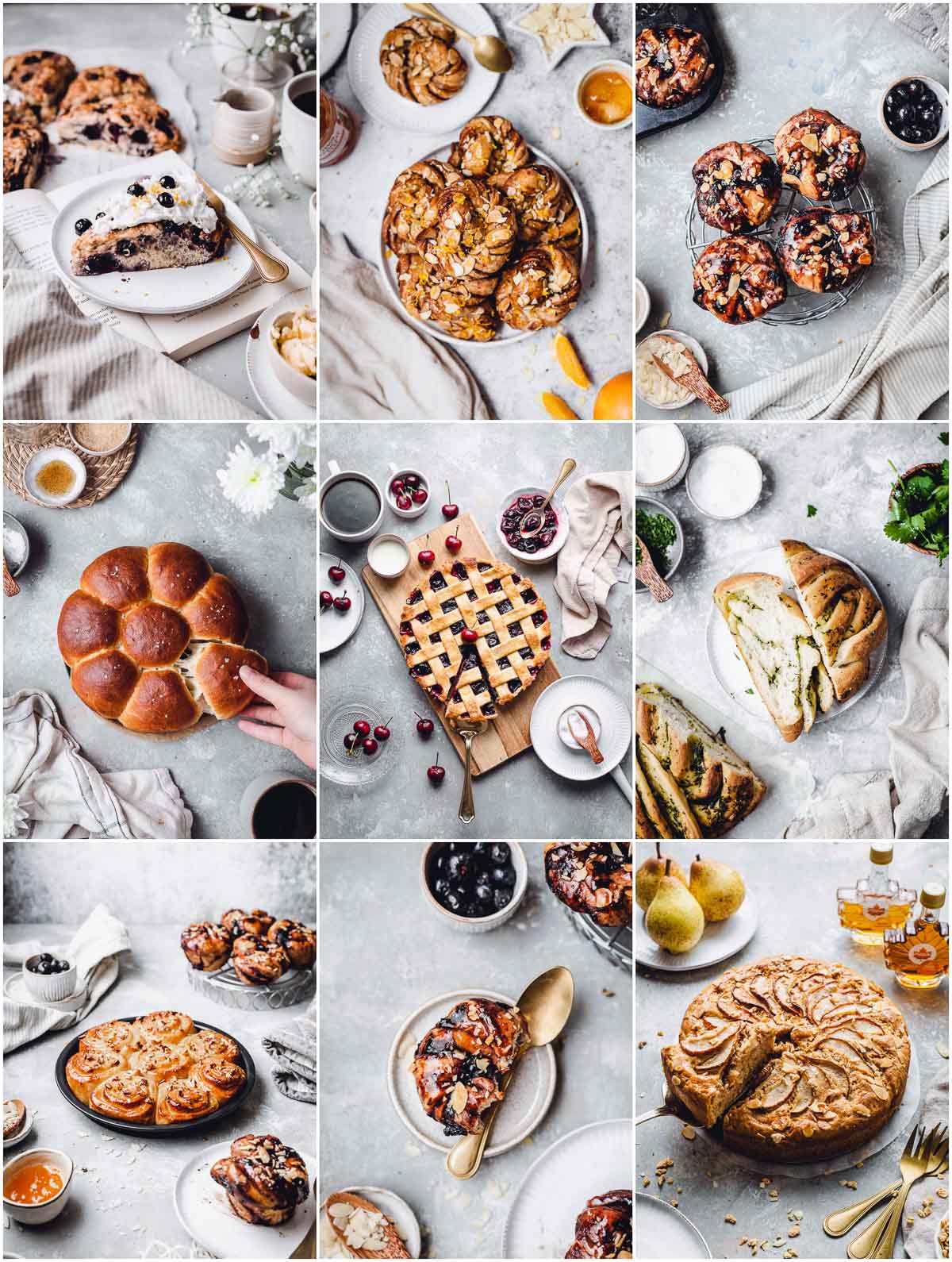 In the blog post below I have listed some of my favourite vegan egg wash substitutes. You will find everything about each of their pros and cons, as well as instructions on how to use them.
Throughout the blog post, I've also included images of some of my favourite baked goodies topped off with a corresponding vegan egg wash alternative.
Best of all? These options are easy-to-find and affordable. They don't require you to visit any specialist shops. You'll simply find them in every standard supermarket.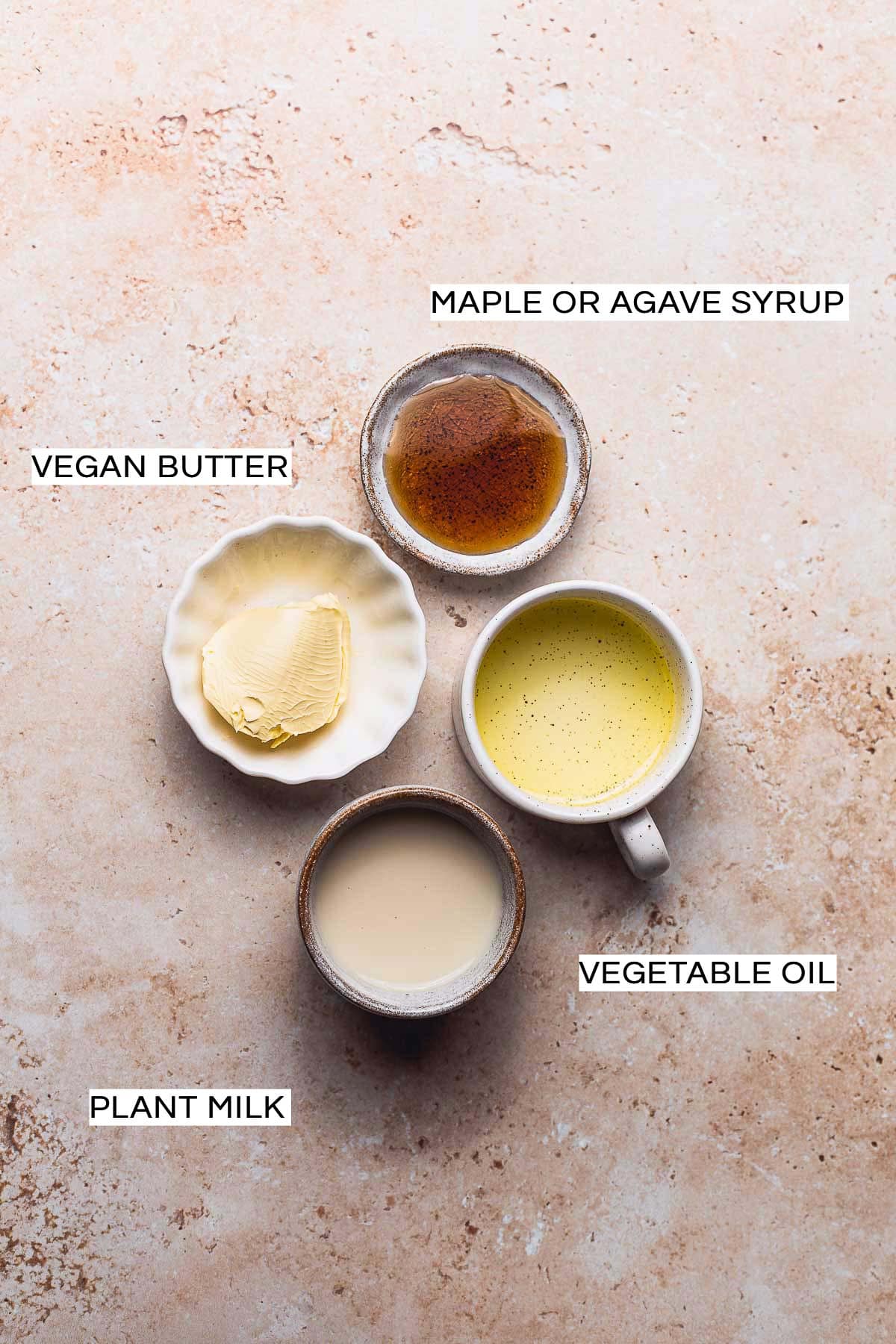 Jump to:
Let's find the perfect egg wash replacement for your next bake!
1. Maple syrup or agave syrup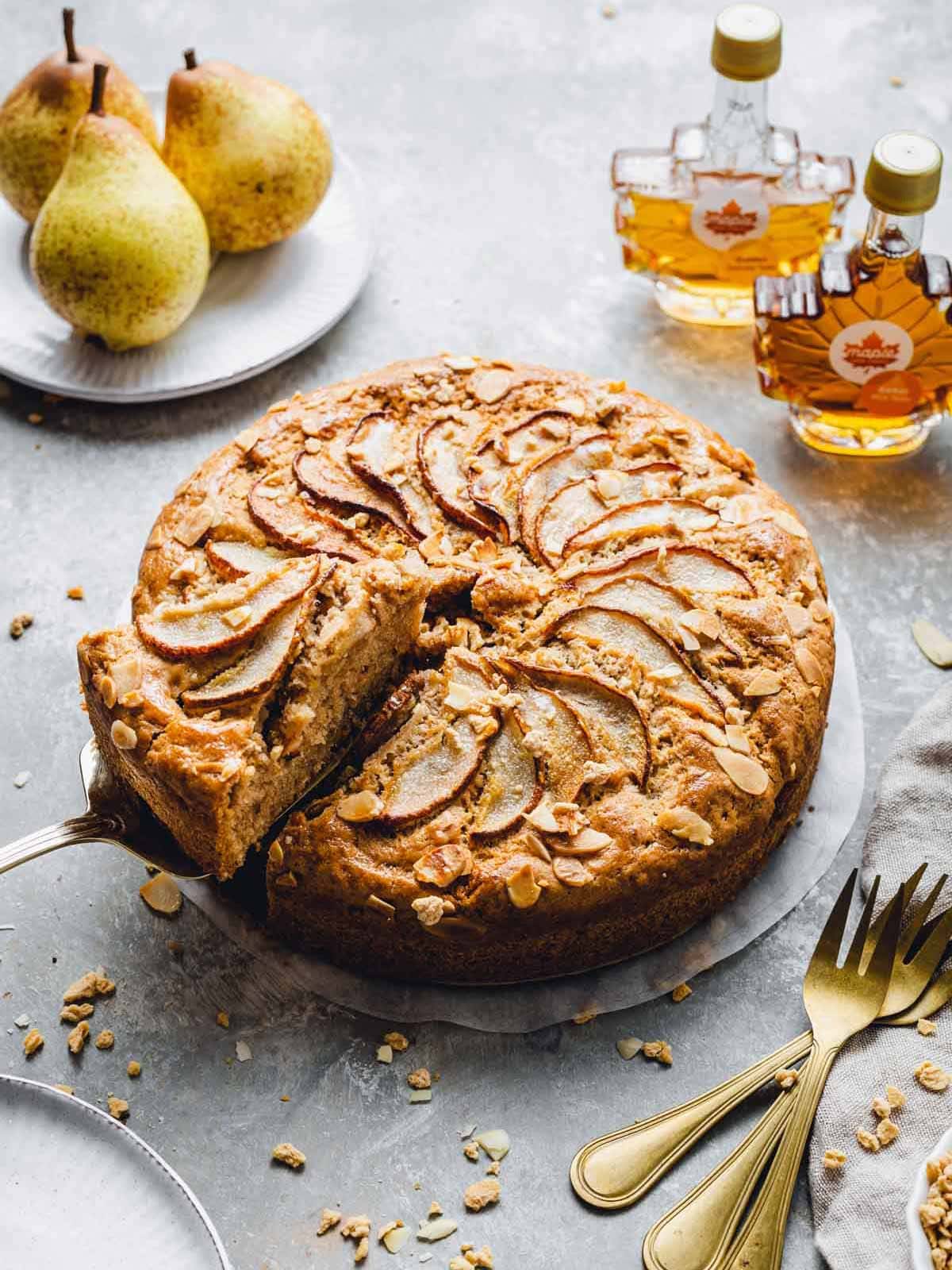 Pure syrups are perfect for creating that crunchy caramelised flavour on the top of you baked goods.
I love to use maple syrup for my blueberry scones to create a caramel-like glossy topping. It's also a great way to complement the semi-sweet flavour of the scones. A syrup will also work really well on pastries like croissants or Danish pastries.
Pro: Lovely golden brown colour on your bake, glossy finish, sweet flavour.
Con: The sweet flavour makes it less suitable for savoury bakes. The higher sugar content might also make it burn quicker..
How to use: 5 minutes before your dish has finished baking, glaze it with your favourite syrup. Use a plastic or wooden brush to apply the glaze evenly. If you don't have a brush you can make it yourself using parchment paper.
Don't glaze before baking because the maple syrup could burn if left in the oven for too long.
2. Maple syrup and plant milk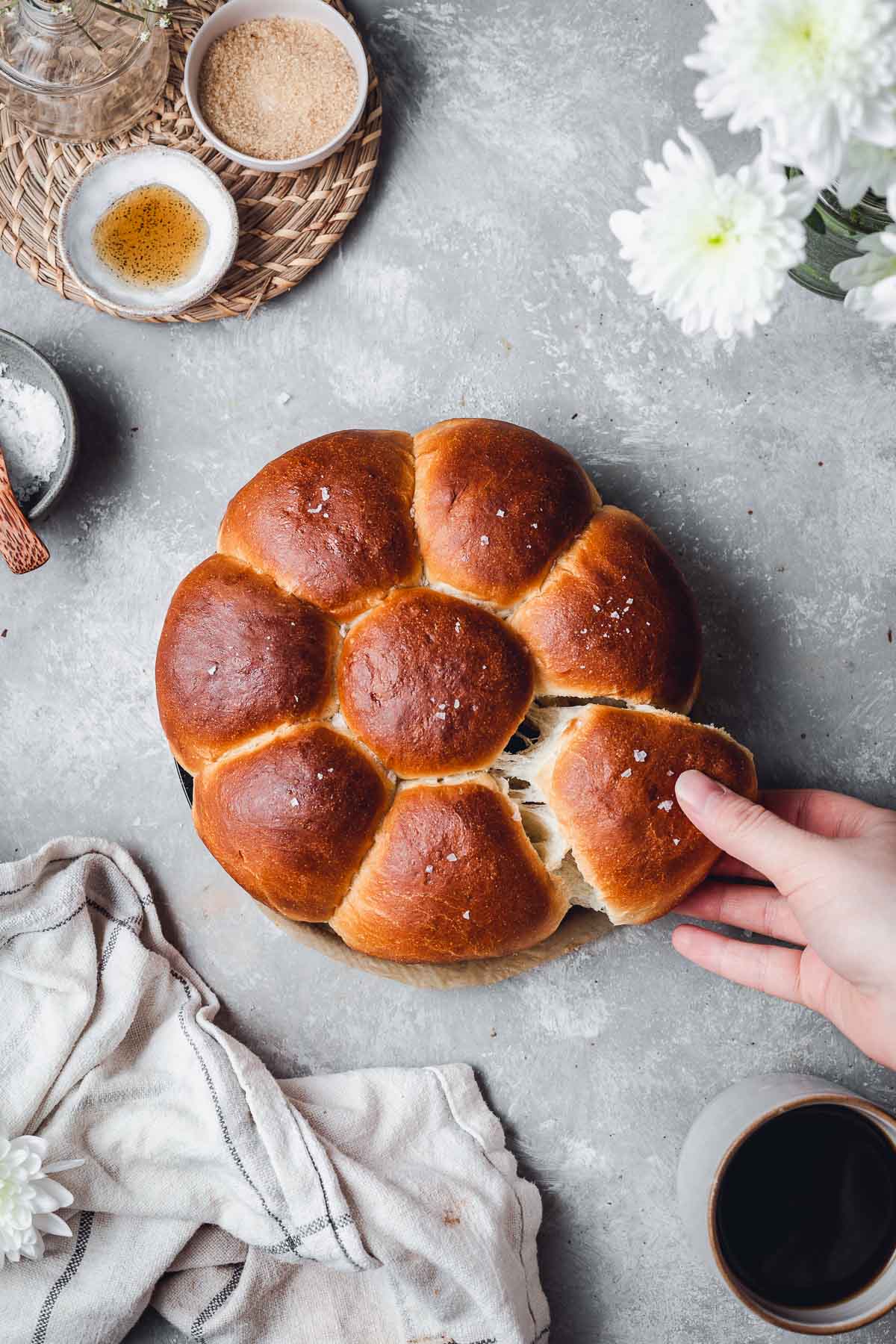 A mix of maple syrup and plant milk will give you a classic brioche-style egg wash.
You can choose any plant milk you wish such as soy, oat, almond, hemp, or others. I tend to avoid coconut milk due to its strong flavour.
This alternative to egg wash is super easy to customise. For a sweeter glossy finish add more syrup compared to milk. If you want more colour and just a hint of sweetness add more milk.
As a general rule, I like to mix half a tablespoon of syrup with half a tablespoon of plant milk. The syrup will give it a glossy shine whilst the milk will dilute the sugary consistency of the syrup. This will ensure a beautiful shiny finish.
Pros: Shiny finish and sweet caramel flavour. It will work with any syrup and any plant milk, making it very adaptable to whatever you have at home.
Cons: Slightly sweet and not as shiny as pure maple syrup. Plus if you're making just a simple bread roll and don't have syrup at home, it might not be worth it to purchase it just for the glaze. In that case, simply brush with plant milk.
How to use: This mixture is ideal for dinner rolls or brioche-style buns (think hotdog or burger buns). Give your buns a good coating before they go into the oven and bake according to the recipe.
3. Plant milk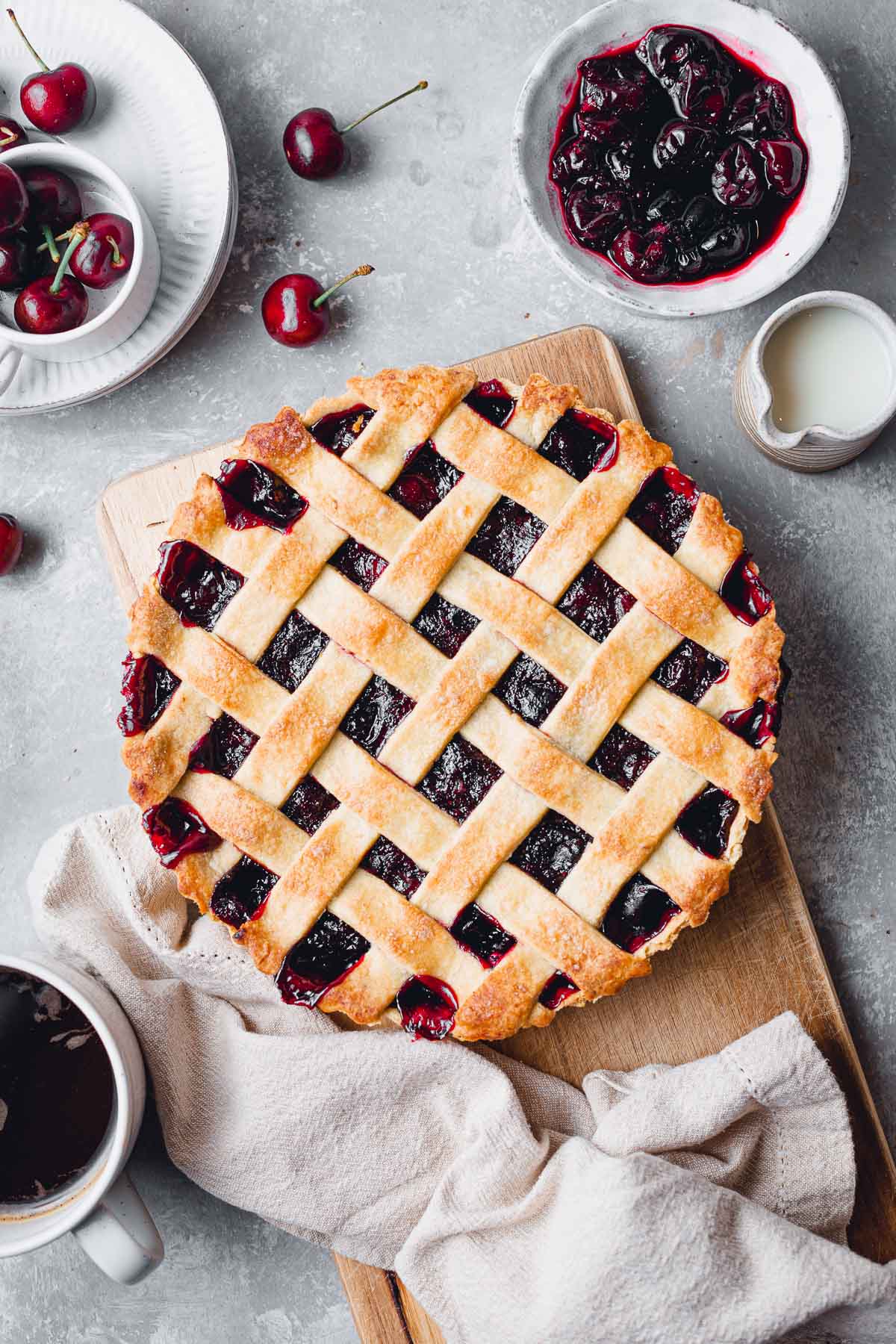 Plant milk will give your baked goods a nice golden to deep brown colour without a sweet aftertaste or shine. The fat content in the milk is what will give the bread its golden colour.
As always, feel free to choose your favourite plant milk such as soy, almond, oat, hemp, or similar.
Top tip: A milk glaze is also ideal for adding a little bit more moisture into your dough during its second rise. Brush the dough with some plant milk after it has been shaped and cover before leaving to rise. The milk will make sure your dough does not dry out.
Pro: A plant milk glaze has a neutral taste and is not sweet (make sure you opt for unsweetened milks) but still gives the golden colour.
Con: It will colour less than syrup or syrup combination and will not give you that signature shiny egg finish. If you'd like a shiny finish make sure to go for a syrup-based glaze.
How to use: A plant milk glaze is best for any bake that might benefit from a neutral-tasting glaze as it will give you the colour but not the sweet taste that a syrup gives.
Brush your bread before it goes into the oven and bake according to recipe instructions.
4. Vegan butter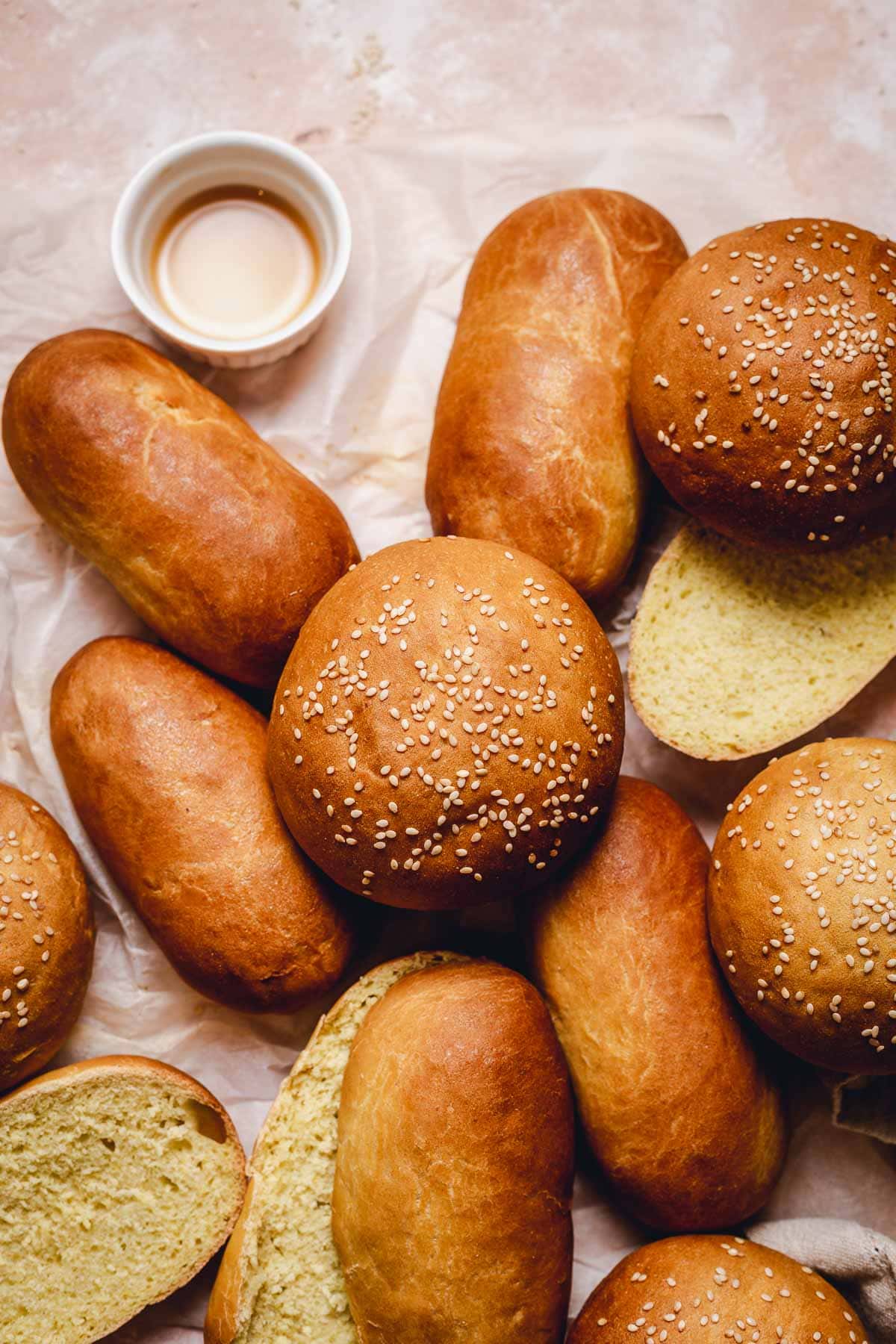 Butter will give your bread a slightly crispy crust and add some more flavour and richness to your bakes. It works with both savoury and sweet dishes because it adds a rich flavour that is neither sweet nor savoury.
A butter glaze works well on a simple bun or brioche-style burger buns especially if you want to neutralise some of their sweetness.
Pro: Adds a rich flavour to any baked good whilst also giving the bread a good colour.
Con: There are many different types of butter so not every version of vegan butter will work in the same way. In addition to that, vegan butter is also less easily available in some parts of the world. If you're looking for a cheaper alternative use plant milk might be a better option.
How to use: Melt the butter until it has a liquid consistency either in a pan or a microwave. Glaze before baking.
5. Vegetable Oil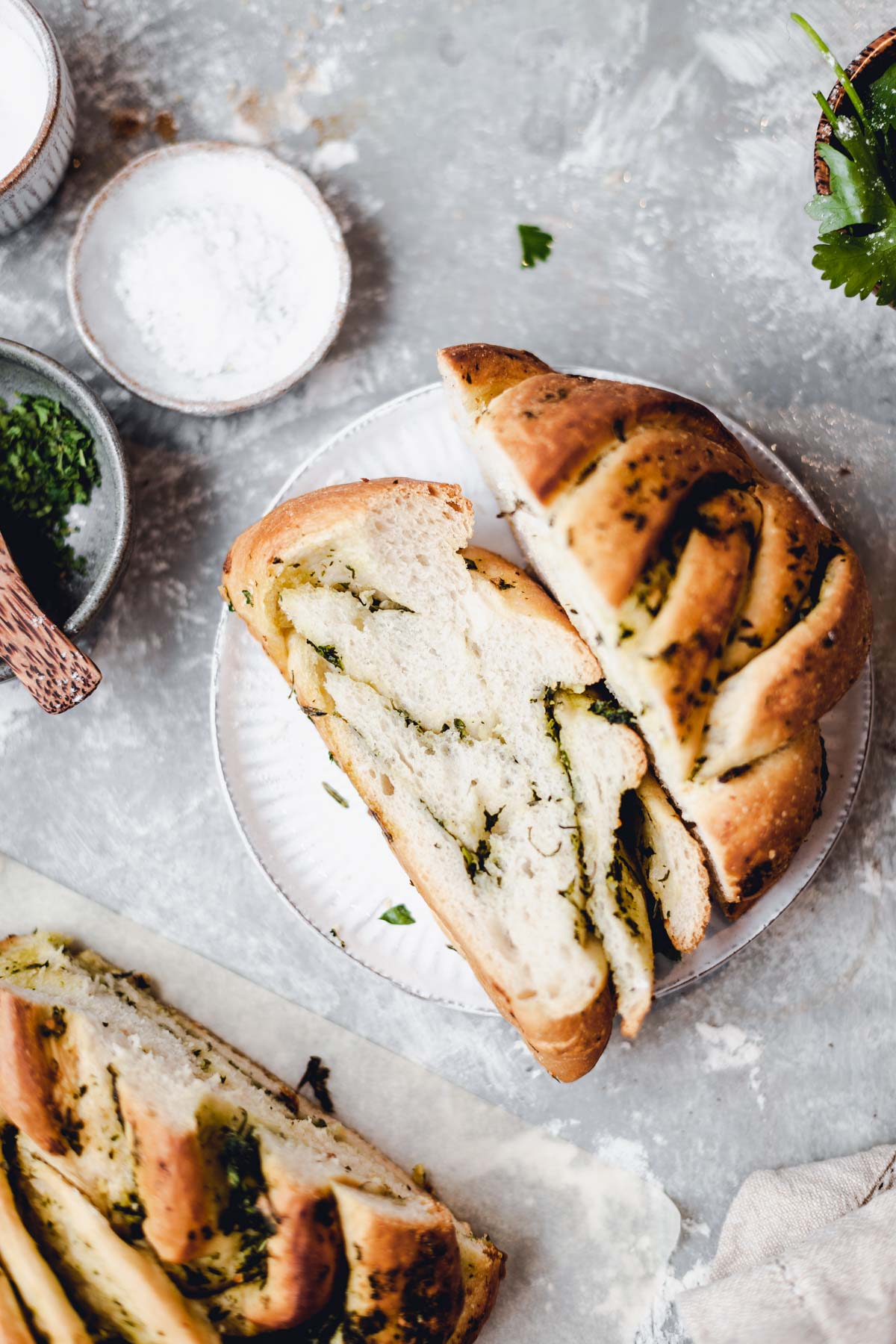 Oils are another great way to add some flavour to your bakes. You have so many flavours to choose from and can also add flavoured/infused oils. Make sure the flavour isn't too concentrated or it will overwhelm your bake.
Some of my favourite choices are olive oil and hemp oil. Hemp oil works very well with savoury doughs, while olive oil is the perfect all-rounder. Moreover, olive oil also complements citrus flavours as well as herbs like rosemary, thyme, and oregano.
Oils are a fantastic option when baking focaccia or flavoured breads/rolls.
Pro: Oil is a household staple and will create a light but rich flavour in your bake. Plus, it gives a golden brown colour and a slightly crisp finish.
Con: It might leave your bake slightly greasy and will not work as well if you want to add another topping like seeds or herbs.
How to use: Glaze your bakes before they go into the oven and bake according to instructions.
Extra: Vegan egg wash recipes
Enjoyed reading about all the possible vegan egg wash options but looking for more recipe inspiration?
Here are some crowd-pleasing recipes that never fail to amaze vegans and non-vegans alike.