Explore the ultimate yellow fruits list! These yellow fruits radiate joy and positivity, plus, they're LOADED with nutrients. Discover how to use them in cooking, baking, or as a snack.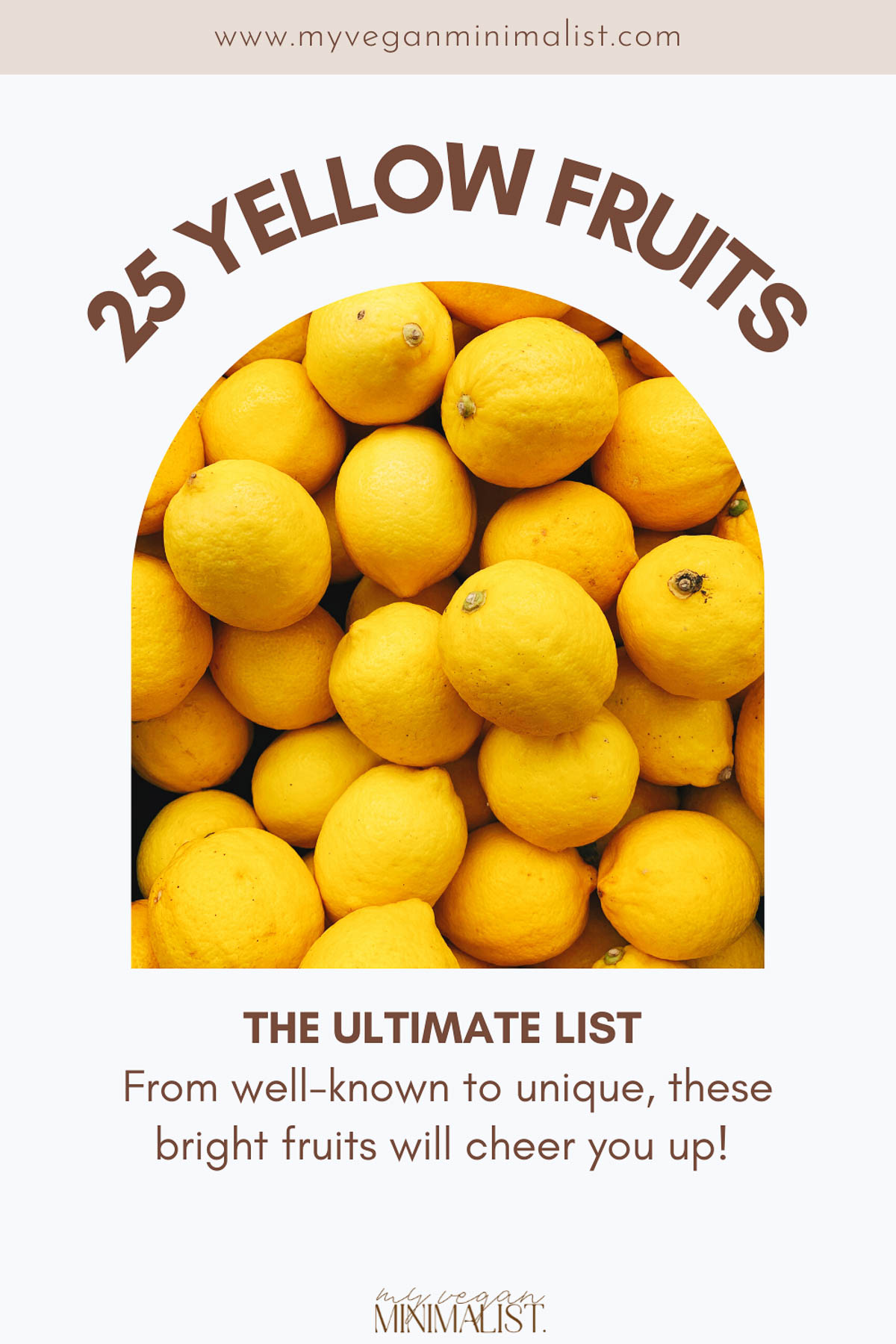 Following on from my list of gothic black fruits and Instagram-worthy pink fruits, I now present you with the ultimate selection of yellow fruits. Bright, cheerful & so good for you!
Jump to:
Banana
Probably one of the very first yellow fruits that spring to mind, banana is a tropical fruit.
According to some experts, bananas were the first fruit to grow on Earth.
They grow in bunches of 6 to 20 and are some of the most popular fruits worldwide. In addition to that, they're also cheap & can keep you full for hours.
Alarmingly enough, bananas are close to being extinct (Source). Nearly all bananas sold worldwide are the same variety - the Cavendish variety, particularly prone to diseases.
Buddha's Hand
Buddha's hand belongs to the citrus category and is particularly popular in China and Japan.
Resembling a lemon, but with long, finger-like segments, this fruit has no juice or pulp.
The zest can be added to salads or baked goods. In many recipes, it can be used to replace lemon or orange.
It pairs well with avocado, coriander (cilantro), mango, and other citrus fruit.
Aside from its culinary uses, Buddha's hand can be used as decor and gift, believed to bring happiness and good fortune.
Calamansi Lime
Another brilliant member of the citrus genus, calamansi lime is often associated with the Philippines, where it is grown and used widely.
It's described as a hybrid between lime and orange. Compared to key lime, calamansi is softer, smaller & sweeter.
It's not just tasty, but highly versatile too!
Throw it in juices or lemonades, use it in cakes & other bakes, or even add a squeeze to curries, noodles & soups. You can even pickle it!
Canistel
Native to southern Mexico, canistel is relatively unknown but highly versatile.
It can be blended into smoothies & cocktails, added to ice cream, bread & cakes, or eaten as is.
Thanks to its egg yolk-colored flesh, it's often called eggfruit.
Canistel's flesh is soft & dense, while its flavor is often compared to that of pumpkin or sweet potato (Source).
Durian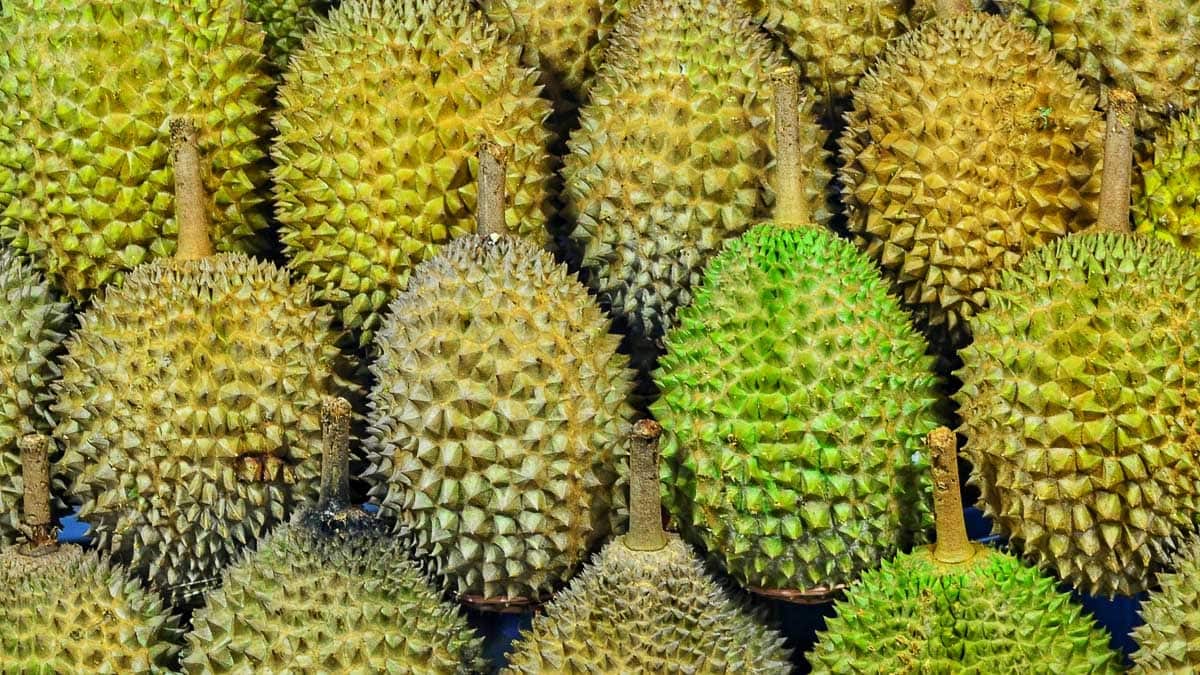 This one's truly controversial! Wondering why?
It's been described as the worst-smelling fruit! According to CNN, it's even banned from certain public spaces in Malaysia and Singapore.
You wouldn't guess from just looking at it - in fact, it has strikingly beautiful yellow flesh & a spiky shell.
Despite its pungent smell, some people love it due to its incredible nutritional benefits. It's high in antioxidants, has a low GI index, and contains antibacterial properties (Source).
Gold Kiwi
With fuzzy brown skin and bright yellow flesh, Gold kiwi is now sold throughout the world.
Originally developed in New Zealand, it's sometimes referred to as Chinese Gooseberry! Wondering why? According to many, its taste resembles that of a gooseberry.
Compared to green kiwi, its skin is a lot softer & thinner. It's also sweeter and contains slightly more Vitamin C.
The entire fruit is edible (yes, including the skin!)
Honeydew Melon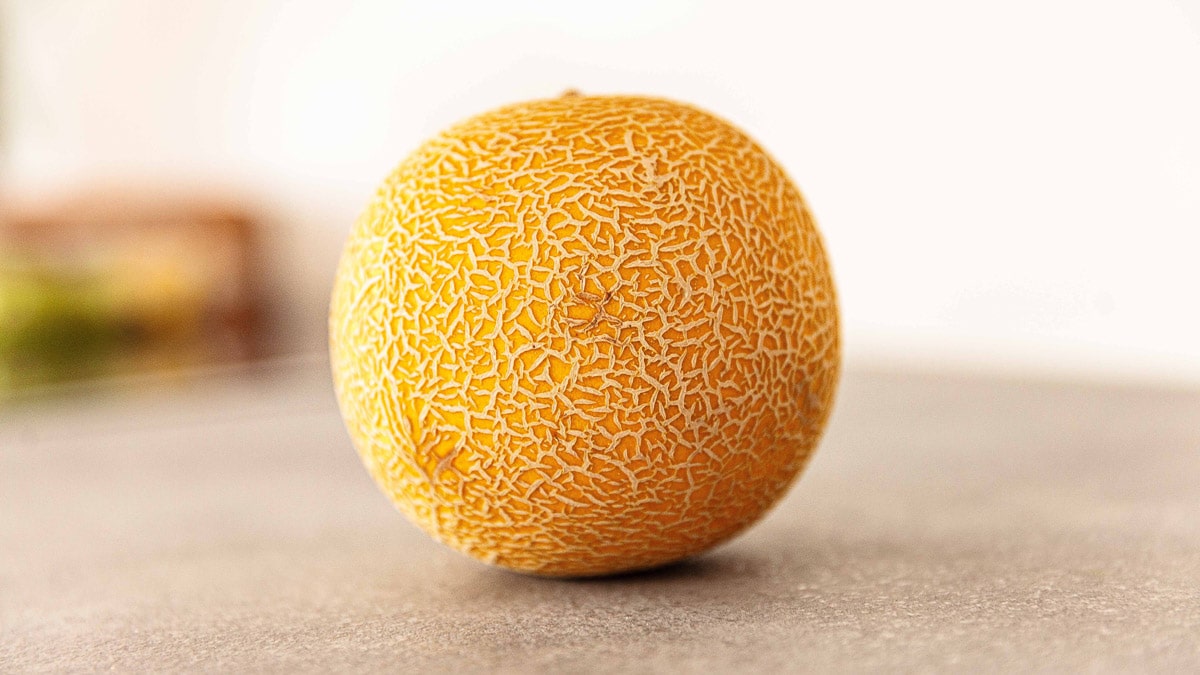 Gold Honeydew melons have bright yellow skin and make an excellent addition to any summer dessert or drink (like this honeydew boba)!
It's believed they've been grown for thousands of years and their exact origin is still unknown.
They make a wonderful snack on their own, and pair well with basil, coriander, lemon, mint, vanilla, strawberry & many more (Source).
Their taste is often described as sweet and refreshing, but it's important to wait until they're fully ripe. If not, they tend to taste a little bit bland!
Lemon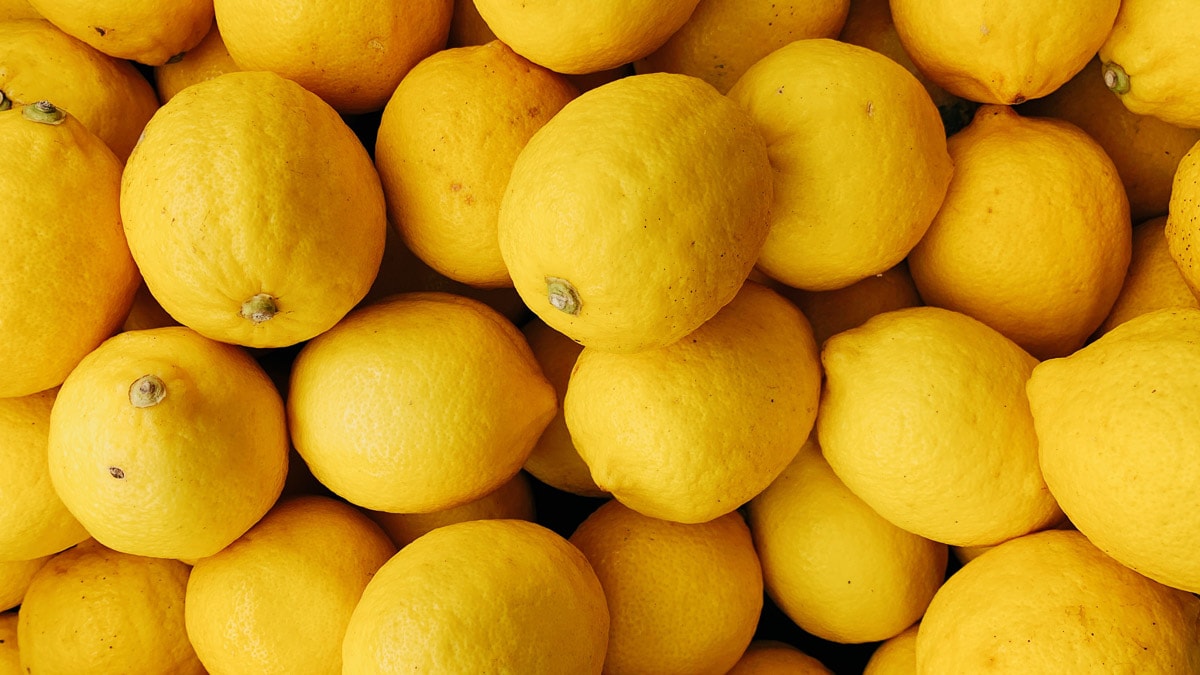 Probably one of the first yellow fruits that comes to mind. I figured we've all seen & tasted lemons before, so here are some fun facts.
They originate from Asia and have both the female & male reproductive organs on the same tree.
Perhaps most surprisingly of all, lemons are actually classified as berries!
They can be made into lemon curd and used in a tasty loaf cake! Moreover, they're the perfect base for a comforting homemade tea.
Loquat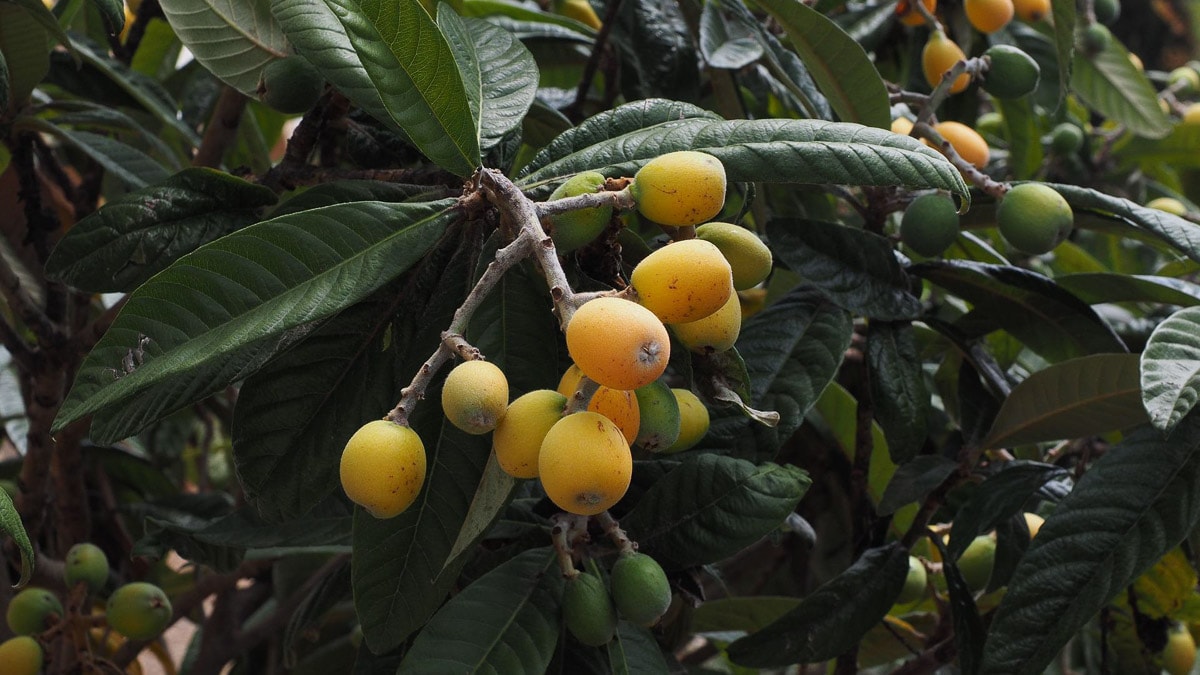 Native to China, loquat belongs to the rose family and varies in color from yellow to red.
Even though they resemble lemons, they're actually a lot sweeter but have a tart undertone.
They're loaded with vitamin A and antioxidants, making them a real nutritional powerhouse.
Lucuma
Lucuma (loo-koo-ma) fruit is native to South America, more exactly the valleys of the Andes in Peru.
You might associate lucuma with powder as it's often sold as a powdered supplement. Thanks to its rich nutritional profile, it's often marketed as a superfood.
It has a mild flavor, resembling that of sweet potato.
In its native Peru, lucuma is a popular ice cream flavor!
Mango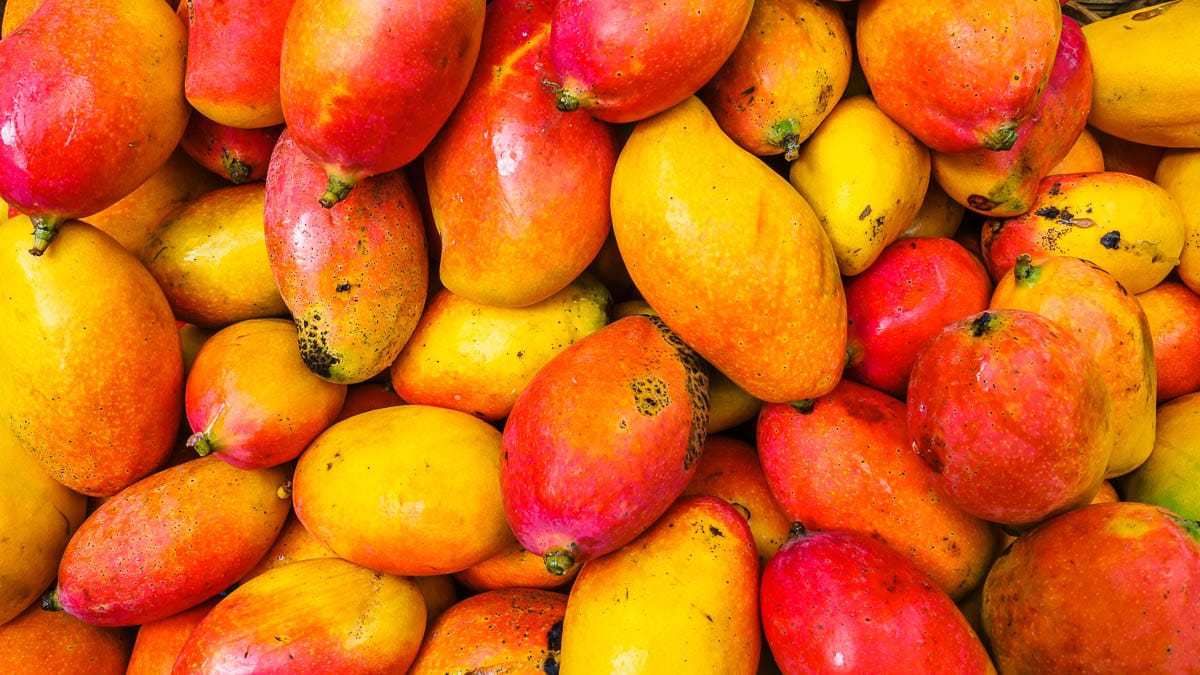 Did you know this wonderful fruit originated in India thousands of years ago?
Allegedly one of the most popular fruits in the world, they can be found in hundreds of varieties.
Their trees are evergreen (meaning they retain their leaves throughout the entire year).
Symbolically, they represent love, fertility, and immortality (Source).
Oroblanco
Literally translating to 'white gold', oroblanco is a citrus fruit strongly resembling lemons and grapefruits.
They taste sweet and were originally developed in California, US.
Not surprisingly, oroblanco provides you with a boost of Vitamin C and can be eaten raw or baked into desserts.
You can also throw them in smoothies, cocktails, salads, and more. The options are endless!
Papaya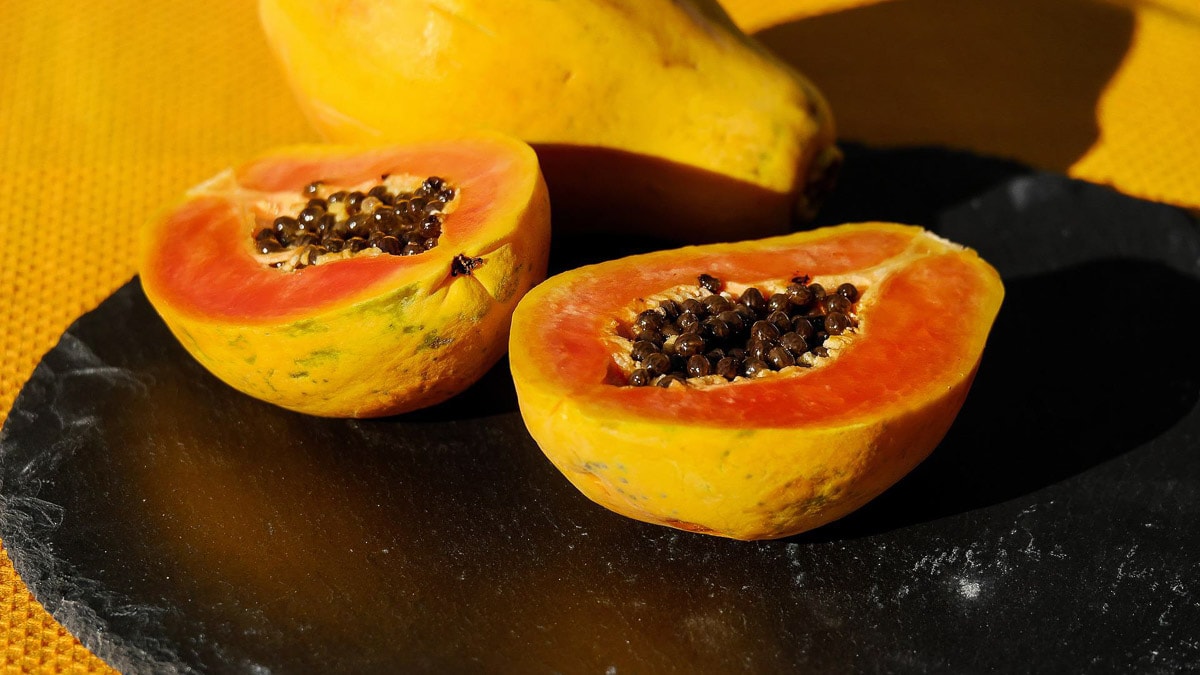 This tropical fruit grows on trees that can reach over 10 feet (3m).
In some parts of the Caribbean and Australia, papaya is called pawpaw.
The fruit originates from Mexico and has the shape of a pear.
It's often used in salads, shakes & stir-fry dishes, or cooked down into jam.
When ripe, papaya has soft flesh and slight sweetness. Its extract is often used in skincare and cosmetics.
Starfruit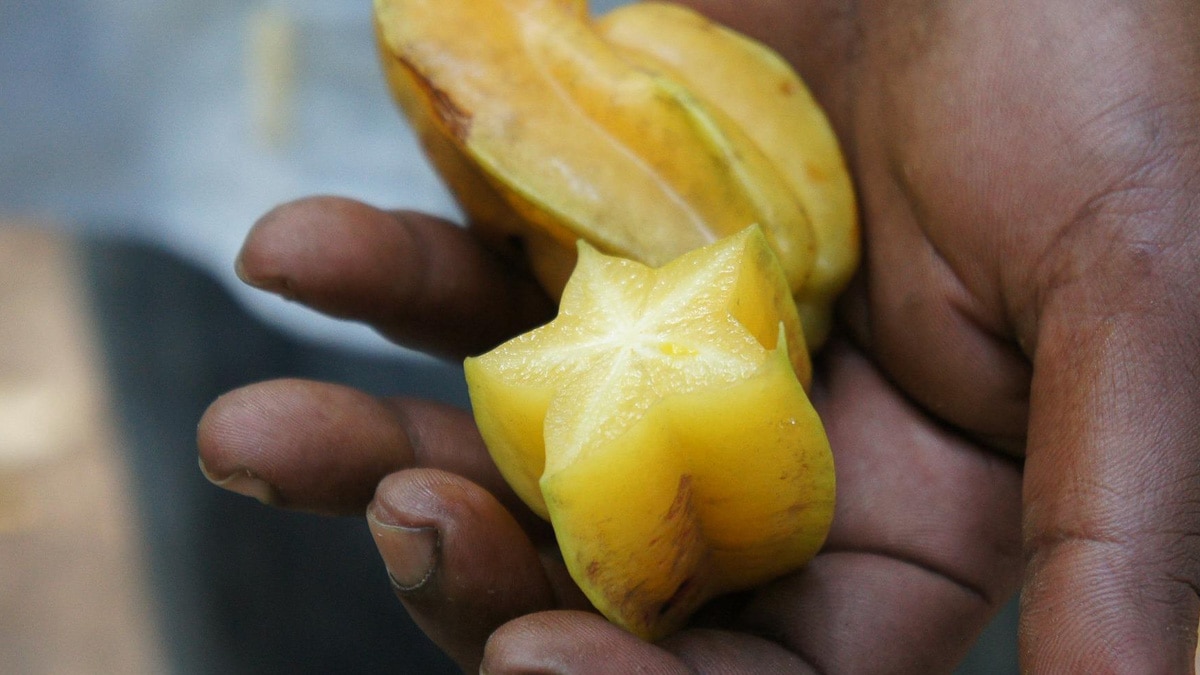 Also called carambola, star fruit is a sweet-sour fruit originating from Southeast Asia.
It gets its name thanks to its unique shape - when cut in cross-section its shape resembles a five-pointed star.
It's often eaten on its own or added to salads, pies, curries & seafood dishes.
It also makes a fantastic garnish (as a food photographer, I particularly appreciate this quality!)
Passion Fruit
Native to Brazil, passion fruit is a great source of vitamins and is highly versatile.
It has a wonderful aromatic flavor & crunchy, but edible seeds.
Originally cultivated by the Aztecs, it's now massively popular in Hawaii, Australia & Colombia to name a few (Source).
There are several varieties of passion fruit, ranging from yellow to pink, which is why you'll also find it on my list of 25 pink fruits!
Pineapple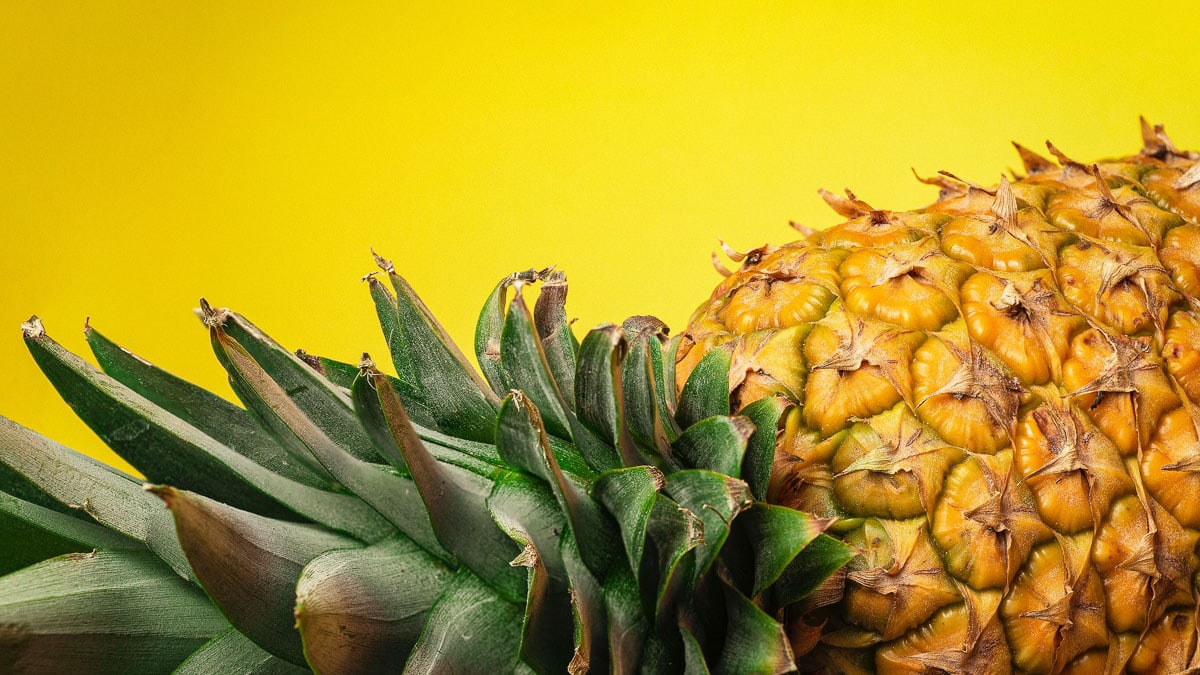 A list of yellow fruits simply wouldn't be complete without pineapple. This tropical fruit with spiky leaves has a sweet & tangy flavor.
To test if it's ripe, simply pull out one leaf.
If it comes out easily, the pineapple is ripe. It's the perfect addition to any tropical smoothie, but won't work in jams!
This is because fresh pineapple contains enzymes that prevent gelatin from setting.
Pomelo
One of the oldest citrus fruits, pomelo is native to Asia and closely related to grapefruit.
Its taste is similar to that of grapefruit but sweeter.
Just like many other citrus fruits, pomelos are loaded with vitamins & fiber. It makes a great addition to cakes, cocktails, salads & even roasted vegetables.
Quince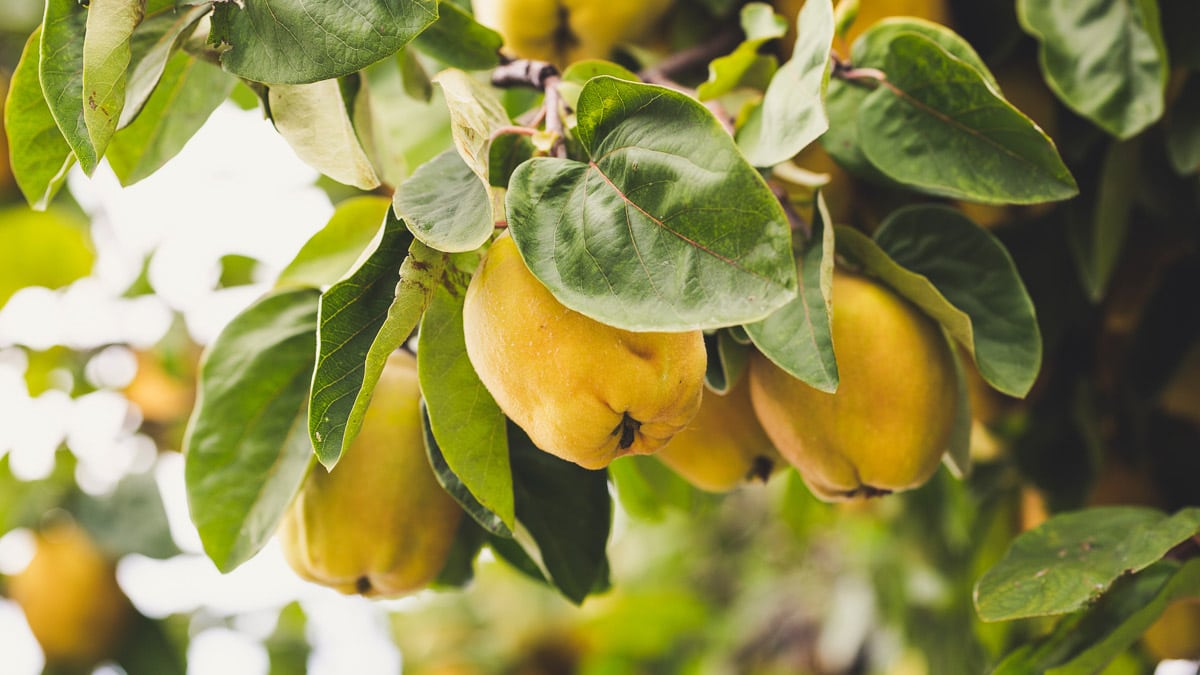 The ultimate fruit for jam making, quince is bursting with pectin, a type of fiber often used to make jams.
It tastes like a mix of apples, pears & lemons - but is rarely eaten raw.
It's best to cook it into desserts like pies, cakes & puddings.
This ancient fruit is rich in antioxidants, fiber, vitamins & minerals.
Sapodilla
Native to Central America, sapodilla is a delicious tropical fruit. It can be enjoyed raw, but only when fully ripe. If not ripe, sapodillas are hard & have a chalky feel to them.
Its scent & flavor have been compared to fresh pumpkin and brown sugar (Source).
It can be pureed into ice creams, added to salads, or eaten on its own.
It's available all year round and sometimes called chikoo.
Ugli Fruit
Sometimes called Jamaican tangelo, ugli fruit is oval-shaped citrus native to Jamaica.
It's a unique cross between grapefruit, tangerine & orange.
With its green skin & yellow to orange flesh, ugli fruit resembles a lemon or lime. However, its wrinkled appearance and loose shape have contributed to its reputation as an 'ugly' fruit.
Use it just how you would any other citrus fruit - in salads, bakes, cakes, drinks & more.
Yellow Apple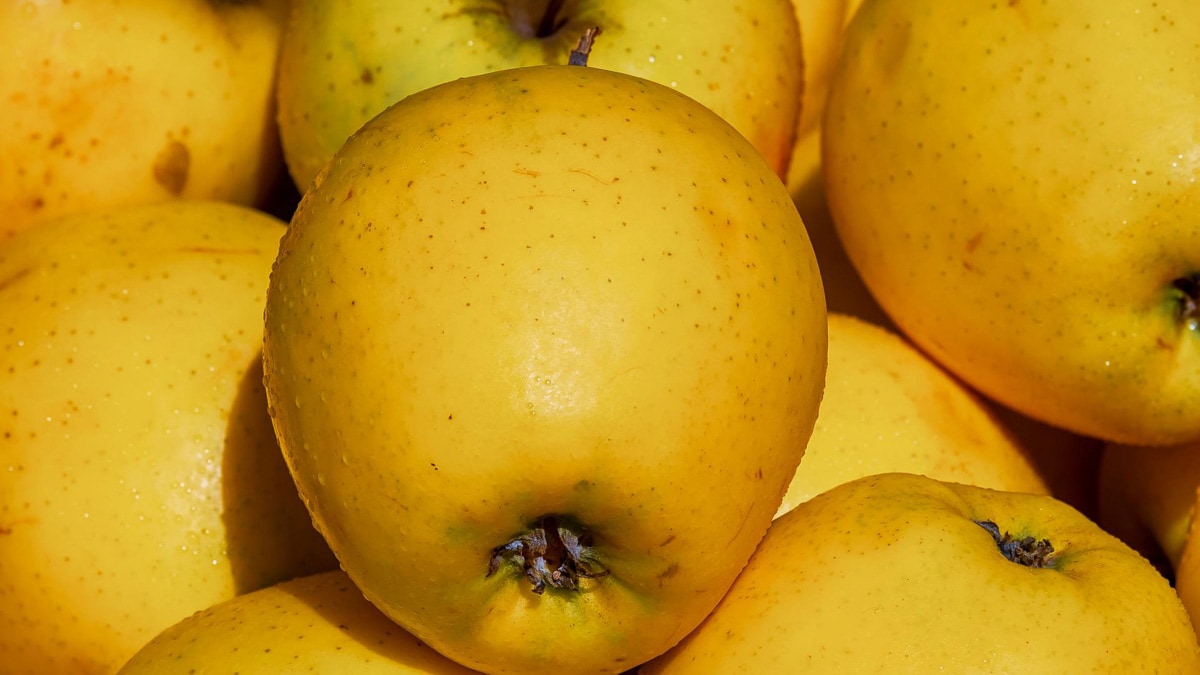 There are many yellow apple varieties out there, but none are more popular than Golden Delicious.
One of the most widely cultivated fruits in the US, Golden Delicious was discovered in the 19th century.
It has a sweet flavor and is easy to grow, making it popular throughout the world.
Fun fact - Golden Delicious is a parent to many other apple varieties such as Pink Lady, Jonagold, Gala & more.
Yellow Bell Pepper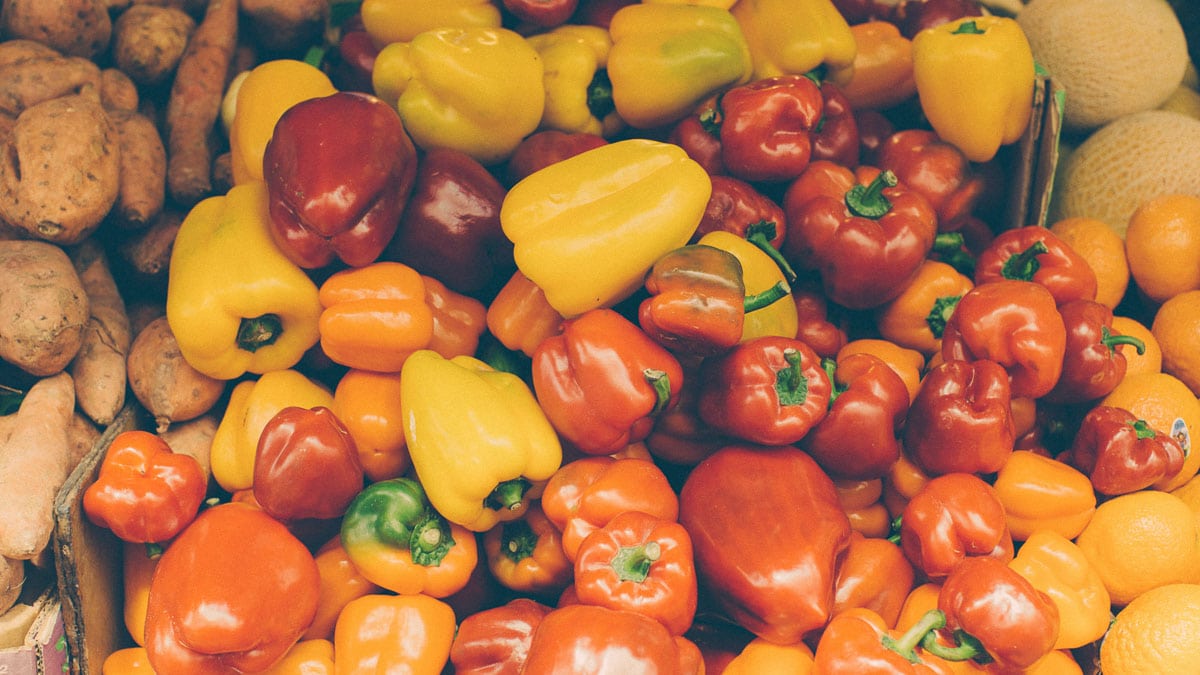 Perhaps surprisingly, bell peppers are in fact a type of fruit!
They're loaded with Vitamin C. Just one medium bell pepper provides over 160% of your daily recommended Vitamin C intake.
Did you know? Red, yellow & green peppers are exactly the same fruit, just at different stages of ripeness.
This means that red, orange & yellow bell peppers are simply green peppers that have been left to ripen.
Yellow Cherry
You might associate cherries with the color red, but yellow cherries provide just as much, if not more flavor!
In fact, they're one-third sweeter than red cherries and have tons of potential health benefits.
Despite their status as one of the most flavourful cherries in the world, they're actually incredibly easy to grow.
They were first developed over 60 years ago in the US and are sometimes referred to as Rainier cherries.
Yellow Pear Tomato
This heirloom tomato is shaped like a pear and has a yellow to orange hue.
It grows abundantly and can be used in all the same ways as red tomatoes.
This variety dates back all the way to the 1800s and is sweet, juicy & fragrant. However, it doesn't have a particularly strong flavor.
Yuzu
Yuzu is a yellow citrus fruit particularly popular in Japan.
Due to its strong flavor, it's very rarely eaten fresh. Instead, it can be used to make marmalades & desserts, infuse oils, vinegar & butter or add extra zing to ramen, pastes, or juices.
Yuzu has been grown for over 1000 years and originates from China.
Enjoyed this? Discover my list of spooky black fruits or vegetables. Or explore my food tips section for other fun facts about all your favorite food!